As a migrant worker on a tight budget, Zhang Jie spends a lot of spare time in Internet cafes watching movies.
Related readings:


 Karaoke bars to face trials over copyright breaches


 Time to honor foreign film copyrights


 Mainland, Taiwan in copyright protection pledge


 New move to protect film copyright

The last thing he needs is for the cost to go up.
"People like me can afford 4 yuan ($0.60) an hour at most," said the 26-year-old salesman, as he sat watching the 1987 comedy A Chinese Ghost Story at 520 Casual Internet Cafe in Beijing.
"If the cafe starts charging 5 yuan or more, people will stop coming," he warned.
Zhang's fear about a price hike follows news that the China Film Copyright Association (CFCA) will soon hit wang ba (the Chinese term for Internet cafes) and long-distance bus companies with a set monthly fee for screening Chinese movies.
The levy, which will come into force on Jan 1, is being touted as a weapon against piracy.
Yet, cafe owners have slammed the move, claiming it is an unfair tax aimed at the wrong people.
Sun Jingbin, manager of 520 Casual and its 120 or so desktop computers, estimated at least 20 percent of its customers watch movies on the cafe's server.
However, since 2008, 520 Casual has paid 2,400 yuan a year to 365pub.com, the Shanghai-based company that installed the server, for downloads and maintenance. Under the contract, Sun said 365pub.com is responsible for obtaining copyright permission and handling legal issues.
It is a deal many wang ba nationwide have entered into, prompting many owners to ask why they are being forced to pay two copyright charges.
"We were told by (365pub.com) they have copyright licenses for these movies," said Sun. "If there's a problem, the association should ask the movie providers for a payment or compensation, rather than coming to us."
But the new regulations do not stipulate who should pay the royalties, Internet cafes or movie service providers, "so we'll just take whichever is more convenient", said Li Guomin, secretary-general of the CFCA.
"It's definitely easier to start with Internet cafes," he added.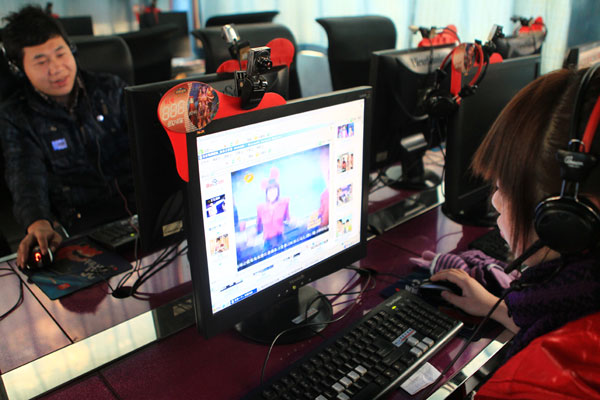 A woman browses at an Internet cafe in Beijing. Watching movies could soon cost more thanks to the new charge. Wang Jing/China Daily
Paying attention
Since being set up in April, the CFCA has found the vast majority of China's 138,000 registered wang ba have contracts with 20 or so movie providers.
Although the companies claim to have copyright permission for Chinese films, a CFCA statement said most do not, accusing others of offering pirated versions. The 2,000 to 4,000 yuan a year they charge for their services is also unlikely to cover the cost of the licenses.
Legal experts warn that, even with a contract that puts the onus on movie providers to get clearance, Internet cafes are not immune to prosecution.
If a wang ba does not pay up and is found to be screening copyrighted movies without permission, the CFCA can sue them on behalf of its members. Individual copyright holders can also complain to local and central authorities.
Administrative penalties include warnings, fines and confiscation of equipment used in copyright violations.
"Internet cafe owners should pay due attention while obtaining copyright licensing from an agent company (such as movie providers)," said Wang Qian, a professor with the intellectual property school at East China University of Political Science and Law.
"They should ask for the original licensing contracts with the copyright owner and check the authenticity, rather than taking an agent's word for it," he said. "Otherwise, the Internet cafe will be held liable."
Business owners say, however, that they have neither the knowledge nor resources to double check the hundreds of movies downloaded onto their servers.
It is just not feasible, said Sun Qi, chairman of the Beijing Internet Cafe Association, who equated the suggestion to "asking every consumer who bought (tainted) Sanlu milk powder to check its safety before drinking".
"According to the business license, a wang ba can only provide Internet access services," he said. "So, checking film copyright information is beyond its duties and abilities."
At an August seminar hosted by the Supreme People's Court, Sun Qi urged authorities to accept the promise by movie providers in contracts as evidence of Internet cafes' due attention.
He also called for a public online platform where cafe managers can find basic copyright information on Chinese movies.
Ready to charge
On top of the dispute about who to charge, question marks also remain over how much.
The CFCA's standard daily fee is based on two main factors: the number of computers an Internet cafe has and its hourly rates. Using the calculation given to China Daily, a business with 100 screens that charges 2 yuan an hour would be expected to pay roughly 15 yuan per day.
"That's too much," said Li Zhangjun, manager of Seaside Internet Cafe in Beijing's Chaoyang district. "Business is poor right now. We're barely making a living."
Seaside had 400 computers when it opened in 2006, although the number was reduced to 160 two years later when there were fewer migrant workers, its core customer base. Meanwhile, expenses have soared due to spikes in rental prices and living costs.
According to statistics from the Beijing Internet Cafe Association, the daily income of a wang ba with 100 to 150 computers is now about 40 percent lower than in 2006.
"The China Film Copyright Association has a responsibility to explain and prove whether the fee is reasonable," said Qu Sanqiang, a professor at Peking University's intellectual property school.
"In countries like the United States and Japan, where the legal system is comparatively mature, copyright collective management groups usually make an effort to negotiate and reach an agreement with related industry organizations."
As the CFCA only sells the right to copy and screen a movie, and no other services, Internet cafes still need movie providers for downloads. This has led many to argue that the royalties charge will fail to tackle the rampant bootlegging.
"Even if we pay the charge, copyright violations will remain as long as the providers keep offering pirate movies," said Li at Seaside Internet Cafe.
However, the new regulations do not question where an Internet cafe obtains a movie, as long as it has permission from the CFCA to copy and screen it.
"Even if they buy a pirated DVD on the street, it's still legal for a cafe to copy the film to its server and make it available to customers," added Wang at East China University of Political Science and Law.
By directly charging wang ba royalties, "we can prevent them from building pirate movie servers", said CFCA secretary-general Li Guomin, who argued that if both his association and Internet cafes check for copyright licenses, companies that offer download services will be deterred from offering bootlegs.
Cafe owners disagree, however. Those who talked to China Daily said they see the new fees simply as an extra tax on their businesses.
Sun Qi of the Beijing Internet Cafe Association said he believes the crackdown is "just an excuse to collect money" and will have little to no impact in battling piracy.
Distribution concern
The CFCA is making efforts to cooperate with movie providers. It invited 10 companies to attend to talks in Beijing on Nov 9, with a view to giving them the option of joining the association or becoming a partner. (When China Daily contacted the CFCA on Wednesday, a spokeswoman refused to confirm whether the meeting was successful or had even gone ahead.)
However, as the firms are already used to making large profits from selling films without the copyright licenses, experts say it is impossible to predict whether an agreement can be reached.
Beijing Netmovies Co Ltd, which supplies digital entertainment content, has already signed a contract with the CFCA, according to marketing director Cheng Tianyu.
"The association doesn't have enough people," said Cheng. "We'll help with collecting the (royalties) and distributing authorized movies to wang ba (in more than 30 cities) on the association's behalf."
Negotiations with authorities in potential pilot cities - likely Beijing, Shanghai and several prosperous cities in Guangdong, Jiangsu and Fujian provinces - are also under way. If successful, the CFCA will appoint a chief representative to find local partners, like Beijing Netmovies, to collect cash and provide other services.
Secretary-general Li Guomin said the target is to collect at least 20 million yuan in 2011 and 100 million yuan by 2014. Ninety percent of the money will go to its members, with the rest going toward administration costs.
However, concerns remain over how the money will be distributed.
As the CFCA has no way of recording exactly which movies are being played or where, it is planning a sample survey on selected Internet cafes. Decisions about who will get a greater share of the royalties will be based on the results of that trial.
"We have reservations about the measures being taken" by the CFCA, said a public relations officer at one of China's largest private film production and distribution companies, who did not want to be identified.
"If it will bring our company more financial income and increase our reputation, we'd be more than happy to cooperate, but I haven't seen a large-scale operation model," she said. "I don't know what's going to happen."
She said her company has not yet signed a contract authorizing the CFCA to manage its copyright issues, despite it being listed on the association's website as one of its 64 members.
"Distribution of the money is still something we need to discuss," added the PR officer, who suggested many other film companies are also in the same position.