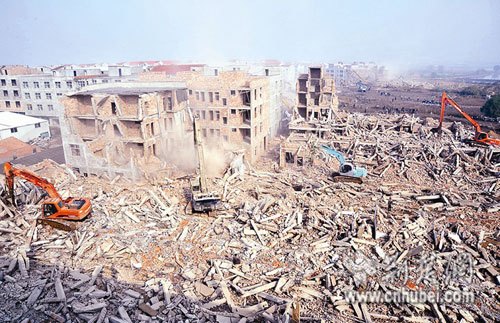 The site of the illegal building block being demolished in Wuhan, Hubei province. [Photo/Cnhubei.com]
A man driving a Nissan SUV crashed into crowds of chengguan and injured 11 of them in an attempt to stop the law enforcers from forcing a demolition of an illegal building block in Wuhan, Beijing News reported Wednesday.
More than 2,000 officers from the city's urban management bureau, public security department, and land and resources department launched a joint crackdown on a 90,000-square-meter illegal building complex near a wetland in Houhu village of Huangpo district in Wuhan on Tuesday night. The car suddenly ran into the law enforcers, injuring 11, including one seriously. He is now in critical condition at the hospital.
The driver himself was injured after he hit a mound of dirt at the site and is also being treated at a hospital.
Police are investigating the case.