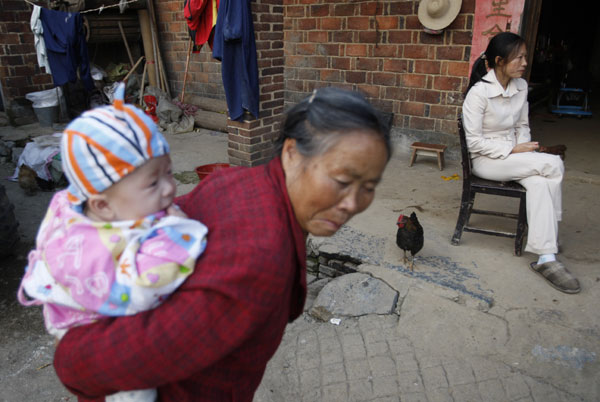 Yang Deying sits in her courtyard in Nanta village, Hunan province, while her mother-in-law carries one of her twins. Yang, 32, returned to the village two years ago to get married. Photos by Zhang Tao/China Daily
Yang Deying was dressed in a bright, white leisure suit, a color and style not often seen among the fields and dirt roads of rural China.
Related readings:


 Our migrant workers need some respect


 China needs more resources for skills training of rural people


 Wages to continue increasing: report


 Free therapy offered to migrant workers

"I knew I'd come back to the countryside in the end," said the slender 32-year-old, standing at the front door of her family's simple, brick home. "Although, my friends in the city warned me I'd regret it."
After spending more than 13 years as a migrant worker, Yang returned to her roots in the central province of Hunan in 2008 to get married and become a full-time housewife. Readjusting to village life has not been easy, however.
Like millions of other rural women who carved out lives in cities, she has found her attitude toward men, money and motherhood is dramatically different from many of her new neighbors in Nanta village.
"It's hard to explain but I think I've experienced things that those (who stayed in the village) will never understand," said Yang, who has six-month-old twins.
As she talked, a group of housewives holding babies stood nearby, openly making jokes about her. "She's an old lady of the village," one of them called out. "She didn't get married until she was 30. We were all married in our early 20s."
Feeling like the odd one out is common for women attempting to resettle in the countryside, said Meng Xianfan, a retired deputy director of the Chinese Academy of Social Sciences' center for women's studies, who is still involved in its research.
In late 2009, she was part of a team that published the country's first research report into the lives of returned female migrant workers. For two years, they held one-on-one interviews with hundreds of women in rural counties of Anhui, Jiangxi and Henan provinces, as well as in Chongqing municipality and the Ningxia Hui autonomous region.
According to the final report, chief among the respondents' complaints were poor sanitations conditions (some said they have to travel long distances every week just to take a shower) and boredom.
"The experiences migrant women are having in the 'outside world' are upgrading their lifestyles and civilization standards," said Meng.
Her team also discovered a large proportion are frustrated with not being able to use the skills they developed in the cities, either because of a lack of funds or suitable working environments back home.
It is hard for returnees "to find opportunities to make full use of their competencies", reads the final report. "They are longing for the government to provide a suitable platform for them."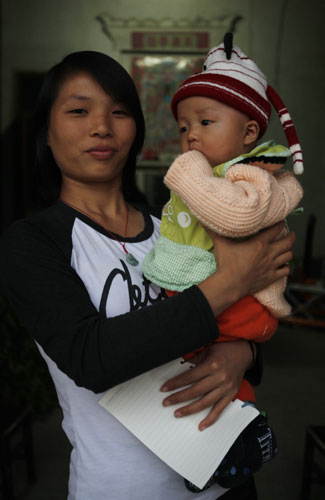 Zhou Qiuhua, 24, holding her son, plans to get back to work in cities when the boy is 1 year old.
Independent thinking
For Yang, who moved to South China's prosperous Guangdong province at the age of 15, the biggest adjustment after returning to Nanta has come in having to rely on her husband for money.
Although it is traditional for rural men to feed and clothe their families, Yang argues that no woman "between 20 and 40 should have to ask a man for money".
She started her migrant life earning just 300 yuan a month as a storehouse manager for an electronics firm in Zhongshan. When the company went bankrupt in 1997, she found work in a restaurant in Shenzhen, arguably the Pearl River Delta's most successful city and a top destination for the migrant workforce.
"Working in the restaurant was hard," recalled the mother, who quit education before graduating junior middle school. "My job was prepping food for the cooks, but everything was in English so it was mission impossible for me."
She lasted just one week and spent the next two months relying on any temporary work she could find before returning to Zhongshan for a job at a hardware factory.
"By then, I was making more than 1,000 yuan a month and life was getting easier," said Yang, who in her spare time would play games, go skating or visit karaoke bars with friends.
"At weekends, we'd take a 15-minute bus ride to a shop at a nearby clothing market," she said. "When I was in Guangdong, my friends and I always split the bill when we went out. I can't remember where I spent all my money but it was hard to save any."
However, like many returnees, Yang, whose husband runs a small feed business, said she understands that compromise is an important part of resettling in the countryside.
"If I wasn't taking care of the children, I would never depend on a man financially," she added, patting her crying son on the back. "The twins have been my sole source of happiness since I returned home."
China's migrant population reached roughly 201 million in 2008, according to statistics released this year by the National Population and Family Planning Commission. Yet, Meng said many of them, particularly women, are returning to the countryside because of the hukou (permanent residency) system, which strictly separates rural and urban residents.
"Migrant workers feel rejected by the cities' employment, housing, education and social security systems, which make it hard for them to settle where they work," she said. "There's a big gulf between the flow and migration for China's rural population. It may be easy to flow but it's extremely hard to migrate."
Meng's study for the Chinese Academy of Social Sciences concluded that tracing the movement of female migrant workers results in "an M cycle".
"The 'M' shows the two peaks of when rural women flow to the cities," said project leader Meng, who explained the first peak is when women leave their villages at age 17 or 18 and return home to get married or have a child at about 20 or 22.
"Most move away again at 25 - the second peak - and will then return for good at about 35," she added.
Zhou Qiuhua, 24, who lives near Yang in Nanta, fits the model almost perfectly. She returned home last year from Dongguan, another manufacturing hub in Guangdong, to give birth to her son.
"It wasn't a realistic option to have a baby in Dongguan," she said. "I could only have a three-month vacation and nobody there could help me with the delivery or taking care of the baby."
Unlike Yang, however, Zhou plans to go back to the city to work when her son is 12 months old. "I'll come back when he turns 3 and stay with him as he goes to school," she said.
Experts say having a child is the No 1 reason why most women return to their villages. With no social insurance coverage or family to care for them, most rural employees are forced to quit the factories once they get pregnant.
"I think the problem has caught the attention of policymakers and the situation is changing, albeit very slowly," said Meng.
In her team's final report, it reads: "As the barriers gradually collapse and urbanization moves forward, a nationwide integrated social security system will be built and the number of migrant workers returning to the countryside because of (poor) social security will shrink."
New sensibilities
In July 2009, migrant population management officials at the National Population and Family Planning Commission surveyed 47,461 workers with urban and rural hukou. It showed that 60 percent of the rural migrants were concentrated in low-pay, high-risk industries like construction, manufacturing and catering, while for urban residents the percentage was 53.
Roughly 64 percent of respondents with rural hukou, however, said they will spend "the later part of life" in their native villages.
"Migrant workers devote the best times (of their lives) to the development of cities but they're excluded from enjoying its welfare," said Meng. "They're the cost of the urbanization process.
"On the other hand," she added, "their returning home could boost the cultural development and civilization process of the rural areas."
Women who return from cities usually have a greater sense of self-awareness and care more about their children's education, compared with those who never left home, said Meng.
Yang agreed and said she hopes, like all parents, that her twins enjoy a better life than she has.
"I don't want them to stay here," she said, referring to the village. "I hope they'll do well in school. I regret not taking school seriously myself."
"I don't want my son to be like me, working for others," said Zhou, echoing her neighbor's sentiments. Looking at her son, Wang Zi, which means "prince", she added: "I want him to spend some years at school and (get out of the village) in the future.
"Life at home in the village is pretty boring," she said.