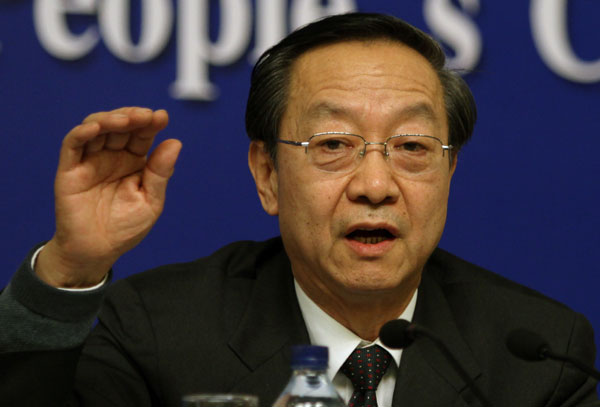 Li Yizhong is Minister of Industry and Information Technology.
BEIJING - China's top industrial official said the country will no longer make the growth rate its top priority in its five-year industrial development plan, focusing instead on the quality and the profitability of industrial growth.
Related readings:


 China sets 10-year plan to boost patent industry


 China treats foreign, domestic net firms equally


 China to nurture 7 new strategic industries


 Chinese firms ink deal to tap Aussie coal reserves

Li Yizhong, minister of industry and information technology, said although China is the world's major manufacturing economy, the value that it added in the manufacturing process is far less than the world average.
He said China will encourage the use of high technology in its industrial development in the 12th Five-Year Plan (2011-2015) and will further reduce energy consumption and pollution.
"China's industrial value-added rate stands only at 26.5 percent, far lower than the world's average of 35 to 40 percent," said Li. The rate is the ratio of industrial value-added output to a country's overall industrial turnover.
Li added that the Chinese government plans to further restructure its industrial sector to improve productivity.
China dropped the GDP growth rate target in its 12th Five-Year Plan (2011-2015), the first time in the country's history of economic planning. The move, analysts said, reflects the government's intention to abandon the country's long-held development pattern, which is mainly driven by government investments and exports of low-end products.
"China's previous growth pattern has hit a deadlock," Zheng Xinli, deputy director of the economic committee of the Chinese People's Political Consultative Conference, the nation's top policy advisory body, said on Monday.
He said China needs to upgrade its manufacturing industry with technology.
China's industrial value-added output growth slowed to 13.1 percent year-on-year in October, from 13.3 percent in September, the National Bureau of Statistics said last week. The growth rate for the first 10 months was 16.1 percent year- on-year, down 0.2 percentage points from the January-September period.
Li said he expected the country's industrial value-added output to expand at least 13.5 percent year-on-year in 2010 as the industrial sector has returned to stable growth amid the global financial crisis.
"China's industrial sector has seen a V-shaped recovery after the financial crisis," Li said. He said China will focus on several high-tech projects, such as the next generation of the Internet and the convergence of telecom, Internet and broadcasting networks in the next five-year plan.
China Daily