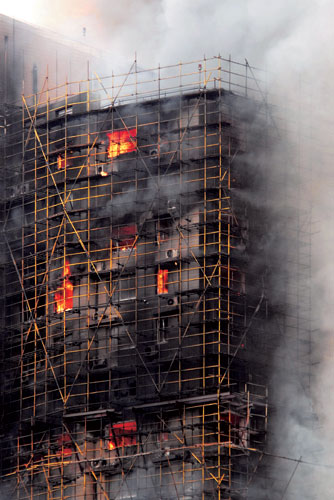 Smoke billows skyward as fire engulfs a 28-story apartment building near the intersection of Jiaozhou Road and Yuyao Road in downtown Shanghai on Monday afternoon. The fire was put out at 6:30 pm. Niu Yixin/CFP
Latest: The death toll of a big fire that engulfed a high-rise building in downtown Shanghai had risen to 53 by 9:20 a.m. Tuesday, local authorities said.
SHANGHAI - A blaze engulfed a downtown high-rise residential building, killing at least 42 people and injuring 90 on Monday.
Related readings:


 Fire rips through Shanghai apartment building


 Fire damages oldest building at Tsinghua


 42 killed in Shanghai as fire engulfs high-rise


 Fire leaves 4,500 stranded on cruise ship in Pacific

The fire broke out at 1:45 pm in one of three buildings under renovation near the intersection of Jiaozhou Road and Yuyao Road. More than 60 fire engines were involved in battling the fire, which was brought under control about five hours after it started.
Twenty ambulances were called to the scene and three helicopters were also involved trying to rescue trapped residents.
More than 100 residents were saved by firefighters.
Gas and electricity supplies in the area were cut off to reduce the risk of explosions or further fires.
"I saw at least four or five people hanging onto the scaffolding which covers the building, screaming for help. Firefighters were trying to get closer and use their hoses to cool a path on the scaffolding so that they could climb down and escape," said witness Li Qubo who works in a nearby private company.
"A helicopter arrived at around 4:00 pm, trying to rescue people from the top of building but failed because of the intense smoke," he said.
The sound of small explosions was heard about four hours after the fire broke out. The 28-floor building was undergoing renovation and was covered with flammable safety netting, to prevent tools or masonry falling onto the street, which made it more difficult for firefighters.
"We tried to approach the building from all angles available, including from the nearest building," said Dong Qilin from Pengpu Fire Brigade.
Unlike commercial skyscrapers that have fire-prevention systems, residential buildings are not so well-equipped.
"If it was Jinmao Tower or Shanghai World Financial Center, I don't think it would keep burning for so long, the fire would have been extinguished in half an hour," said resident Pan Ding, who lives in an adjacent building. The building that caught fire was equipped with fire extinguishers on each floor, he said.
Luo Qifeng, deputy director of the Shanghai Institute of Disaster Prevention and Relief, said residents in high-rise buildings need to familiarize themselves with emergency procedures.
"Rescue operations may be difficult in high-rises," Luo said.
Fire drills in residential buildings, especially high-rises, need to be promoted and people should ensure that equipment is well maintained and not misused or allowed to fall into disrepair, Luo said.
"I often see fire doors and fire stairs locked because residents want to guard against burglary, and in some dormitories at universities emergency exists are locked," he said.
A total of 180 families lived in the building, which houses a number of retired teachers.
Survivors who are not seriously injured are being put up in temporary shelters in a nearby middle school, a club for senior citizens and a nearby hotel.
The cause of the fire has not been confirmed yet, but a witness said building materials caught fire, and the blaze spread to scaffolding and then to the 28-story building, the Xinhua News Agency reported.
Eastday.com cited a construction worker surnamed Qian who escaped from the building as saying crews were installing energy-saving insulation when the fire occurred.
"The renovation of the three buildings was offered free by the government," said resident Pan. "They paid 38 million yuan ($5.7 million)to update our windows for winter. It was supposed to be a good thing. But now it has turned into a tragedy."
China Daily