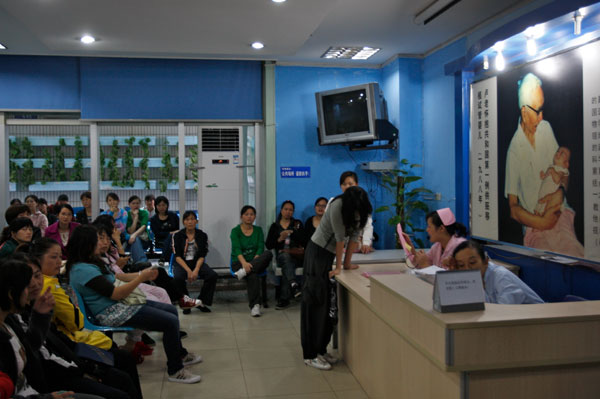 Patients wait to see a specialist at Xiangya Hospital's reproductive health center in Changsha, capital of Hunan province, which offers IVF treatment for couples. Photos by Zhang Tao / China Daily
Wang Jian is an athletic and intelligent young man, making him almost the perfect candidate for many Chinese women looking to start a family - even if they never meet him.
Related readings:


 Sperm donation in China


 Two men "ran illegal sperm donor agency"


 Human sperm gene unchanged for 600 million years


 Shortage of sperm donors puts parenthood on hold

The master's degree student from Beijing is one of the few men who have answered the desperate call for sperm donors. Even more rare is that he passed the nation's strict requirements.
"Not everyone can donate, even if they want to," said Wang, 24, shortly after being told by a collection staff member that his sample was excellent.
"I'm very honored. Sperm banks only want quality donations like mine."
In fact, the density required by licensed clinics in China - 60 million sperm per millimeter - is three times that of the "average healthy male", as defined by the World Health Organization.
According to Chen Zhenwen, chief consultant at Beijing's only sperm bank, more than 80 percent fail the initial test.
Coupled with the cultural stigma, as well as restrictions on donations from men over 45 and homosexuals, the result is a dire shortage of sperm and an average nine-month wait for infertile couples seeking artificial insemination services.
The Ministry of Health began allowing sperm banks to open in 2001, setting a maximum limit of one per province or autonomous region. Today, 10 operate nationwide, all of them State-run.
"I wish there were more like Wang Jian. It would help us avoid shortages at all the banks," said Chen, who blamed the problem on rising infertility rates and the fall in sperm quality caused by men's modern lifestyles, such as spending long hours behind the wheel and in front of computer screens.
An employee at Beijing's sperm bank hands a container to a sperm donor.
All in the genes
Even without the high-standard requirements, clinics are struggling to get potential donors through their doors.
Although a growing number of Chinese men are willing to give blood, most are still too embarrassed to even talk about sperm, let alone offer a sample. Some refuse on moral grounds, while others simply fear their friends and family will find out.
Wang admitted he has not told his parents or girlfriend about his donation because he feels they "will kill me for letting a stranger use the precious family seed".
"I'll just be glad if I can help a childless couple," said the student at China University of Mining and Technology. "Actually, I should thank them for continuing my family line."
Beijing's sperm bank, which is run by the National Research Institute of Family Planning, receives on average just two visitors a day, although a staff member said numbers are beginning to increase.
The rise is thanks largely to a build-up of trust, with collectors in the capital guaranteeing anonymity for donors by providing samples directly to hospitals to use in artificial insemination treatments, rather than to individual couples.
However, confusion over what actually happens at the sperm banks remains.
Workers at the Beijing bank told China Daily they regularly receive calls from men to ask if "the female nurses lend donors a helping hand". They blamed fake pictures published on the Internet last year.
"People have many misunderstandings," said chief consultant Chen. "The men are totally on their own (in the collection rooms). We don't even provide pornographic magazines or videos because they're illegal in China.
"What we do is very serious and strictly regulated," he added.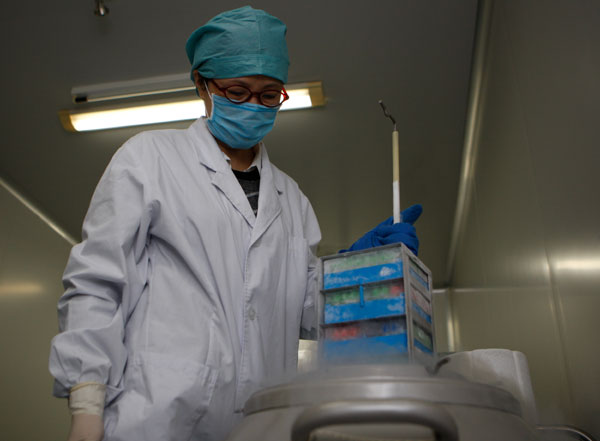 A researcher checks sperm samples stored in liquid nitrogen at Beijing's sperm bank, which is run by the National Research Institute of Family Planning.
Taking up time
The regulations set by the Ministry of Health are simple: only healthy men between the ages of 22 and 45 can give sperm once in their lifetime. Gay men and foreign nationals are prohibited.
Some banks also encourage people from China's many ethnic groups and prefer donors to be at least 170 centimeters tall and hold a college degree, traits that top most couples' wish lists.
However, becoming a donor can often prove far from easy.
"I thought it was a one time thing but it's actually not," said Feng, a 23-year-old classmate of Wang Jian who also went to the clinic (he did not want his full name to be used). "It's too time-consuming."
Feng said he changed his mind about donating when he discovered the process can take more than 10 months.
Men must visit a sperm bank three times for initial tests and undergo blood screening if their sample makes the grade. They then have to return 10 to 15 times to donate. Six months after the last collection, donors receive a final test for HIV.
University students like Wang and Feng form the core of China's national sperm donation system. Statistics show they represent more than 50 percent of the men who visit the Beijing bank, with the proportion rising to 70 percent in Shanghai and 85 percent in East China's Shandong province. Married men account for the remainder.
"Students are much more open-minded than elder generations," said Chen in Beijing, although he admitted the ideal donor is already married with a child.
Tang Lixin, director of the sperm bank in Guangzhou, capital of Guangdong province, said his clinic has had some success cooperating with student unions.
"Union members normally talk to students one on one in private about sperm donation, which works for us, although it takes time," he said, adding the bank used to promote its services with posters and leaflets but it proved ineffective.
In September this year, Li Zheng, director of Shanghai's sperm bank, gave a lecture at the city's Fudan University and Tongji University to raise awareness. Shortly after, more than 300 students reportedly contacted his clinic.
One thing that has helped attract young people to donate is the cash incentives. Sperm banks pay 200 yuan ($30) for each donation, depending on the quality, as well as a bonus of up to 1,500 yuan after the final blood test.
"It's only part of the reason (I wanted to donate) but I have to say, 3,500 yuan is very attractive to me because it could cover a year's tuition fee. What I need to do for it is not difficult," said Wang.
Chen explained that it is illegal to trade sperm in China, "so we don't pay for sperm. Instead we offer a reasonable amount of cash to cover the transport costs and the donors' hard work".
Chongqing's sperm bank, the only one in Southwest China, has remained closed since late last year following a sperm trading scandal. Three managers and two employees were sentenced to between seven and 12 years in prison for earning 440,000 yuan by selling 1,000 sperm samples, mostly to medical clinics providing unlicensed insemination services.
Greater links
Under Chinese law, sperm from one donor can be provided to a maximum of five married women (singles are not eligible) and should not be distributed again after a recipient is confirmed pregnant.
The restriction is to prevent the risk of marriages between men and women born of the same anonymous donor.
However, Lu Guangxiu, director of Hunan province's sperm bank in Changsha, the first in China and now the largest in Asia, said she feels the limit is a waste of resources.
"It's been scientifically proven that in a country with a population of 3 million, the chance of intermarriage between the offspring of one sperm donor is extremely slim when sperm is provided to five women," she said. "For a country of 1.3 billion people, one man's sperm could safely be provided to at least 10 women."
Despite the collection and usage of sperm samples in China being far more strictly regulated than in the United States and other Western countries, Lu warned that there are still loopholes.
As an example, she cited the fact none of the sperm banks' donors database are linked, which could theoretically allow one person to donate several times, collecting the compensation from different provinces.
"The money on offer is unlikely to many tempt people to try it - it is only viable if someone relocates - but China's sperm banks should have a system with which they can share information and keep track of donors nationwide," said Lu.
In the meantime, banks are attempting to attract more people by setting up blogs on popular Chinese websites. Potential donors can ask questions about services and get other health advice.
"I don't think Chinese people are open enough to accept advertising for sperm banks in magazines or on television because it is still a very sensitive topic," said Lu in Changsha. "To respect donors, we'd like to keep everything private, including our advertising.
"Word of mouth is still the best and most effective way of attracting donors," she added.