HARBIN - Continuous heavy snow has delayed flights, caused massive traffic pileups, forced expressways to close and schools to cancel classes in northeastern China, local authorities said Friday.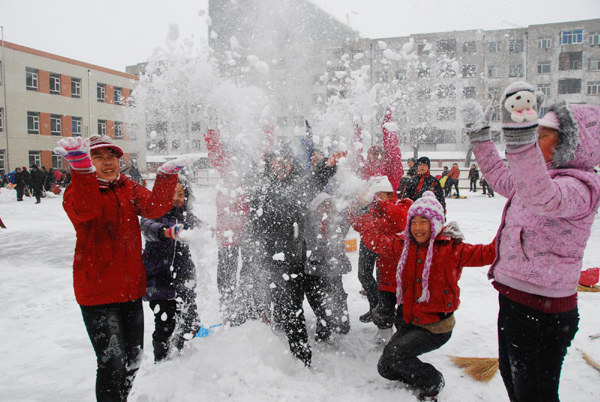 Students play with snow in an elementary school in Harbin, the capital of Northeast China's Heilongjiang province, Nov 12, 2010. Heavy snow began to fall in the city Thursday night. More snow is forecast for most parts of Heilongjiang from Nov 11 to Nov 13, according to the provincial meteorological station. [Photo/Xinhua]
Heavy snow began to fall in most parts of Heilongjiang province Thursday afternoon, and more than 20 inbound and outbound flights at the Taiping International Airport in the provincial capital Harbin had been delayed.
Related readings:

 Heavy snow closes highways in Jilin


 Cold front to sweep N China with light snow


 October snow covers Tianshan Gorge

 Season's first snow shower falls on Harbin
The airport re-opened Friday morning, an airport spokesman said.
Amid poor visibility and slippery roads, vehicles crashed into each other Thursday night on an expressway linking Harbin and Mudanjiang, resulting in a pileup of 43 cars and injury of two people, said Wang Gaoxin, a provincial traffic police officer.
All five expressways in the province were forced to close on Thursday afternoon, and are yet to open.
Heavy snow has also battered the neighboring Inner Mongolia autonomous region over the last two days, stranding thousands due to air and road traffic disruptions.
In Tongliao of Inner Mongolia, education authorities have ordered all local kindergartens, primary and middle schools to suspend classes from Thursday. Schools will re-open next Monday.
More heavy snow will hit parts of northeastern China in the coming 24 hours, according to meteorological authorities.