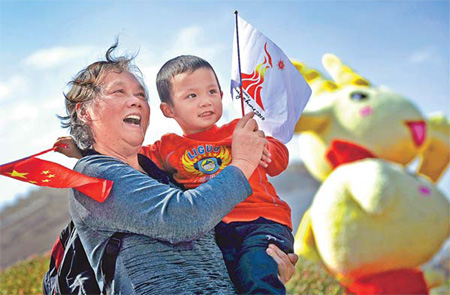 Holding a young child, a tourist poses for a souvenir photo on Wednesday beside a statue of Le Yangyang, the mascot of the 16th Asian Games, at Huacheng Square in the host city Guangzhou. She Ying / for China Daily
As the Asiad begins in Guangzhou, Cui Jia and Lei Lei find out how organizers got to grips with some sports that have never graced a Chinese event before.
Hosting a major sporting event is never easy. From arranging venues to selling tickets and playing the appropriate music at medal ceremonies, everything poses a potential headache.
Related readings:


 Major facelift for the host city


 Festive atmosphere grips southern city


 China pledges to keep security at Asian Games


 Asian Games: volunteers, performers and tourists

Now imagine that the sport in question is one the organizers have never even heard of.
Welcome to the 16th Asian Games, an event that this year boasts not only 14 non-Olympic events but also several that have never before been played competitively on Chinese soil.
Along with popular global sports like badminton, basketball, sailing and cycling, Guangzhou 2010, which officially opens on Friday, will also feature kabbadi, sepak takraw and roller sports.
"The inclusion of non-Olympic sports allows Asian countries to showcase their traditional sports," said Li Naizhen, deputy director of the competition department for the Guangzhou Asian Games Organizing Committee (GAGOC). "We hope to make the event a festival for all Asian people."
In fact, non-Olympic sports make up roughly 23 percent of all events at this year's Games.
"In some ways, the Asian Games are more difficult to host than the Olympics because Chinese organizers were unfamiliar with sports rarely played here, such as cricket and kabbadi," said Xu Jianping, who is also deputy director of the GAGOC's competition department.
To ensure the events run smoothly, experts from sports federations across Asia were invited to Guangzhou, capital of South China's Guangdong province, to help with preparations. "We also sent staff members to countries where those games are popular to get hands-on experience," added Xu.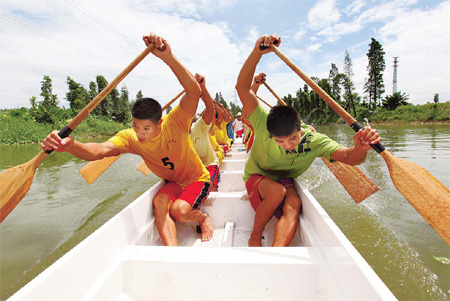 Dragon boat racing The sport involves crews made up of 20 forward-facing paddlers, a drummer and a steersman racing in traditional Chinese long boats fitted with heads and tails over a distance of 18.4 meters. Its roots can be traced back more than 2,200 years to Qu Yuan, who drowned himself in a river in South China as a protest against corruption during the Warring States Period (475-221 BC). Debut at Asian Games: Guangzhou 2010
Sticky wicket
One of the biggest headaches has been cricket, which will make its debut at the Asiad this year.
"We have zero experience organizing competitive cricket. We actually had to build China's first standard pitch," said Zhang Tian, 31, who is in charge of running cricket events at the 2010 Games.
Although the China team has not had the perfect preparation (the lack of facilities has meant players have trained on soccer pitches), the same cannot be said for the pitch at the Guangdong University of Technology Cricket Stadium.
This is largely thanks to Jashim Uddin, a Bangladeshi groundskeeper with 30 years of experience, who has spent seven months in the city working with the Asian Cricket Council.
"It's been a tough road because (the Chinese organizers) didn't know what to do," said Uddin. "For a first-time effort, though, the facilities are excellent."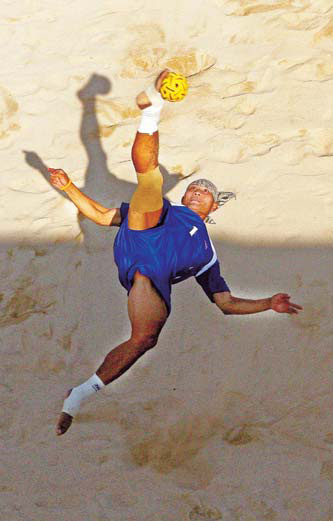 Sepak takraw Otherwise known as "kick volleyball", the sport is played on a court roughly the same size as a badminton court, one which two teams made up of two or three people hit a hand-woven ball (takraw) over a net. Points are scored when the ball hits the fall. Players can use their feet, legs, shoulders or head to keep the ball in play but cannot use their hands. The game is believed to date back as early as the 9th century, with the ball originally made out of rattan stems. It is traditionally played in Malaysia, Indonesia, Brunei and Singapore, and is now popular in Philippines, Thailand, Myammar and Laos. Debut at Asian Games: Beijing 1990
Wang Chenqu, deputy competition director of cricket, admitted he knew nothing about the sport before taking up his current position but insisted: "Just because we've never hosted cricket games, we still have to plan things to the finest details.
"There are so many things we don't know but we are learning as we progress," he said.
Bandula Warnapura, former Sri Lanka cricket captain and now a technical director with the Asian Cricket Council, inspected the Guangzhou committee's preparation on Nov 10, three days before the first 20-over match.
"The Chinese are fast learners and everything has been very smooth here," said the 57-year-old. "When the Chinese make up their mind to do something, they do it well.
"If cricket does well at the Asian Games, it could be an Olympic event soon, so this debut is extremely important. I have absolute faith in the organizers, even though it's their first time," added Warnapura.
Tickets for the men's and women's events have been selling like the proverbial hotcakes, with sellout crowds expected at many games.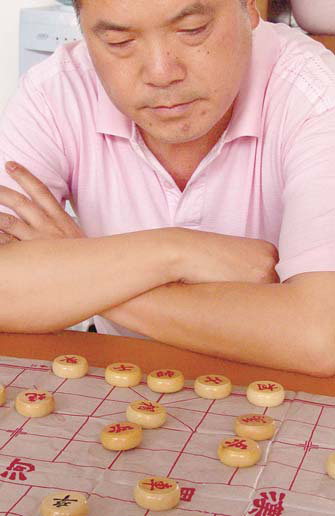 Xiangqi One of China's most popular board games, two-players compete as armies and must capture their rival's "general" (similar to the king in chess) to win. Each player takes turns to move one of 16 pieces, which all have different movements, on a board that is 9 lines by 10 lines. Opponents can capture each other's pieces by moving theirs to the same intersection. Historians say the game has been played since the Warring States Period (475-221 BC). As well as China, many people in Vietnam also play. Debut at Asian Games: Guangzhou 2010
Learning the basics
Kabbadi, which originated in South Asia, is the only event the Chinese team will not compete in this year (the country does not have a national federation).
Su Jie, the director responsible for organizing the 2010 events, said the first thing she did after being assigned the job by the State General Administration of Sport was to turn to Google.
"We had to start from scratch, from the basic rules to tactics," she said. "You can't successfully host a game if you don't know it, so our initial task was to learn from the Internet, previous Asian Games and experts."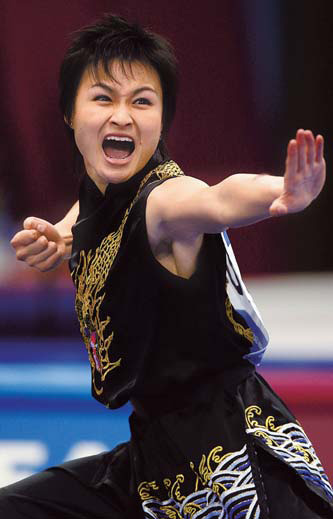 Wushu Also known as Chinese martial arts, athletes perform compulsory or individual routines, with judges marking them on the kungfu patterns and maneuvers they use. Competitive wushu is composed of two disciplines - taolu (forms) and sanshou (free sparring) - and includes long boxing, southern-style boxing, tai chi, short weapon play and long weapon play. In taolu, judges also look for basic movements, such as stances, kicks, punches, jumps, sweeps and throws. Debut at Asian Games: Beijing 1990
Today, Su is somewhat an expert herself after all her research - an experienced Gao Kunpeng, competition director for sepak takraw, said his team also shared. He added: "Our knowledge of the game was like a blank page at the start but now it's like a library of books."
Help with kabaddi has also come from the Asian Amateur Kabaddi Federation, which will also train 30 Chinese coaches to teach the games in schools and colleges.
"(Kabbadi) can be played on grass or sand, so it is very suitable for the Chinese," explained Prasad Rao, the federation's technical director, who said he hopes a Chinese team will feature at the next Asiad.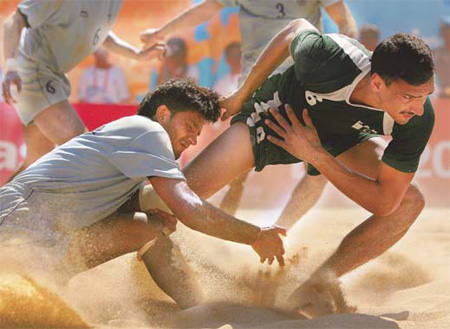 Kabaddi Played on an area 13 meters by 10 meters (12 x 10 for women), two teams of seven compete over two 20-minute periods. Teams take turns in "raiding" their opponents half to tug as many people as possible without taking a breath, while defenders make a chain to stop them. It is a game of agility, lung capacity, mentality and quick response. Historians say this combative sport was probably invented to ward off attacks from wild animals in ancient times. Today, it is popular throughout South Asia. Debut at Asian Games: Beijing 1990
Wu Hong, who lives in Guangzhou, is one sports fan who cannot wait for the kabbadi competition to start.
"I love the game because it's fun and relaxing," said the 46-year-old. "After all, the inclusion of non-Olympic sports is what distinguishes the Asian Games from other events. You cannot watch these games anywhere else (in China)."
Roller sport Athletes compete in two disciplines: inline speed skating and artistic skating. Like ice-skating events at the winter Olympics, the first is simply on-track racing, while the second involves skaters performing a routine that displays control and accuracy. The games have been popular worldwide since New Yorker James Plimpton solved the problem of controlling skates in 1863 by using a rubber cushion to anchor the axles. Debut at Asian Games: Guangzhou 2010
This will, however, be the last time organizers can include more than seven non-Olympic sports. The limit was set as part of efforts to reduce the costs of hosting the Asiad.