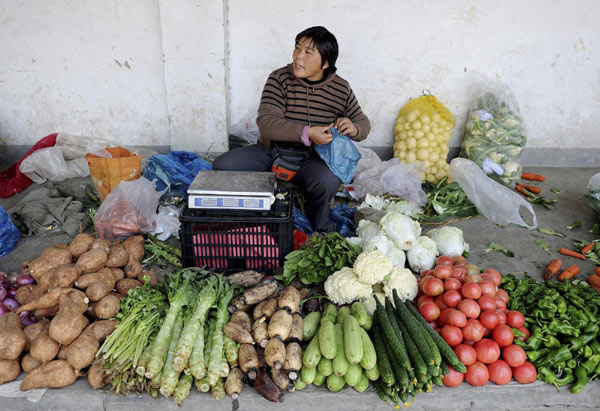 A vegetable vendor talks to another vendor (not pictured) as she waits for customers at a market in Hefei, Anhui province Nov 10, 2010. [Photo/Agencies] 
Surging food prices pushed up China's consumer price index (CPI), a major gauge of inflation, to a 25-month high of 4.4 percent in October, the National Bureau of Statistics (NBS) said Thursday.
The growth rate was 0.8 percentage points higher than that in September, said NBS spokesman Sheng Laiyun.
Related readings:


 Chinese govt on guard with CPI to exceed 3%


 China's CPI not to exceed 3.5% in 2010: NBS


 CPI increase sparks worries


 China's September CPI rises 3.6%

The price of food, which accounts for one third of the basket of goods used to calculate China's CPI, surged 10.1 percent year on year in October.
The October food price increase compared with a year-on-year growth of 8 percent in September, 7.5 percent in August, 6.8 percent in July and 5.7 percent in June.
From January to October, China's CPI rose 3 percent year on year, hitting the government's target ceiling for the year.
The producer price index (PPI) for China's industrial products rose 5 percent year on year in October, 0.7 percentage points higher than September, Sheng said.
October new loans fall to 587.7 billion yuan
China's new yuan-denominated lending in October dropped to 587.7 billion yuan ($88.5 billion) from 595.5 billion yuan in September, the People's Bank of China (PBOC), the central bank, said Thursday.
It was a big leap from the 253 billion yuan of new yuan loans in October of last year.
October's amount brought the combined new loans for the first 10 months to about 6.89 trillion yuan, compared with the 8.92 trillion yuan in the same period of last year.
China's banking regulator has taken measures to curb bank lending this year, targeting new yuan loans of 7.5 trillion yuan for the full year, down from last year's 9.6 trillion yuan.
Fixed-asset investment up 24.4% in first 10 months
China's urban fixed asset investment rose 24.4 percent in the first 10 months year on year to hit 18.76 trillion yuan ($2.83 trillion), China's statistics authority said Thursday.
The growth rate was 0.1 percentage points lower than that during the first nine months, according to figures released by the NBS.
The urban investment in the primary, secondary and tertiary industries rose by 17.2 percent, 22.3 percent and 26.4 percent respectively.