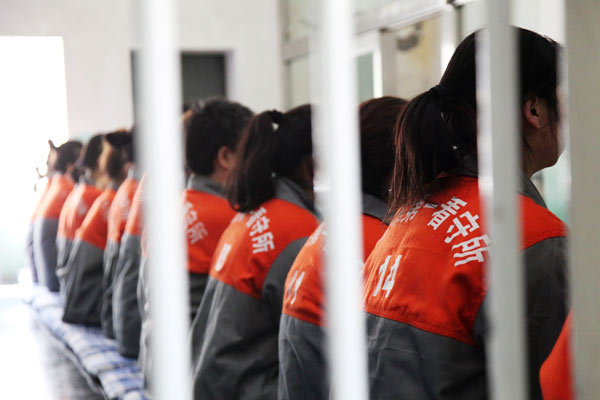 Female detainees in the Beijing No 1 Detention Center on Nov 3.[Li Qiao/China Daily]

 

Related video: Detention houses go under microscope
Two-month investigation by government departments will examine security, safety and treatment of inmates
Beijing - China has launched a national inspection designed to improve detention house management.
The inspection will last until the end of this year, Chen Wei, deputy chief of the supervision and management department under the Beijing Municipal Public Security Bureau, told China Daily.
During the inspection, nine central government departments, including the Ministry of Public Security and the Supreme People's Court, will look into security management, infrastructure and facility safety.
The move follows a regulation issued in March that required security management of detention houses to be included in evaluations.
Chen said problems with detention house management may impact social stability as it is related to criminal lawsuits and combating crime.
"Although detention house management has improved a lot, we still need to intensify efforts in internal management, infrastructure construction, police allocation and resource management," he said.
Chen said more supervision of detention houses will ensure more standardized and transparent law enforcement.
Seeking a safe and cultivated management is also conducive to protecting detainees' rights and interests, he said.
Wang Senlin, head of the Beijing No 1 Detention Center, told China Daily that next year they will integrate computer resources and establish a system for handling detainees' private information, the stage of their cases, their physical conditions and behaviors in the detention house.
The system will also help guards detect and prevent incidents such as suicides, murders, escapes and hooliganism during detention, he said.
Police will integrate their audio and video systems in nearly 50 communication rooms set up for conversations between police guards and suspects, as well as keep the audio records for more than 15 days, he said.
"With the help of the monitoring system, we can detect what's happening in any place at any moment in the detention house. This greatly reduces the chances of violent abuse of the detainees," said Wang.
Last August, the monitoring system succeeded in stopping the suicide of a female suspect in her 40s from Heilongjiang province who was detained on charges of intentional homicide.
She had tied her vest to the ceiling in her cell in an attempt to hang herself when guards were notified by surveillance staff and immediately rushed to the scene.
For video, please visit www.chinadaily.com.cn/video/
China Daily
(China Daily 11/11/2010 page5)