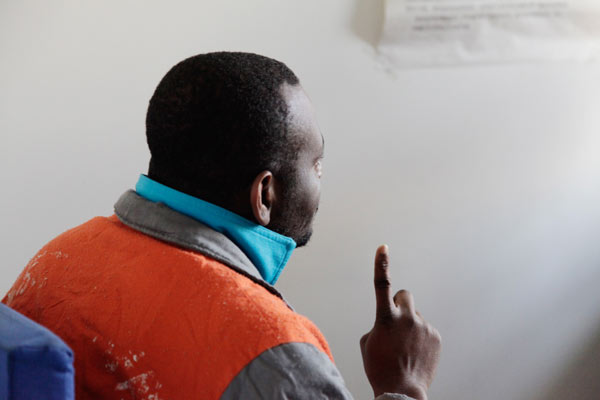 An African suspect allegedly involved in drug trafficking is detained in the Beijing No 1 Detention Center on Nov 3. [Wu Chuanjing/ China Daily]

 

Related video: Detention houses go under microscope
Beijing - There are 1,700 suspects detained in the Beijing No 1 Detention Center, including 240 female suspects and 12 minors.
Most of them were detained on charges related to major criminal cases, said Wang Senlin, head of the center.
Nearly 100 foreign detainees suspected of robbery, drug trafficking and intentional injury are also detained in a separate block in the center, he said.
A 19-year-old African male suspect allegedly involved in drug trafficking, was detained in the center in October.
He told China Daily that the Chinese guard gave him more care in the detention house.
"I was so depressed and in a low spirit when I was detained and the police guard gave me much comfort," he said.
"Once, I caught cold and was in a high fever, they immediately gave me medicine."
The detainee said the center also provides foreign suspects with bread, milk and eggs as most of them are not accustomed to eating Chinese food.
"They also show respect for our religious traditions and allow us to pray in the center," he said.
The whole detention center is divided into 10 supervision blocks, and there are five communication rooms in one block. Each supervision block includes 18 to 20 cells, and 10 to 14 detainees are usually put in the same cell.
There are 16 police guards in each supervision block, and each cell is equipped with alarms that detainees can press to call for help, according to Wang.
In addition, three qualified psychological consultants provide counseling service to detainees and 20 medical staff members from 999 Emergency Center stationed in the center provide medical service, he said.
Medical staff visit suspects twice a day to inquire about their condition and give medicine to sick suspects.
Each cell has a TV, lockers and a 24-hour hot water shower. All suspects sleep on a long board bed.
Behind each cell is a compound for them to exercise for half an hour in the afternoon.
Wang said detainees can have meat twice a week in addition to the usual food ranging from steamed bread to vegetables.
Cao Yin contributed tothis story.
China Daily
(China Daily 11/11/2010 page5)