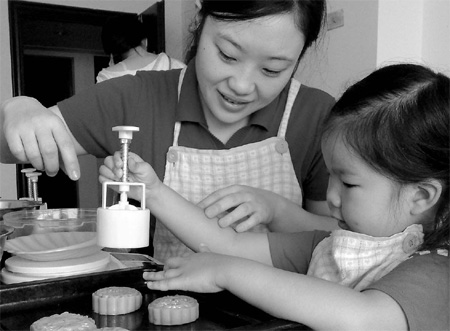 Bakery owner Cao Shun teaches a young girl how to make mooncakes in her bakery in Changsha city, capital of Central China's Hunan province, in this file photo. Guo Yali / China Daily
CHANGSHA - Friends and family thought Cao Shun had it made when she was working in a foreign company, flying around the country and checking into five-star hotels.
Instead, she decided, it was time to start baking cakes.
So she quit a job paying her 500,000 yuan ($75,000) a year and moved from Shanghai back to her hometown of Changsha, Hunan province.
Her mother, joined by a brigade of relatives and friends, laughed.
"They thought I was joking," Cao, 33, recalled in her bakery on the 20th floor of an apartment building in downtown Changsha.
"My mom mocked me saying, 'you don't even know how to beat an egg'," she said.
"My auntie even made a list of failed start-up businesses trying to convince me that my idea was too stupid. She said, 'Wake up, girl!'" Cao said, laughing.
But Cao said her mind was then clearer than ever.
"I knew what I was doing," Cao said. "After years of hard work, it was time to reward myself with an enjoyable life."
Two years later Cao's bakery has expanded eight times. She has even opened a branch in another city.
"I'm happy now because I know what I want and how to achieve it - a life of my choosing, a happy family and a person I love," she said.
Her success couldn't have been gained, however, without the experience of working for international companies.
"It was once a dream for me," she said, referring to her first visit to Beijing soon after graduating from college.
"I was stunned when I saw the China World Trade Center for the first time," Cao recalled. "It felt like a new world was opening to me."
She started in a Dutch IT company. By the time she decided to move back to her hometown in 2008, she was an Asia-Pacific office manager at a top 500 company in Shanghai.
"Foreign firms are pretty results-oriented," Cao said. "Along with high income comes high working pressure."
In the first few years, Cao said she had managed to ease the pressure.
Cao said she learned how to take care of things by herself while growing up in a divorced family.
"That's part of the reason I had been working really hard," she said. "But it was horrible waking up as early as midnight with nothing but the next day's report in mind. And there was the office politics!"
Cao decided to call an end to it.
"It was a life many people dream of today, but I had enough of it," Cao said.
That included her income.
"I was pretty confident at the time because the money I saved over the years should have been enough for the rest of my life - if I lived simply, of course," Cao said.
"That's why I call it a reward for myself running a business I enjoy. I've been responsible to myself."
Cao said her mother was wrong about her.
"I did know how to crack an egg," she said, laughing. "In fact, by the time I quit the company, I was already a fairly good baker."
Making cakes was an essential skill to survive in the top-class management of a foreign company, Cao said.
"It's a nice gift to bring to a home party," Cao said. "It also serves as a good conversation starter."
Cao called her baking skill a legacy left behind by her high-paid office career.
"Baking makes me feel relaxed, so do two other things - cracking open nuts and washing dishes," she said.
But her auntie was partially right about running a start-up business.
Cao said she had been confronted by staff from the city urban administrative and law enforcement bureau, also known as chengguan in Chinese, when she was trying to distribute flyers on the streets. She was once yelled at by a cleaner at a company.
"Most of my friends thought I was going crazy," Cao said. "It was tough, I agree. But I didn't complain because I was working in a business that I enjoyed."
Cao said she was grateful for her busy white-collar experiences.
"Without those years, I couldn't have become who I am or achieved what I have today," Cao said, referring to her marketing skills, vision and way of thinking.
She said all of these have jointly contributed to the booming business of her bakery, when many other small companies had failed.
"I've always believed that life is fair to everybody," Cao said. "But you just have to be prepared for when the chances arrive."
China Daily