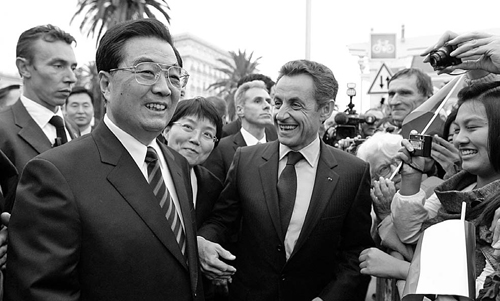 Chinese President Hu Jintao and French President Nicolas Sarkozy on the streets of Nice after their meeting on Friday.[Photo/Xinhua]
Leaders discuss monetary reforms ahead of Seoul
NICE, France - Chinese President Hu Jintao and French President Nicolas Sarkozy met in the French Rivera on Friday to discuss reforms to the international monetary system, in an apparent effort to coordinate their stance prior to next week's Seoul G20 summit when France will take the helm of the G20 economic grouping.
Hu told his French counterpart that global monetary reform should proceed in steps and with consensus on all sides, according to the Chinese foreign ministry.
Hu's remarks come amid speculation that next week's Seoul G20 summit will focus largely on global monetary reform.
France, which takes over the chair of the G20 group of leading economies in mid-November, has placed reform of the international monetary system at the top of its agenda during its one-year tenure.
In preparation for its presidency, France has been canvassing the opinion of G20 partners in recent months on improvements to the international monetary system, officials say.
"France is willing to discuss the topic with all parties including China," said Sarkozy, who earlier indicated that he looked forward to working closely with China to ensure a successful chairmanship of the G20 grouping.
France said present international rules on currencies are still largely based on agreements and institutions created at the 1944 Bretton Woods conference.
French economy minister Christine Lagarde had said earlier that "very clearly the international monetary system should be modified, improved and re-established to protect emerging countries and to diversify reserves".
"It was very important to be able to discuss with the Chinese Presidency the major issues, including the very necessary reform of the international monetary system," AFP quoted Sarkozy as telling reporters after the Friday meeting.
"It hasn't changed since 1944, when there was one large economy, the US, and one major currency, the dollar.
"What we should agree to do is to sit around a table to come up with ideas to build a system for the 21st century," he said.
Sarkozy's office also said he wants global leaders to avoid pointing fingers as they seek solutions to the current international spat over currencies.
The comments about avoiding confrontation follow Lagarde's remarks earlier this week about not "cornering" any nations over their currency practices, suggesting that France does not want next week's G20 summit in Seoul to focus solely on China's currency peg and the US Federal Reserve's policy of printing money to buy government debt.
China's yuan is a frequent target of the United States, which says it gives Beijing an unfair trade boost.
However, China has refuted the accusation, saying it is the bilateral trade structure that leads to trade imbalance, rather than the currency rate. Many US experts share China's opinion.
The French are planning to begin their G20 presidency with a series of seminars. An official with the French government, who spoke on condition of anonymity, said the first seminar will be held early next year in China.
The Nice talks come a day after the two leaders saw the signing of around $20 billion worth of aviation and energy contracts between French and Chinese companies.
A new round of 15 contracts was signed Friday in areas ranging from power to wine, including a 1.1-billion-euro deal between telecommunications group Alcatel-Lucent and China Mobile, China Telecom and China Unicom.
Hu arrived in Lisbon, the Portuguese capital, later on Saturday.
His visit is expected to further enhance bilateral ties between China and Southern Europe.
Portugal will serve as a non-permanent member of the UN Security Council in 2012 and 2013, and analysts said it means the two countries should maintain closer contact to jointly handle global challenges.
A large Chinese business delegation accompanies Hu to Portugal. A series of trade deals is expected to be signed, which would greatly help Portugal's sluggish economy, said diplomats close to the visit.
As a European Union member and a eurozone founder, Portugal has been an ideal platform for Chinese business to get better integrated with European markets, said analysts.