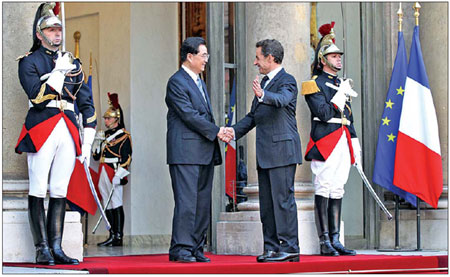 President Hu Jintao is welcomed by his French counterpart Nicolas Sarkozy upon his arrival at the Elysee Palace in Paris for a meeting on Thursday. [Lan Hongguang/Xinhua] 
BEIJING - French and Chinese companies inked deals worth 16 billion euros ($22.8 billion) on Thursday, including an agreement by Chinese companies to buy 102 aircraft from European consortium Airbus.
The deals were signed during the ongoing three-day visit by President Hu Jintao to France, and came as French companies in China have become more confident in their operations.
"We look forward to many more years of continued cooperation," said Tom Enders, president and CEO of Airbus.
Related readings:


 Hu calls for new areas in China-France partnership


 Hu's visit injects new life into China-France ties


 China, France seal deals on aircraft, uranium


 France welcomes China with massive deals
The Airbus deal alone - which will see three Chinese airlines buy 50 model A320, six model A330 and 10 model A350 airplanes from the European consortium, in addition to 36 planes ordered earlier - is worth around $14 billion, according to the company's catalogue price.
"We feel privileged that China continues to choose Airbus aircraft for the further development of its fleet. The order for Airbus' eco-efficient aircraft underlines China's ambition to grow sustainably," said Enders.
The purchase is the most significant deal since 2007 and the subsequent global financial crisis. The move is believed to meet the demand of the Chinese aviation industry, which is getting a boost by the country's fast recovery from the global financial crisis and rapidly expanding tourism industry.
Airbus sold 150 aircraft to China in 2005, and 170 in 2006, both record transactions in each year. In 2007, China purchased some 160 aircraft.
Other deals signed on Thursday include an agreement for France's Areva nuclear engineering firm to sell China Guangdong Nuclear Power Corp 20,000 tons of uranium over a decade. The contract is worth around $3.5 billion.
Together with China National Nuclear Corporation, Areva launched a 50/50 joint venture that will produce and market zirconium tubes for the fabrication of fuel assemblies. Located in Shanghai, the plant will start operation at the end of 2012.
"These are major agreements," said Anne Lauvergeon, Areva's CEO. "These represent a new stage in our relations with Chinese partners."
Riding the tide of improving Sino-French relations in the wake of a number of diplomatic spats in recent years, French oil giant Total SA and China Power Investment Corp also vowed to cooperate on transforming coal into olefins, a chemical used in the plastics industry.
Telecom equipment maker Alcatel-Lucent SA said on Thursday it will sign a 1.18 billion euro ($1.68 billion) deal with Chinese telecom operators, as China's booming economy is increasing demand for communication equipment.
Gu Junli, a China-Europe expert at the Chinese Academy of Social Sciences, said the deals will deepen trade relations with France, a country whose ties with China had long been focused on politics.
"Considering France's current domestic economic situation, the Chinese president's visit and the purchases have shown a great support for France and they broaden investment and business chances for French companies in China," said Gu.
In the first half of this year, France suffered a trade deficit of $14.7 billion. The new deals would undoubtedly boost the French economy, analysts said.
Wan Zhihong and Wang Xing contributed to this story.
China Daily