Beijing - Only about one in five students at China's leading universities come from rural areas.
An education expert has warned that unbalanced educational resources are making it difficult for rural students to gain good enough school results to win admission to many universities.
Related readings:


 Bring a happy summer vacation to left-behind children


 New program leaves schoolrooms empty


 China allocates 57b yuan to support education in rural areas


 Rural teaching in exchange for free tuition
This trend is particularly alarming for Tsinghua and Peking universities, known as China's Massachusetts Institute of Technology and Harvard respectively.
"The rural population is much lower in Tsinghua and Peking universities than the national average of 20 percent," Xiong Bingqi, vice-chief of the 21st Century Education Research Institute, told China Daily.
The students' administration offices of Tsinghua and Peking universities refused to provide the latest data about the number of rural students at their colleges because "that content is too sensitive to be published".
According to data revealed by the 21st Century Education Research Institute in 2005, 16.3 percent of Peking University's students came from rural areas in 1999 (down from 50 to 60 percent in the 1950s), while 17.6 percent of Tsinghua University's students were from the countryside in 2000.
This trend is seen across China. A report by the People's Daily said that the proportion of rural students enrolled by China Agricultural University fell from 39 percent in 2001 to 31 percent in 2007, while at Tianjin-based Nankai University the rate fell from 30 percent in 2006 to 24 percent in 2008.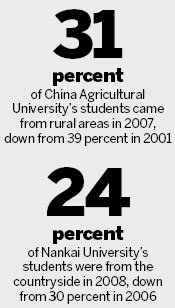 "Knowledge changes people's fate, and experience at university brought my generation a different life. I had to fight hard to get into college as it was the only way for rural youth to get out of poverty and become an urban resident," Fan Shuyin, vice-director of the China Land Consolidation and Rehabilitation Center under the Ministry of Land and Resources, told China Daily.
Fan was in the first group of students enrolled by Peking University after the "cultural revolution" (1966-76).
"About 70 to 80 percent of my classmates were from rural areas when I studied in the Department of Geography at Peking University (in the late 1970s)," he said.
However, today's rural students generally perform poorly compared to urban students when results are analyzed by the Essential-Quality-Oriented (EQO) Education method.
"When urban students compete for the Mathematical Olympiad or participate in English summer camps, it's obvious that rural students have fallen behind due to limited teaching resources," Xiong said.
"Their performances in communications and language expression are weak, and the isolated environment they live in limits their knowledge of the outside world compared to urban students," he said.
Some rural teachers are not qualified as they received college degrees from continuing-education programs, which do not really provide a good education, he said.
To correct this, the Ministry of Education has launched a series of special recruitment plans to attract qualified teachers to rural areas.
One program has encouraged more than 180,000 teachers to work at 18,000 rural schools in 900 counties around the country since 2006. In return, teachers involved in the program for three years will be recommended to study for a Master's Degree of Education without having to take the entrance exam.
But many of these quality teachers still leave the countryside after their three-year term ends.
"The high mobility of rural teachers is all about isolation - geographic, economic, social and professional," Xiong said.
As a result, there has been a yawning gap between the number of quality teachers in rural and urban areas in recent years.
Because they are less competitive, rural students have also missed out on the benefits brought by recent reforms of the country's exam-oriented education system.
The ministry permitted 22 key universities to offer "exceptional admission" before the national college entrance examination as a "fast track" to pick up talented students from high school.
Students who are talented in art, sport and literature can enter these universities despite their lower school scores. For example, Zhang Tianci, a talented violinist from Jinzhou, a city in Liaoning province, earned 60 privilege points to gain entry to Tsinghua University last year.
Many experts see this program as a way to break down the country's exam-dominated education system. There are now 80 universities involved in the program.
However, the content of the test for exceptional admission to colleges comes from outside the high school curriculum, and this is unfair on rural students and students from poor economic circumstances, according to a survey jointly made by the educational research institutes of five cities (Shanghai, Nanjing, Hangzhou, Ningbo and Suzhou).
"All the requirements about exceptional admission are designed for urban students. It is unfair on us," Wang Cheng, from a rural family in Hebei province, told China Daily.
"We don't even have quality English teachers before the second year of the middle school, let alone after-class tutors and extra-curricular guidance about art or Olympiad math," he said.
Shen Meihua, a researcher at an institution under the Hangzhou education bureau, said: "There might be a renewed emphasis on exam-oriented education if we don't address educational inequity between rural and urban students."