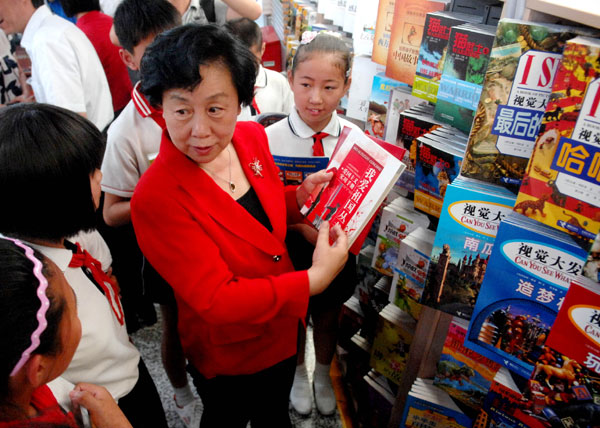 Lu Qin, known as "caring sister", who doles out advice to children and teens, selects books for students from migrant workers' families in Beijing in this file photo. [Photo/China Daily]
BEIJING - To millions of readers, Lu Qin hasn't grown a day older in decades.
The columnist behind Zhixin Jiejie, or 'caring sister', who doles out advice to children and teens, appears in the newspaper as a cartoon image of a young girl with two braids hanging from the back of the head.
In real life, she has already reached 62 years of age.
She cannot remember how many letters she has replied to since taking over the job in 1982, as every week they arrive by the hundreds in mailbags.
"That's what I've been doing over the past three decades," Lu said. "I've been listening to the children."
The column was created by the Chinese Teenagers News in 1960, responding to the problems school children face in their daily lives.
When the smiling face of the sister swept the country, Lu, then only 12, also sent her a letter.
"I still remember how excited I was when I got a reply from the caring sister," Lu recalled. "I know she heard me. She cared about my problem and she responded."
After that, Lu became a fan of the column.
"I grew my hair long and tied it into two braids, just like the caring sister did," Lu said with a smile.
Lu said she had kept a close eye on the column except during the "cultural revolution" (1966-76), when the newspaper was closed and Lu followed many of her peers from her hometown of Beijing to work in the countryside.
In 1978, when Lu heard that the newspaper had resumed publication, she stayed up all night to write a letter expressing her eagerness to join the column.
In 1979, after a few attempts, Lu received an offer from the newspaper. Three years later, she took over the post as the "caring sister".
"I replied question by question. I kept my handwriting fine and even sent small gifts to them," Lu said. "It's a big deal because I saw thousands of teenage 'me' checking the mailbox every day looking forward to the reply."
Lu still remembered once a student from Shaanxi province named Liao Liang wrote to Lu saying that her father beat her because she scored only 60 points in an exam.
Lu wrote back to Liao saying that her father was wrong beating her; but she could be a better girl if she studied harder.
Together with the letter, Lu sent the girl a dictionary and a notebook where she could outline her study plans.
She then wrote another letter to Liao's father suggesting he not push the girl too hard.
Moreover, Lu put the story in her column to let readers discuss whether parents have the right to beat their children. She received hundreds of comments.
Half a month later, Lu got a thank-you letter from the girl and her father. Now the girl has graduated from college and become a government official.
"If her father kept beating her, Liao would have become rebellious and dropped out of school," Lu said. "So you see, we can easily affect a child's fate with words and deeds."
She has also built upon the column by establishing a hotline for children - the first of its kind in the country - as well as a magazine, a website and some TV programs.
Yet Lu said replying to letters was the best training for the job.
"It helped me know what children think and how they think," Lu said.
Once a 12-year-old girl called the hotline and said she wanted to marry a boy. Lu persuaded her to keep the love in her heart.
Lu said she was very touched when the girl cried and said, "I wish my mother were like you, but she just scolds me every time I tell her what I think."
She said the situation for children is getting more and more difficult all the time.
"Increasing pressure from life makes parents too eager for quick success, they become overbearing to their children," Lu said. "It would be better for everyone if parents tried to communicate more and grow with their children."
Which, of course, is her specialty.
"People ask how I manage to communicate with children while I grow old. It's all about your attitude, not ability," Lu said. "When you make friends with children, you first have to treat them as equals."