Weight is a growing issue as sixth national fitness survey begins. Gao Qihui in Beijing reports.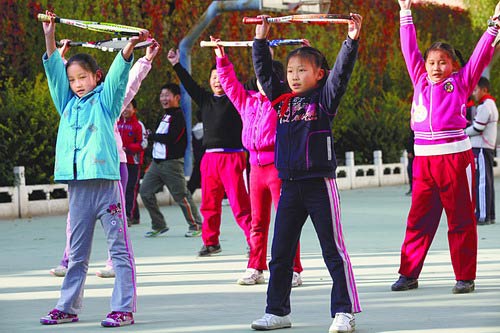 Primary school students at Huixinli community in Beijing's Chaoyang district exercise with the aid of tennis rackets on Nov 2. [Feng Yongbin / China Daily]
He Xiaopeng spends most nights and weekends behind a desk with his nose in a book. Fearing that his grades will fall, the 13-year-old's parents send him for extra English and Chinese classes.
Although short for his age and slightly chubby, the Beijing schoolboy gets barely any time to exercise.
"No, I'm not satisfied with his physique," said his 40-year-old mother Xiao Guifen. "But his studies are more important right now."
Physical education - or PE for short - takes a back seat to exam results for many parents, a fact experts say is potentially creating China's unhealthiest generation.
As the country starts its sixth nationwide survey on the overall condition of students, most predict it will simply reinforce the belief that the number of unfit and obese children continues to soar.
About 2,000 schools and 350,000 young people aged 7 to 22 (maximum 18 for ethnic groups) will take part in the 2010 test, which marks students on speed, explosive force, strength and endurance with a 50-meter sprint, a standing long jump, pull-ups and a long-distance run (1 km for boys and 800 meters for girls).
Results of the last survey five years ago were not easy reading, with dramatic declines seen in almost all age groups in all four events.
However, worse news was to come in 2009, when the Report on Child Nutrition and Health co-authored by researchers with the National Committee for the Well-being of Youth revealed China had 12 million overweight children, roughly 7 percent of the global total.
In Beijing alone, the number of overweight primary and middle school students hit 19.5 percent last year, up 1.2 percentage points, according to the central government's 2009 White Paper on Sanitation and Health.
"It's obvious that the physical condition of students has worsened in recent decades," said Wang Heping, a PE teacher of 34 years at the University of International Business and Economics (UIBE) in Beijing. "The biggest drops are in endurance and strength, while flexibility is also very bad."
The simplest explanation is arguably the lack of time young people today spend exercising.
The Report on Child Nutrition and Health states less than 9 percent of middle school students exercise regularly, dropping to 5 percent for those at primary school.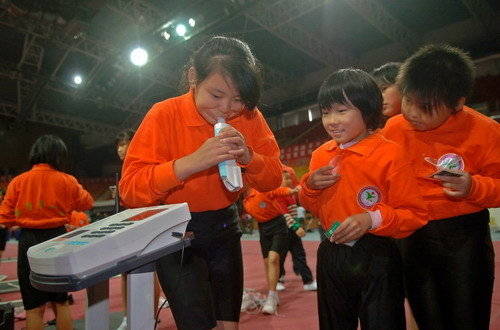 Students take a lung capacity test, part of an exam to check child health standard, on Oct 24 in Beijing. Some 1,600 students from 16 districts and counties took the exam. [Zhao Wanwei / Xinhua]