Price rise means rich pickings for growers, report Duan Yan in Qixia and Hu Yongqi in Beijing.
Lu Guoqi could not stop smiling. Sitting behind the bars of a tricycle loaded with apples, the grocer has been making a tidy profit in recent weeks.
"The price has never been so high," said the 58-year-old from Qixia in Shandong province. This time last year, he was making just 2.1 yuan (31 US cents) for every jin (a Chinese measurement equal to 500 grams) of apples. Today, the price is 3.1 yuan.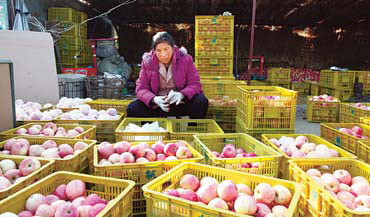 A retailer categorizes apples before packaging them for sale in a market in Qixia, Shandong province, on Oct 27. [Feng Yongbin / China Daily]
Apples are the latest in the growing number of fruits and vegetables that have seen sudden price hikes over the last 12 months, with others including garlic, mung beans and cabbages.
Although many of the voices in the marketplace and in the media are laying the blame on opportunist speculators, experts say their involvement is only one of the factors driving up prices.
Qixia, often referred to as "the city of apples", is one of three major areas for growing the fruit in China (the others being in Hebei and Shaanxi provinces). With 650,000 mu (43,330 hectares) of land, farmers here produce 1.4 million tons of high-quality apples every year.
Yet, regular wholesale buyers say the fruit has been snapped up quicker than usual this year, leaving them with slim pickings.
Sun Shixian, who has been trading apples since 1997, looked far from happy as he held a basket of bruised apples that had cost him 2 yuan a jin. "This kind of apple was always considered 'damaged goods' but now the market standard has changed," he said.
Officials with Qixia's fruit industry bureau attributed the drop in quality to cold weather in last spring, which also affected yields, with production falling by 100,000 tons. (Although the Shaanxi authorities deny annual apple yields have fallen, buyers claim they are down at least 30 percent.)
Droughts and floods this year in South China have also hit growers, reducing their output, which is also contributing to the demand for alternatives.
"A shortage of other fruits means more buyers turn to apples," said Sun. "More disasters next year will likely push prices even higher."
What is worse for old hands like Sun is that the shortage has attracted many new players to enter the game. Although it is hard to estimate the number of buyers this year, industry analysts described the market as "wide open" due to the low investment threshold for agricultural products.
"Speculators figure out the overall supply and demand of agricultural products and start collecting (those in short supply)," said Li Minghui, a research fellow at the Chinese Academy of Agricultural Sciences' institute of agricultural economics and development.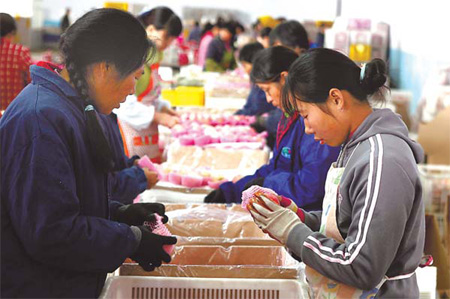 Farmers package apples in a factory in Qixia, Shandong province. With 650,000 mu of land, farmers in the city produce 1.4 million tons of high-quality apples every year. [Photos by Feng Yongbin / China Daily]
Sun Fengjuan, who used to trade in corn and rice, is one of the new players. She arrived in Qixia on Oct 1 to buy 300 tons of apples.
"But the price kept rising and the quality was not that good, so I decided to be cautious and just get 100 tons," said the businesswoman from Jiamusi in Heilongjiang province.
"I'm not sure I can make a profit from the apple business but I'm already here, so I'll take the bet," she added.
As the produce being gambled on are non-staple foods in China, researcher Li said the government does not monitor the changing prices or keep national reserves.
This allows batches of fruit to be freely traded - often before it even ripens.
In August, wholesaler Han Lizhi said she paid 260,000 yuan ($39,000) to reserve 350 mu (23 hectares) of farmland in Jilin province growing Chinese cabbage. However, two months later, a broker offered her more than 400,000 yuan for entire yield, predicted to be 1,300 tons.
Han, who has run a stall at Shuangxing Market in Dalian, Liaoning province, for 26 years, declined the offer, believing an expected decrease in production "would push prices even higher".
She was right. On Oct 19, the price of Chinese cabbage rose from 0.8 yuan a kilogram to 1.1 yuan. A week later, it rose again to 1.5 yuan a kilogram.