High-end exports will come under 'increased scrutiny' by Washington
BEIJING - China's ambassador to the World Trade Organization (WTO) urged Chinese exporters to boost product upgrade as the United States shifts its focus from labor-intensive goods to investigate imports of high-end products from China.
Since the US Commerce Department announced a probe last month into China's clean energy sector over so-called government subsidies, it is clear that the US is increasingly looking critically at China's high-end products as part of its trade weaponry, Sun Zhenyu, China's top envoy to the WTO, said.
Related readings:


 China slams US bill on yuan


 WTO warns against US possible trade protectionism measures


 Obama: China's growth is 'good for US'


 Stop fear tactics against Chinese firms
"China has become the major target of global trade protectionism and the US is a major user of trade remedy measures against China," Sun said.
"While China's labor-intensive goods remain a major target, recent evidence shows that the US has shifted to the value-added (high-end) goods. Chinese industry should keep a close eye on the new trend," he said.
Last year, the US initiated 23 cases worth $7.6 billion against China, while the cases worldwide targeting China during the same period were worth $13 billion. According to WTO statistics, more than half of US cases were directed against China in 2009.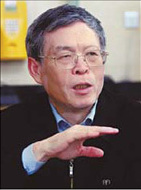 Sun Zhenyu, China's top envoy to the World Trade Organization
"In recent years, not only has the number of US cases (against China) grown substantially, but also the range of categories has expanded. This has aroused our strong concern," Sun said.
At the request by the United Steelworkers union, the US government initiated a Section 301 investigation into China's clean energy sector including wind, solar, high-efficient batteries as well as new energy vehicles. A 301 investigation allows the US to sanction countries that indulge in what it terms unfair trade.
Clean energy is a key area that the Chinese government expects to develop during the next five years.
Besides Section 301, other investigations concerning China's high-tech or high-end exports have also been launched this year. During the first six months, the US commenced 28 Section 337 investigations worldwide, and 12 cases, or 43 percent, targeted China.
Chinese exports of solar energy lamps, liquid crystal displays and printer toner have fallen victim.
Section 337 investigations target so-called unfair acts and competition related to imported goods, including infringement of US patents or registered trademarks.
"The fact that more high-end products are involved in trade remedy cases shows that the US is feeling a threat from China's enhanced capability on indigenous innovation as well as research and development. But China is still not powerful enough to directly compete with their American counterparts," said Wang Rongjun, senior expert from the Institute of American Studies with the Chinese Academy of Social Sciences.
Rising trade remedy cases by the US targeting China's high-end goods will be "an unchangeable trend", he predicted.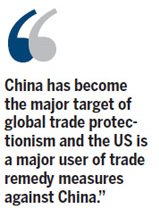 According to the framework of its 12th Five-Year Plan (2011-2015), the Chinese government highlighted the significance of developing seven new high-tech industries including new energy and materials.
But in the first half of October, the US launched 24 trade remedy cases against China.
The Ministry of Commerce said on Monday that the US and the European Union are abusing trade protectionist measures amid fiercer competition and slackened domestic consumption. The range of investigations has expanded from textiles and light industries to green energy, new energy and electronic information sectors. The ministry predicted next year will be "harder" and "more complicated".
Besides fear of competition, experts believed most cases also have "political motives".
"The US complaints over Chinese clean energy policies are groundless. China's practices on clean energy are fully consistent with WTO rules," Sun said.
"Economic recovery and employment are top priorities for the US," Sun said before adding that the 301 investigation serves as a diversionary tactic from domestic politics.
Andrew Hang Chen, president of USFOR Energy LLC, a US consulting firm that helps Chinese wind power firms into the US, said that the US are deeply concerned of the entrance of China's wind-energy industry, "which is developing at an amazing speed".
Chinese wind-energy machines are about 15 percent cheaper than American ones, with the quality and service at the same level, but "China's operation will definitely create more jobs in the US", Chen said.
In the face of increased US investigation, experts and industry associations have appealed to Chinese manufacturers to upgrade their products.
Li Junfeng, deputy director of the Energy Research Institute under the National Development and Reform Commission, said: "Chinese companies (affected by Section 301) need to consider diversifying portfolios and upgrade technology to increase competitiveness."
Wang Xing and Wan Zhihong contributed to this story.