Philosopher's descendant spreads the word on visit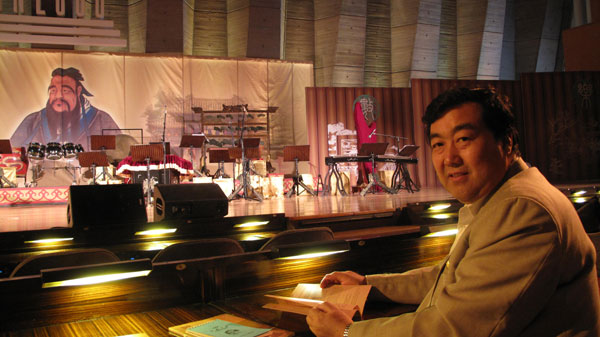 Kong Xianglin, a 75th-generation descendant of Confucius (551-479 BC), poses in the theater hall of UNESCO headquarters in Paris before a Confucius-themed performance in September. [Fu Jing / China Daily]
PARIS - One of the great things about this world-famous city is you are never more than five minutes away from a subway station.
Yet Kong Xianglin, a 75th-generation descendant of Confucius (551-479 BC), wasn't able to enjoy such convenience when he lectured in Paris recently.
Subway, rail and bus traffic was sharply cut back because workers took to the streets in strikes and protests against President Nicolas Sarkozy's plan to raise the retirement age from 60 to 62.
"I had to cancel my appointments because I couldn't walk to the meetings in such a huge city," Kong told China Daily in a recent interview.
Related readings:


 Hebei helps Nepal build Confucious Institute


 Cast members promotes film "Confucius" in Hong Kong


 Ceremony markes beginning of studying age


 China has opened 256 overseas Confucius Institutes
Being a descendant of China's greatest thinker, he put the experience into the context of comparative cultures.
Strikes are an opportunity to express dissatisfaction, "but on the other side of the coin is the partial halting of economic and social activities, and sometimes, riots," Kong said.
Confucius, who placed great value on harmony, would not teach people to act this way, he continued.
In the aftermath of the financial crisis, Kong said the world needs to turn to his ancestor for solutions.
Confucius lived in relative obscurity and poverty as a minor official. But his book, Analects, a compilation of his sayings, formed the basis of one of Asia's most influential philosophies.
Chinese emperors throughout the ages had adopted Confucian values - altruism, unity, morality and respect for authority - as a means to maintain hierarchy and order. The philosopher also advocated that the state should serve the people and its leaders should be humane, well educated and diligent.
The conservative philosophy came under attack from the early 1950s until the late 1970s. Many Confucian temples were smashed during the "cultural revolution" (1966-76), including the one in Confucius' hometown of Qufu, Shandong province.
Confucius' cemetery and the Kong Family Mansion in Qufu were also destroyed.
Kong, born in 1951 in Confucius' hometown, had to stop his high school education during the turbulent decade.
But Confucianism has made a comeback since the 1980s when a new generation of leaders started to once again appreciate the ancient teacher's anything-but-revolutionary principles.
This gave Kong an opportunity. Since the early 1980s, he has been involved in repairing or rebuilding the numerous historic palaces, temples and cemeteries.
In 1994, the complex of monuments commemorating Confucius was listed as a United Nations Educational, Scientific and Cultural Organization (UNESCO) World Heritage Site. Through the process, he has become a proponent of his ancestor's values.
"The values are universal," said Kong.
For example, in a market economy, Kong said, the concepts of order and virtue should be promoted instead of the greed of Wall Street bankers.
Another example, and one of his favorite concepts, is what the Chinese government has adopted as its own: harmony. Meanwhile, he cited the oft-repeated maxim "harmonious while different."
Kong, deputy head of the Confucius Research Institute in Qufu, said China's leadership is now embedding Confucianism into its own political agenda.
The renewed interest in Confucianism is a sign the government and society are worried about people losing their sense of ethics as market reforms continue to take hold.
Nowadays, some people focus on materialism and "don't have any fixed values", said Kong.
Fortunately, many Chinese have now shown interest in learning ancient classics such as the Analects, but Kong said the State should do more because textbooks in Japan and the Republic of Korea contain more references to the Chinese sage than those in his home country.
"All the Chinese textbooks in our country should be the classics," said Kong, "as students can learn modern Chinese through daily life and mass media."
Culture is the root of a country's prosperity, he said.
"If China is to become competitive worldwide, we need to ask our ancestors for solutions," Kong said.