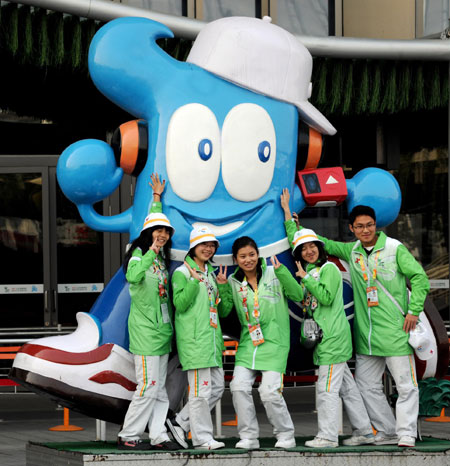 Volunteers pose for a photo at the Shanghai World Expo site October 31, 2010. The six-month exhibition ends on October 31, 2010. [Photo/Xinhua] 
SHANGHAI - The Shanghai World Expo, which is set to be closed later on Sunday, has won applause from many officials of international organizations and state leaders for its great contribution to promoting exchanges and cooperation among countries throughout the world.
The Shanghai Expo 2010 has made history and set new standards for World Expo, said Vicente Loscertales, secretary-general of the International Expositions Bureau (BIE).
Special Coverage:


Related readings:


 Expo unveils prize winners


 Ban Ki-moon attends Shanghai Expo Summit Forum


 Many world records set at Shanghai Expo 2010


 8 millionth visitor wins ticket to Expo shows
China aims to be 2025 Expo host
The Shanghai Expo has "achieved new records: a record number of participants, a record number of visitors, and you have built the largest site ever," he said.
Loscertales said that, "China has been able to fully interpret and to put into practice the core values of education, innovation, cooperation which are the foundation on which an Expo develops its legacy."
He commended China's openness to the world and cooperation with BIE. He also said the overwhelming success of Shanghai Expo 2010 will inspire future hosts of World Expos.
UNESCO Director-General Irina Bokova, who paid a working visit to Shanghai in May, said that the Shanghai Expo "gives an opportunity for all countries and all organizations to make a sort of communication on their values and their activities".
Bokova said that she saw the Expo as "a great event for China and for the entire international community," adding the successful event sparked people's interests in culture and a sustainable way of development.
Joan Clos, executive director of UN-HABITAT, congratulated the Expo committee and the Chinese government on the magnificent job they had done with the Expo.
He said that he was impressed at the great changes that took place in the last two decades in this mega city of Shanghai.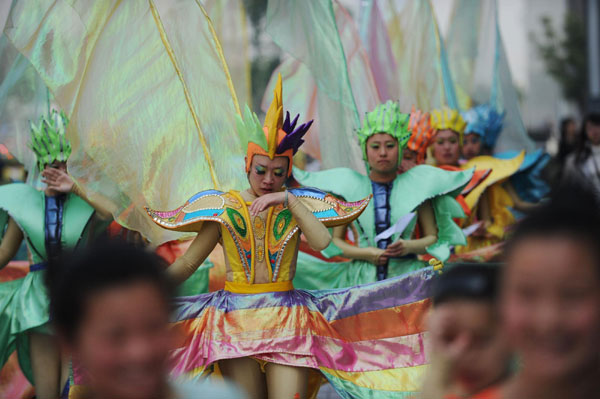 A dancer sheds tears after their last performance at the Shanghai World Expo site October 31, 2010. The six-month exhibition ends on October 31, 2010. [Photo/Xinhua]
Lithuania's President Dalia Grybauskaite said that the Shanghai Expo was as impressive as the 2008 Beijing Olympics, and the event demonstrated China's strength and great potential.
The president added that the event helped promote understanding between the peoples of China and Lithuania, and exchanges between the athletes and business people of the two sides.
Sri Lankan Prime Minister D. M. Jayaratne said the last six months were eventful for all the participants of this exhibition as it provided an excellent opportunity for them to showcase their country profiles and their unique achievements.
Jayaratne hailed the Shanghai Expo as a great success and a unique and historic event that would be remembered by the participants as well as visitors for many years to come.
Australian Governor-General Quentin Bryce said multi-faceted engagement between countries consolidated achievements already shared, deepened understandings of one another and broadened and diversified future prospects. The Shanghai World Expo played an important part in facilitating this further engagement, and she believed that people would see its benefits over the coming years.
Bryce said Shanghai was an impressive world city with a unique and demonstrable vision, style and sense of itself. Equally, Shanghai is a global participant, a meeting place of nations, and a leader in many aspects of 21st century innovation.
"I believe that the Shanghai World Expo superbly illuminated the city's defining qualities while enabling each of the exhibiting nations to convey a clear message of their own place in the world and their relationship with Shanghai and China," she said.
Jose Freches, Commissioner General of the France Pavilion, compared the significance of Shanghai Expo to China as that of the 1900 Paris World Expo to France.
Freches described the Shanghai Expo as a historic event that reflected changes and transformation in society.
"'Better City, Better life' is an actual theme," he said, adding that "I'm sure Shanghai World Expo has made a great contribution to this idea."
Estonia's Foreign Minister Urmas Paet said that Shanghai Expo had achieved many successes, which brought benefit to not only China but also the whole world.
"I believe, Shanghai Expo will go down in history like other former Expos," Paet said.
The Shanghai Expo is the first time the event has been held in a developing country, drawing more than 70 million visitors. London hosted the first Expo in the Crystal Palace of Hyde Park in 1851.
Premier Wen Jiabao praised the fair Sunday as a "splendid event" that "truly brought together people around the globe."

Highlights included Denmark's famed "Little Mermaid" sculpture, a rooftop cable car ride above a replica alpine meadow at the Swiss pavilion, famous impressionist paintings from the Louvre at the French pavilion, and entertainment by Cirque du Soleil courtesy of Canada.

"Thanks to the expo, people like me who never would have a chance to go abroad can experience the whole world," said Zou Aiguo, a retiree from Jiangxi province whose son gave him an expo tour as a present.

"It's my first time to Shanghai, the most prosperous city in China, and I'm very excited," he said.

Striving to make its fair a "green" one in keeping with its motto "Better City, Better Life," Shanghai deployed electric buses and carts and installed energy-saving air conditioning and water filters meant to cut use of bottled water. It also recycled rain water and made use of solar power.

On Sunday, UN Secretary-General Ban Ki-moon praised the organizers for taking on the theme.

"The Shanghai Expo will close soon but it will not be forgotten," Ban said. "Let us keep the Shanghai vision alive in our discussions and our lifestyles."

An average 370,000 visitors traipsed each day; it was standing-room only when attendance hit a peak of 1.03 million on October 16.

The 72 million who managed to get to the event surpassed the previous record of 64.21 million visitors who attended the 1970 fair in Osaka, Japan.

The next expo, in 2012, will be in the South Korean port city of Yeosu, with a similar theme of "Green Growth, Blue Economy," or marine-based sustainability.

After that the expo will move to the Italian city of Milan in 2015, with a focus on food safety.