XI'AN - In the eyes of China's leading botanist Shen Maocai, each plant species has the potential to save the world.
For example, when wild rice was discovered it was just a stalk of grass, said Shen, 56, dean of the Shaanxi Provincial Qinling Institute of Botany. But from that plant hybrid rice was developed, which has helped keep millions from starvation, he said.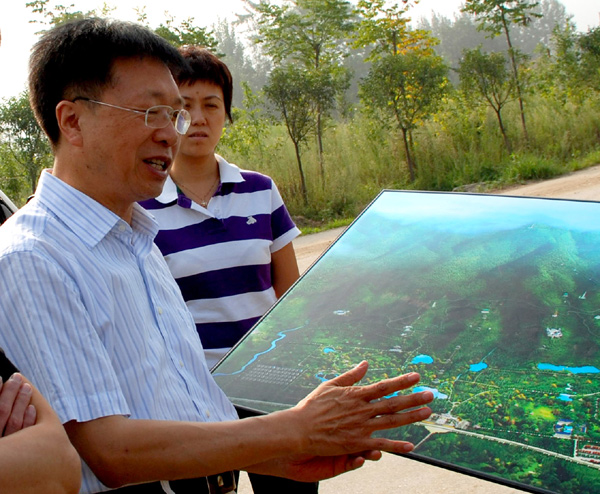 Shen Maocai, dean of the Shaanxi Provincial Qinling Institute of Botany, shows his colleagues a planning chart on Sept 3 at the Qinling National Botanical Garden in Shaanxi. [Kan Lei / for China Daily]
Shen is now witnessing the realization of his decades-old plan to transform the Qinling Mountains - dubbed China's national central park for its location and rich biological diversity - into a botanical garden to shelter as many near-extinct plant species as possible.
Related readings:


 Plants growing on water help keep river clean


 China plants green belt to stop deserts merging

 'Noah's Ark' gives rare plants seeds of survival


 6 died, 7 ill after eating poisonous plants
When it is completed next year, the Qinling National Botanical Garden, which covers 63,900 hectares, or a little more than 1 percent of the area of the Qinling Mountains, will become the world's largest of its kind - seven times the size of the current largest garden, located in Queensland, Australia.
Inside the garden lies a 9.7-hectare nursery, home to about 350,000 seedlings of rare species, such as yulan magnolia.
Shen keeps a close eye on the seedlings, paying three to four visits a week to the garden in Zhouzhi county, about 70 kilometers from Shaanxi's capital Xi'an.
"For me, they are the guardians of our future ecology," Shen said. "I try to collect as many seedlings of rare species from any place in the world to put in the garden, because the more species a country owns, the safer its future ecology will be."
The Qinling Mountains, together with the Alps in Europe and the Rocky Mountains in North America, have rich biodiversity and serve as the last reserve for many endangered animals and endemic plant species.
However, urbanization and poverty, among other causes, have posed a threat to local biodiversity, said the botanist who grew up in a remote village in the Qinling Mountains.
Shen said he has witnessed local biodiversity suffer from severe deforestation and land degradation since his childhood.
"There were dense forests when I had to cross several mountains to reach school," Shen recalled. "Only a few years later, some of them were gone."
Even as a child, Shen said he felt uncomfortable seeing the forests disappear.
By the time he returned to the mountains as a botanist, he had come to realize the imperative of saving those forests and preserving the ecosystem.
"I paid frequent visits to these mountains for field research. Many rare species were on the verge of extinction," Shen said.
More than 10,000 villagers in the mountains live off the land by planting wheat and corn.
"They cut down trees to make space for farming or just to use the wood for lighting, because they have no access to electricity in these remote villages," Shen said.
So Shen has encountered a challenge faced by many of his peers across the world: how to ensure biological preservation through sustainable development of the local economy.
"There is no other way out but to face it head on," Shen said.
With his colleagues he proposed the government construct the botanical garden as a natural reserve, which gave birth to the Qinling National Botanical Garden.
The Chinese government approved the 1.55-billion-yuan ($230 million) project in 2005. It is also supported by the Global Environment Facility and the Asian Development Bank.
Shen then became a relocation expert, trying to persuade thousands of villagers to move out of the deep mountains.
"It's not easy work," Shen said, smiling. "At first, they were terrified and very hostile. I talked to them a lot."
He shared with them the vision of what the garden could bring.
"A sound ecology has the potential to improve an area's economic situation. The Xishuangbanna Tropical Botanic Garden in Yunnan province, for example, brings 2 billion yuan in income to the locals," he said.
With a guarantee of farmland and work opportunities in the garden, the relocated villagers are now very grateful.
At one point, still waiting for more funding to arrive and being short of money to hire professionals, Shen bought equipment to build facilities in the garden and even convinced the locals to help out.
"Since this is about environmental protection, I cannot waste any time," he said. "What I'm working for is to achieve a dream that generations of botanists once dreamed."