Putting people ahead of business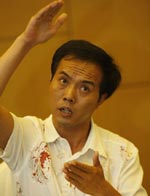 Xiao Gongjun writes articles that reveal problems with the local government's performance. [Fang Guangming/For China Daily]
In a city filled with businessmen attempting to build private empires, Xiao Gongjun cannot help but stand out.
The owner of a printing factory in Dongguan, an industrial hub of Guangdong province, he is more interested in exposing government mistakes than boosting revenues.
"I'm a straightforward person," said Xiao. "Whenever I see unfairness or wrongdoing, I speak out."
Since September 2008, he has written more than 80 comment pieces for newspapers like the Southern Metropolis Daily, Dongguan Daily and Xinkuai News, most of them critical of the city government's performance on areas from economy and education to justice and social welfare.
Yet, politics was of little interest to the 45-year-old before the flood that struck Dongguan two years ago.
"I was never political," said Xiao, "but sometimes politics finds you when you're not looking."
Storms in the summer of 2008 caused a reservoir on Hanxi River to burst its banks, flooding Xiao's factory. The disaster cost the company more than 1.3 million yuan ($195,000).
Xiao believed Dongguan's water resources bureau had made a mistake in not issuing warnings before the flood, prompting him to complain. In response, officials told him to "blame the sky" and refused his calls for compensation. Disappointed, Xiao picked up his pen.
In March 2009, he wrote a commentary in one newspaper attacking Dongguan's selection as one of China's best cities for public order, made after police cracked 2,931 criminal gangs between 2007 and 2009.
"The city doesn't deserve the title. I have reported dozens of crimes in the last 10 years. None were solved," he said, adding his friends had all suffered thefts and robberies, too.
And when official reports cheered the city's achievements in increasing the number of colleges and students, Xiao wrote criticizing the standard of facilities and graduates, referring to his personal experiences in recruiting staff.
"I haven't seen any other businessmen like him," said Chen Weihua, city correspondent for Southern Metropolis Daily. "Most just keep their mouths shut for fear of affecting their own interests. Xiao really wants to make a difference."
Xiao has never stopped demanding answers from the water resources bureau (he took them to court last year) and eventually got officials to agree a meeting on July 13 this year, more than two years after the flood. He invited several media organizations, as well as Meng Hao, a member of the Guangdong standing committee of the Chinese People's Political Consultative Conference.
"(Xiao) is very good at utilizing resources like me to defend his rights as a citizen," Meng told China Daily. "We hope more people can be like him, actively communicating with the government."
Today, authorities in Dongguan have adjusted working procedures based on Xiao's suggestions and have promised to alert the public before any necessary actions.
However, Xiao's success has come at the price: his business. "I've tried to persuade him to spend more time on his factory," said friend Wu Kai, owner of a nearby chemical factory, "but he just wouldn't stop writing."
For Xiao, stopping is not an option. "I'm lucky I can write," he said, pointing out the city has many migrant workers who go unheard. "I need to keep writing, to reflect the complaints of everyone."