BEIJING - Sporting a hedgehog hairstyle with colored spikes on top, Ma Zengkun does not look much different from the other employees at the busy hair salon where he works in northeast Beijing.
However, the moment he speaks, a shy smile on his face betrays all - he is only 17.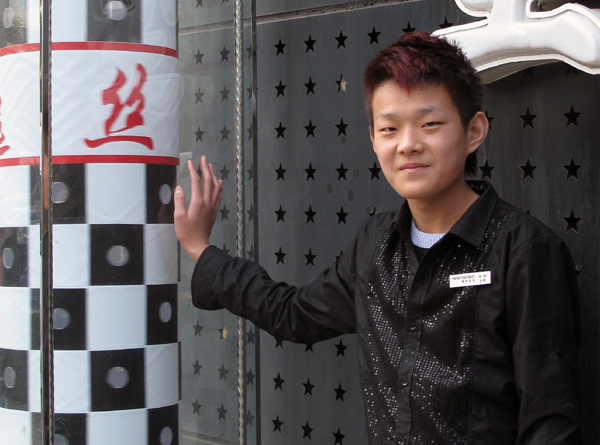 Ma Zengkun stands in front of the hair salon where he works as an apprentice in Beijing on Tuesday. [Lin Shujuan / China Daily]
He should have been attending school, being a mama's boy at home and occasionally playing video games with friends.
"I did have the chance, but I spoilt it," said the teenager from Jiaozuo, Central China's Henan province.
"I dropped out of school because I was addicted to online games," he continued, blushing. "But now it's not that bad, you know. At least, you see me talking. During the two years (of Internet addiction), I didn't talk at all."
Ma said he used to be his parents' pride and joy.
"I was a top-five student in my class when I was in the first year of junior high," he recalled proudly while massaging a customer's scalp.
Then one day a classmate invited him to play online games at a local Internet cafe.
"Thinking back, it felt like a piece of metal moving toward a magnet. The closer I was, the harder it was to get away," Ma said.
He started to play truant and his school performance deteriorated.
By the time Ma was about to graduate from junior high school, he had worn out his parents' trust and patience. His teachers also gave up on him.
Each day Ma, who spent all night on the Internet in his room, pretended he had gotten up early to go to school.
The moment his parents went to work, he would go to sleep. By the time they returned, he would have woken up to start another night of surfing.
"This lasted about two months," Ma recalled. "My parents knew nothing about it, or if they did they couldn't do anything."
Ma said he had become very withdrawn.
"I talked to no one, except fellow game players online. In fact, we only chatted online," Ma said.
He became afraid of school, especially exams. He missed both the graduation exam and ceremony, which was the last straw for his parents.
They gave him one option: leave home and his personal computer.
"They swore that if I didn't get away from the addiction, there was no chance I could go back home again," said the soft-spoken boy.
Ma, then under 16, accompanied a hairdresser to a salon in Beijing.
That was his first trip away from home and Ma said he spoke no more than three sentences during the 10-hour train journey.
"I hated him then for bringing me away from my beloved computer at home," Ma recalled with a self-mocking smile.
Ma said his first month in Beijing felt like being in a concentration camp.
He lives in a dorm shared by other employees and follows them to work at 9 am. Training sessions for a newbie like him start at 11 pm and last until 1 am.
"At first, I missed home - more specifically, my computer at home - very much," Ma said. "But the work schedule here is so full that I really don't have any time for an Internet cafe. No one here talks about online games either. They joke a lot, but none are related to the games."
Ma said he didn't know exactly when he started to take to his new life in Beijing.
"I guess, it's the opportunity to talk to the customers that I like most," Ma said. "They are from a variety of backgrounds. Talking to them is quite an eye-opening experience."
Since last year, Ma has gradually gained experience and is now able to do scalp massages, hair washing, coloring and perms.
"When I learned how to do professional hair washing, I said, 'Mom, now I can help you wash your hair.' I later told her I could give her a massage and color her hair," Ma said.
"It's kind of silly because these are very simple skills, not worth boasting about. But she seemed to like it, I could hear her chuckle on the other end of the line."
He still plays online games over the weekend and occasionally still spends more than 18 hours in a net cafe.
"I don't think the addiction will leave completely," Ma said, half jokingly. "But one thing I've come to realize is that the computer is not only for playing games. I now also use it to chat to my sister and my parents."
As the year draws to an end, Ma said he is looking forward to going home.
"I don't know what I'm going to do in the future," he said. "But there's no hurry, is there? I'm still young."
Going back to school?
"No, no more schooling for me. I could never catch up," Ma said, waving both of his hands and smiling.
After one or two minutes of silence, he continued: "You see that hairdresser over there? He is the best here. But I heard people say his coloring skills are not that good. If I'm going to be a hairdresser, I hope I'll be the best all-rounder."