Move 'not aggressive' as nation lags far behind in law enforcement
BEIJING - The surveillance fleet will be expanded to better protect the country's maritime rights, China's ocean watchdog said on Wednesday.
An inspection ship joined the fleet under the State Oceanic Administration (SOA) on Tuesday and 36 more will join it later, an official said.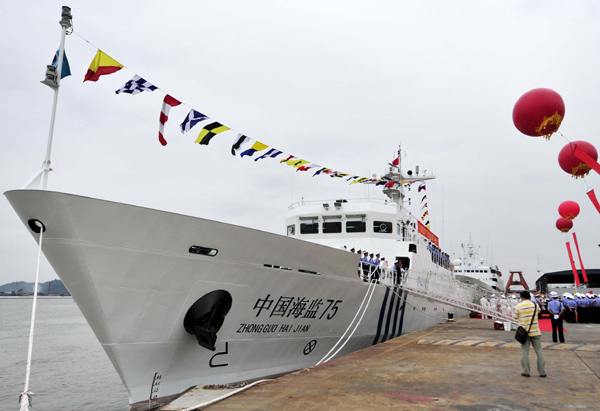 China Marine Surveillance 75
gets ready for service at a Guangzhou port on Tuesday. [Chen Yehua / Xinhua]
The 36 are comprised of seven vessels at 1,500 tons, 15 1,000-ton vessels with the remainder in the 600-ton category.
China Marine Surveillance 75 joined the fleet on Tuesday and will patrol the South China Sea.
Related readings:


 Navigation in South China Sea 'not a problem'


 Keeping calm at sea essential


 Meeting shuns disputes over South China Sea

 Sino-US ties falter over South China Sea
Zhong Dusen, captain of the 77-meter-long, 10-meter-wide ship, reported to be the fleet's fastest, said it can carry a crew of 43 and has a maximum sailing range of 5,000 nautical miles.
He said the vessel, with a displacement of 1,290 tons, is equipped with advanced satellite communication and navigation systems.
Li Lixin, director of the South China Sea Branch under the SOA, said at the launch ceremony that China is strengthening its monitoring ability and will build more surveillance ships.
An SOA official, who requested anonymity, told China Daily on Wednesday that the lack of ocean surveillance ships has hindered the country's ability to protect its maritime rights.
Five departments are in charge of maritime affairs: The China Marine Surveillance under the SOA, the fishery administration under the Ministry of Agriculture, the Maritime Safety Administration under the Ministry of Transport, the marine police of the Ministry of Public Security and the General Administration of Customs.
The Southern Weekly quoted insiders in September as saying that the State Council had approved the construction of a 5,000-ton ship for the Maritime Safety Administration.
Sea disputes between China and other countries have surged in recent months.
Sino-Japanese relations have been strained since a collision between two Japan Coast Guard patrol boats and a Chinese trawler on Sept 7 in waters off the Diaoyu Islands in the East China Sea.
Beijing suspended all high-level contacts with Tokyo after Japan illegally detained the Chinese captain. China has since sent several fishery administrative ships to monitor the region.
In the South China Sea, Vietnam, Malaysia, the Philippines and Brunei all have competing claims over some Chinese islands.
US Secretary of State Hillary Clinton said in July that sovereignty issues in the South China Sea were a "diplomatic priority" for the US and proposed dealing with them in the international arena.
"The new ships (joining the fleet) can be interpreted as China's response to recent sea disputes," said Wang Hanling, a maritime law specialist at the Chinese Academy of Social Sciences.
There is increasing pressure on China's maritime law enforcement, he said, adding that its ability to protect its maritime rights has lagged far behind Japan and South Korea.
Pang Zhongying, an expert on Asia-Pacific studies at the Beijing-based Renmin University of China, said: "It is not that we're taking an aggressive step now, but that we've lagged behind too much for too long, given China's huge maritime territory."
Xinhua and Zhou Wa contributed to this story.