For villages that have struck it lucky, limits still exist. Hu Yinan reports from Zhejiang.
Fu Yongchang struggles to recall the last time he plowed his field or planted crops. All the ageing farmer remembers of those days is his old, rickety wooden house and the smell of the pigs, ducks and chickens he shared it with.
It has been more than two decades since the 65-year-old swapped tilling for teaching by taking a job at a school in his native Tengtou village, Zhejiang province.
Fu, who retired in 2006, is one of 830 people in this community who today can only loosely be described as farmers, China's officially recognized "socially vulnerable group" who live off the land, make minimum incomes and almost never stop working.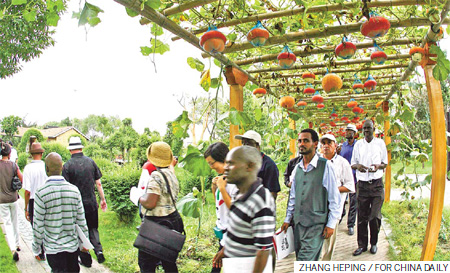 African visitors tour the eco-tourism zone in Tengtou village, Zhejiang province, last year. [China Daily]
Residents here gave up their land to the village committee long ago in exchange for fixed monthly subsidies, the chance to retire when they want and inclusion into fully incorporated healthcare and education systems.
Few officials at the time would have guessed the move would indirectly help the village to become a major eco-tourism destination.
Tengtou, which was named in 1993 as one of the Global Ecological 500, an honor bestowed by the United Nations Environment Program (UNEP) on areas that have made distinct contributions to environmental protection, is the only village to have a pavilion in the Urban Best Practices Area at the ongoing Expo 2010 Shanghai.
Shifting from its previous pillar industry of textiles, the village began promoting eco-tourism in earnest in 1999, with the opening of a special "ecology zone".
Although free to villagers, visitors have been charged to enter since 2002, with prices soaring from as little as 5 yuan ($0.75) to 80 yuan today. Tengtou pulled in 26.3 million yuan from ticket sales in 2009 and expects to make 30 million yuan this year, provided it receives the expected 375,000 visitors.
Ticket sales contribute significantly to the gross annual value of the village, which hit 4 billion yuan last year. But in essence, villagers say the economic success relies on preserving the environment.
Tengtou set up China's only village-level environmental protection committee in 1993 to monitor investments and watch out for polluting industries. Since then, more than 50 investment projects have been rejected due to environmental concerns, say members.
A strong collective will play a crucial role in development, so much so that Tongtou's seemingly natural beauty - its strategic advantage - is man-made to begin with, said Fu Deming, director of the committee. "The natural conditions here were very bad," he said. "The roads were uneven, the fields unfavorable. A day under the sun would dry the crops, while heavy rainfall would drown them."
Elders in Tengtou say farmland consolidation efforts in the 1960s, which at the time made the village a provincial model for rural development, laid the foundations for eco-tourism.
"(Eco-tourism) was built step-by-step - forced, really, so as to meet the demands of receiving many people," said 40-year-old Fu Deming. "People came in groups all the time throughout the year and we had to show them something aside from our farmland."
Bold attempts to transform the environment through planting trees, flowers and fruits, as well as building gardens, gave Tengtou's fame a further boost and in turn allowed its economy to snowball.
By the 1980s, the village had set up collectives for vegetables and fruits, gardening and fisheries.
Traditional agriculture died out the following decade, leaving only vineyards and nurseries behind. As a result, most residents began to work in the non-agricultural sectors, which by then not only involved gardening but also architecture and real estate.
Fu Deming was a director at an artificial diamond factory when he joined the environmental protection committee in 1998. Four years later, his factory closed down and was replaced by an eco-education base for high school students in the administering city of Ningbo.
Tengtou's village committee spent around 100 million yuan on environmental protection in 2009, including monitoring air, water and noise qualities, and has vowed to increase its annual investment by 20 percent year-on-year, said Fu Deming.
"We pour about 8 million yuan into welfare for residents every year," he said. "Our long-term plan is to spend 800 million yuan upgrading infrastructure between now and 2030."
In the environmental committee director's opinion, Tengtou's experience can be replicated as it "created an ecological advantage out of nothing, turned it into a political advantage and then later an economic one".
In 1991, Jiang Zemin, then Chinese leader, famously described Tengtou as "extraordinary" during a tour of the entire Fenghua county. Two years later, Elizabeth Dowdeswell, then-executive director of the UNEP, also visited and agreed.
Visits to the village by national, provincial and local political leaders increased exponentially in the years that followed and sparked the very idea of boosting environmental protection - and charging for it.
Today, students and families, mostly from within the province, make up the majority of the village's tourist population, according to tour guides who operate here.