Migrant family makes livelihood from other residents' trash
HARBIN - In Jia Tuying's eyes, garbage is gold.
Recycling trash has allowed her and her family to move from their less developed hometown in East China's Shandong province and start a new life in Harbin, capital of Northeast China's Heilongjiang province.
"Local urbanites don't like doing the job, but it can be a good business," said Jia, who in 2003 moved to the city, which is known for streets of Russian blondes and exotic food.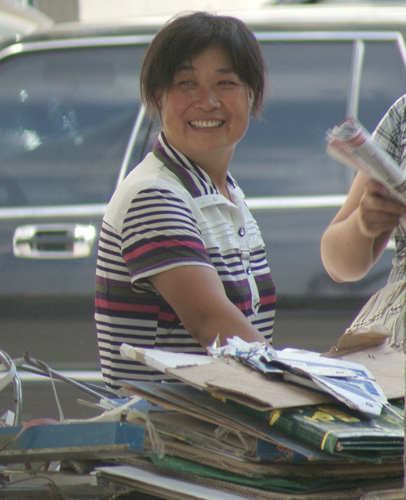 Jia Tuying, a garbage collector, sits by the waste paper she gathered on the streets of Harbin, capital of Heilongjiang province in this file photo. [Yan Hongqian / China Daily]
Jia and her husband began seven years ago collecting recyclable garbage from one doorstep to the next with tricycles.
After three years of hard work, they had saved enough to rent a recycling station and bring their two teenage children from their hometown for a better education in the city.
Related readings:


 Woman, 45, wants to marry rich garbage collector, 74


 Garbage collector, 74, got 200,000 yuan pension


 Netizens' pressure 'recycle stations' gaining popularity


 Recycle to restart job market: Lawmakers
Besides storing the collected trash, the recycling station also provided accommodation for the whole family.
Life had gone well until three months ago when the local government denounced the operation of recycling stations within the city's second ring road and the decades-old doorstep collection of recyclable garbage by migrant workers.
"They (the government) said many residents complained to the mayor's office that a recycling station like ours is dirty and noisy," Jia said. "But garbage is dirty. We all know that."
To make up for the absence of privately run recycling stations like Jia's, the city government plans to open specially designed recycling centers within each neighborhood, allowing residents to drop off recyclables within walking distance.
Those interested in the recycling business can rent such a center to continue the trade.
"It sounds like a good plan but it doesn't work in reality," Jia said. "The rent is too high and its space is too small."
The recycling station Jia and her family used to run covered an area of more than 100 square meters and cost only 6,000 yuan ($900) a year in rent, Jia said.
In comparison, each new recycling center costs 15,000 yuan a year in rent with an area of only 20 square meters.
"With that limited space, we might not be able to stock a full truck of garbage, not to mention space for our family to live," Jia said. "That means we have to rent another place to live and transport the garbage more often than before to the local recycling plant. We can't survive with that additional cost."
They could find another place outside the second ring road where rent is cheaper - but business is less as well, she added.
"We would have given up if not for the kids," said the mother of two school-age children. "Moving might affect their education, especially that of my elder daughter. She is 19 years old and in her final year of senior high. By next summer, she will attend the national college entrance exam."
Her 16-year-old son is also attending junior high in the city.
The family has moved back to where their recycling station once stood. They set up a camp over the field of rubbles to stock garbage recycled from old patrons.
Their dilapidated truck, which transports the recyclables to the local plant in the day, becomes a temporary shelter for Jia, her husband and her mother-in-law at night. Fortunately, their children are able to stay at schools.
Without water or electricity, life is not easy, but it is cheap and allows them to keep a constant eye on the recyclables they have collected to prevent theft.
"We made do with it during the first two months because it was summer time," Jia said. "Renting a room nearby might be a good choice. But the rent is not cheap especially now that our business, which we have continued secretly, is much slacker than before."
Now the winter coldness has set in with the arrival of this winter's first snow earlier October, and Jia said she doesn't know how much longer they can stay in the truck.
Yet somehow she remains optimistic. It turns out she was right about the new recycling centers - the first closed three days after it opened. It was packed within a few hours and garbage spilled around the neighborhood.
"I heard that the government is revising its plan," Jia said. "We look forward to seeing a final and feasible plan as soon as possible. I always believe the city needs us.
"Moreover, we still have the kids. They are our future. We can't give up on that."
Zhao Yinan contributed to the story.