Growing demand for domestic helpers attracts young blood. Li Li in Beijing reports.
Like most live-in nannies, Tang Kaili's day starts early. By 7:30 am she is already driving the 4-year-old boy in her charge to kindergarten, after which she returns to her employer's expensive home on the outskirts of Beijing for another day of cleaning.
What sets the 25-year-old apart from the average ayi, however, is that she is a university graduate - one of the many now taking advantage of the peak in demand for domestic helpers.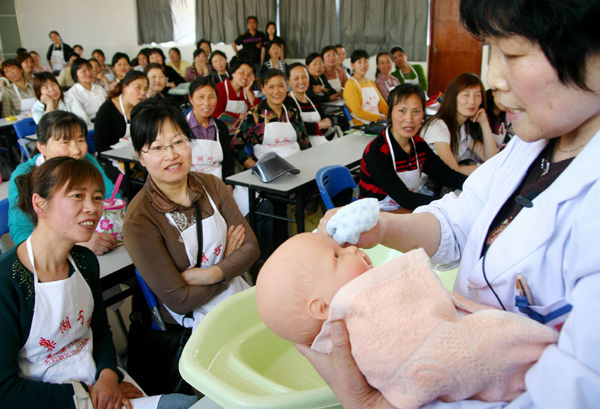 A doctor specializing in obstetrics and gynaecology gives a lecture to domestic helpers on how to take care of newborn babies in Chaohu, a city in Anhui province. [Provided to China Daily]
"My salary is among the highest in my class," said Tang, who majored in art and earns 5,000 yuan ($750) a month. "Those classmates still struggling to find a job kind of envy me."
Rising living standards in China's large cities over the past three decades have meant steady growth for the country's "home help" market, with services evolving from basic housework to a wide range of tasks, including elderly care and childcare.
Related readings:


 State-owned overtake foreign companies in luring graduates


 Graduates are terrified of becoming '3S ladies'


 Graduates apply for community service jobs


 Employment rate of college graduates up in 2010
Yet, because new services often require a greater level of skill, an industry traditionally dominated by middle-aged women is now seeing an influx of fresh blood.
"The standards required for modern-day domestic services create a natural advantage for well-educated youth, especially those with college degrees," said Meng Lingjun, director of the social services faculty of Beijing Social Management College, a vocational school under the Ministry of Civil Affairs.
Meng and her fellow teachers were among the first to see the opportunity for young people in the market, launching a major in domestic help in 2007.
The course includes classes on ironing, Chinese and Western-style cooking, maternity care and child-psychology and nutrition. Since then, the school has also started to cooperate with China Youth Home Service to provide internships for students.
A handful of colleges quickly followed suit, such as Chongqing City Management College, a vocational school in Southwest China that has just seen its first group of domestic work students graduate in June.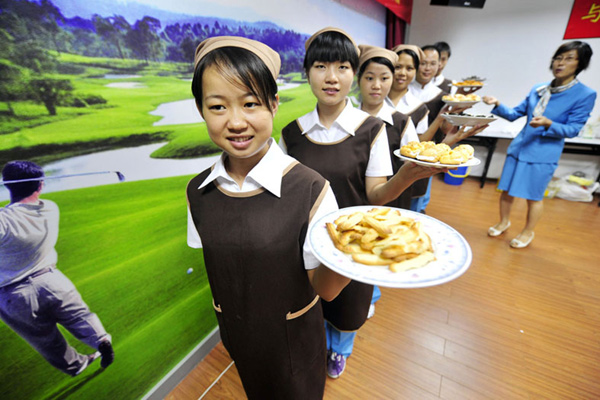 Some of the 36 young people taking part in training to work as domestic helpers in Hangzhou, capital of Zhejiang province. [Provided to China Daily]
"Ordinary domestic helpers can't perform some of the tasks that require communication skills and professional knowledge," said Zhang Jingyuan, manager of Chongqing Huiju Domestic Services, which has a long list of foreign and high-end clients.
According to the China Home Service Association (CHSA), there are now 20 categories of domestic services and more than 200 different tasks, ranging from entry-level cooks and cleaners to "life assistance" consultants.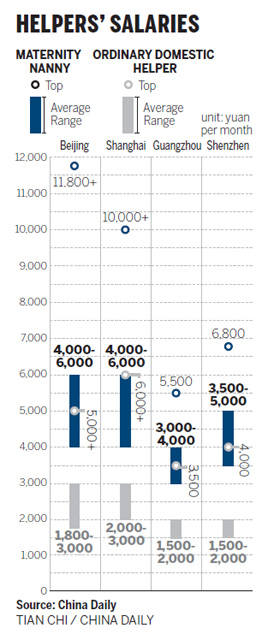 "The college graduates fill the blanks," said Zhang. "This is the future direction of domestic services."
Of course, it could be argued that few graduates would even consider the industry if the average salary of domestic workers had not seen a sharp rise in recent years.
The standard rate in Beijing for an experienced maternity nanny (one who cares for a mother and her newborn baby) is now 8,800 yuan a month, although Beyo Care Center, a company specializing in maternity care, charges customers 11,800 yuan a month for a nurse trained at the prestigious Peking Union Medical College Hospital. That is three times the average wage in the capital.
"Salaries for domestic helpers has increased four times in the past 10 years," said Zhu Lei, assistant secretary-general of CHSA under the State Economic and Trade Commission. "Market demand has driven up pay, which will continue to increase as it's a sellers' market."
CHSA statistics show China has more than 600,000 registered domestic services companies and about 20 million domestic workers. Yet, the number is far from enough, with the analysis suggesting more than 50 million city households need help, mostly some form of care for children or the aged.
The 3 million beds offered by the country's 40,000 elderly care institutes only accommodate one-third of the demand, according to the China National Committee on Ageing. The rest rely on domestic workers, which just adds to the demand created by tens of millions of babies born every year.
Li Dongmei, manager of Fuluyuan Domestic Services in Beijing, admits that the shortage of workers is her biggest headache.
"I have more than 10 customers come in or call to ask for domestic helpers on a daily basis and half have to go on a waiting list. And that's on a good day," she said. "On a bad day, there aren't any suitable domestic helpers available."
Baby-sitting or child care are the most in-demand services, said Li.