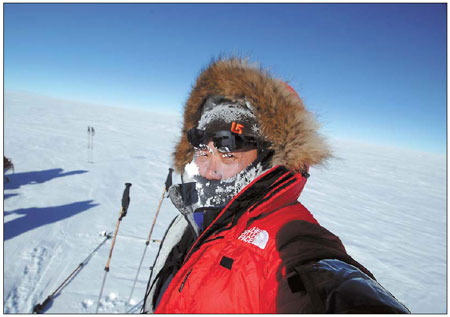 Wang Shi is on top of the world in both his roles as real estate tycoon and extreme sportsman. [Provided to China Daily]
He is one of China's largest builders of residential estates, but Wang Shi often has his head in the clouds, literally. Lei Lei talks to an outdoor adventurer who cannot seem to stay still at one spot.
While most successful businessmen are happy to putter around the golf courses, Wang Shi prefers to climb every mountain he finds, hang above the skies in his glider, snowboard down an icy slope or sail the seven seas.
He is the founder and chairman of Vanke, China's largest residential real estate development company, but when he is in the news, it is more because of his exploits on land, air and sea.
The 59-year-old makes no secret of his passion for sports, any sports. When he was in primary school, he was already active in soccer and table-tennis.
His involvement in soccer continued to his 40s and he became a referee after he found it hard to keep up with younger players. He also started channeling his energies to the great outdoors.
"Getting involved in outdoor sports is part of my personality. It is like an addiction, and I just cannot stop," says Wang, whose slim and fit frame gives no hint of his age. "It's in my bones, and my way of life."
For one, Wang has a fascination with conquering the peaks. In 2003, he reached the top of Mount Qomolangma, also known as Mount Everest, from the northern slope. By then, he had already placed his footprints on the highest mountains across all seven continents, making him one among four Chinese mountaineers to ever achieve this.
Seven years later, Wang proved himself a successful amateur climber yet again by reaching the top of Mount Qomolangma in May this year, setting an age record for Chinese climbers.
"I decided to climb again because I really like doing it," he says. "According to the statistics of Chinese Mountaineering Association, I should be the only Chinese to have reached the peak from both sides at my age.
"It's hard to tell which ascent is more difficult because I did it in different seasons using different methods. The first time, my only aim was to reach the peak, but this time it was an environment protection exercise since we used special bags and containers to collect our own water and wastes on the course."
Although Wang risks his life every time he climbs, he relishes the feeling of achievement at the top.
"Mountaineering is the most basic outdoor adventure. If I can do that, everything else is enjoyable." Or a piece of cake.
His climbing days are coming to an end, however, and Wang says he will move on to other activities. For one, he has a couple of other records waiting to be broken.
Wang holds the 10-year-old record for the highest parachute glide in China, which he set in 2000. "Now I want to break the record for the length of the glide," he says.
And, he is one of four people above 50 in China that can do snowboarding, a sports normally more popular among young risk-takers.
Wang is already eyeing his next adventures on the high seas and a global sailing experience.
"I will focus on systematic sailing training year after next," says Wang. "My dream is to sail around the world."
The businessman in Wang pops up every now and again in his search for adrenaline, like when he invites other businessmen along on skiing or mountaineering trips.
"Organizing such activities is also a way to communicate with others. We learn how to do business as well as how to be real with each other."
As chairman of a leading real estate company with some 3,000 employees, Wang has introduced sports and a healthier lifestyle into the corporate culture. Rowing was popularized in the Vanke group three years ago, and there are now several teams competing in international competitions.
The teams train twice a week, and the chairman joins the training once every two weeks.
"Rowing requires strong team work. A mistake from one will cause the team to collapse," Wang says. "Although it's still not popular in China, rowing is a good way to build up teamwork among staff members."
Wang is also keen on cycling right now. When he attended the Copenhagen Climate Change Conference last year, Wang and other Chinese businessmen cycled between the hotel and the conference venue.
After his return, he pushed to promote cycling within his company and Vanke now has in-house cycling teams and competitions. The company also supported the inaugural Tour of China cycling event this year, putting in a sponsorship of 20 million yuan ($3 million) - its largest sponsorship to date.
"China used to be a nation of cyclists. It is also a green sports in line with the Vanke corporate philosophy."
For Wang Shi, it is not just a matter of the bottomline. "I don't care much about how much we can get in return, but this is for the future of cycling in China."
(China Daily 10/24/2010 page3)