From top gymnast to one of China's richest entrepreneurs, Li Ning has made an elegant transition from sports to sportswear. Yu Tianyu meets this popular role model.
He caught everyone by surprise with his high-flying role on China's proudest night. At the opening ceremony of the 2008 Beijing Olympic Games, Li Ning, hoisted high on cables, did a mid-air lap with the flaming Olympic torch while friends and even his closest colleagues watched open-mouthed across the country.
No one knew about it beforehand, and rehearsals had been conducted in dead of night and in deepest secrecy. The 47-year-old former gymnast was training under cover for months.
The fact that Li Ning was wearing a white jersey emblazoned with the Adidas logo did not escape sharp-eyed spectators. Adidas was one of the official sponsors of the Beijing Games - but it was also Li Ning's biggest competitor.
As Li Ning circled the Olympic stadium, Adidas CEO Herbert Hainer was watching from his air-conditioned VIP box. So was Zhang Zhiyong, chief executive of Li Ning Company Limited, who could not believe his eyes when he saw his boss fly above the crowds.
Before the ceremony was even over, Zhang was being inundated with a flood of phone calls, text messages, e-mails, interview requests, advertisement offers and commercial invitations.
When he told his boss later, the only response was a text message: "The honor neither belongs to me nor our company. We are too narrow-minded if we commercialize it." And, that was the end of the story.
But there are some who viewed Li Ning's high-flying stunt as a piece of brilliant luck that dove-tailed well with his company's "unofficial" sponsorship of the Games.
While the big boys had hogged the limelight, Li Ning's sportswear company quietly attacked on the flanks. To ensure visibility, the company outfitted every presenter of sports channel CCTV-5 who appeared on air as well as the Spanish and Swedish national teams.
Together with its company chairman's dramatic opening stunt, the guerilla marketing tactics worked so well that share prices jumped 3 percent on the next trading day.
You would have thought Li Ning must be proud of this, but he skirts the subject, modestly glossing over the details with a "I'm an entrepreneur now, let's talk about the Li Ning brand".
It is a brand that started decades ago in 1984, when a young ethnic Zhuang boy from Southwest China's Guangxi wowed the world by becoming the most decorated Chinese athlete in the Los Angeles Olympic Games. Li Ning did his homeland proud by capturing three golds, two silvers and one bronze in the gymnastic events he competed in.
He retired from active competition in 1988 when injury prevented him from continuing his gold rush.
Two years later, he started the sportswear company bearing his name.
In Beijing's Yizhuang industrial development zone, a Swedish-style office architecture complex wears the LI-NING brand. It is more like a sports and recreation resort with a full-sized swimming pool, basketball and football courts and fitness equipment seen scattered around the offices.
Paths both inside and outside are marked like racetracks. Li Ning's employees, mostly young, wear tracksuits and casual attire from other sports brands.
"There is no taboo here," Li says. His office is perched on the top floor, as large as a gym. But it is simply furnished. There is no laptop or fax machine on his Chinese rosewood desk, and there are only some photographs of his family, and one of him and Buddhist Master Hsing Yun.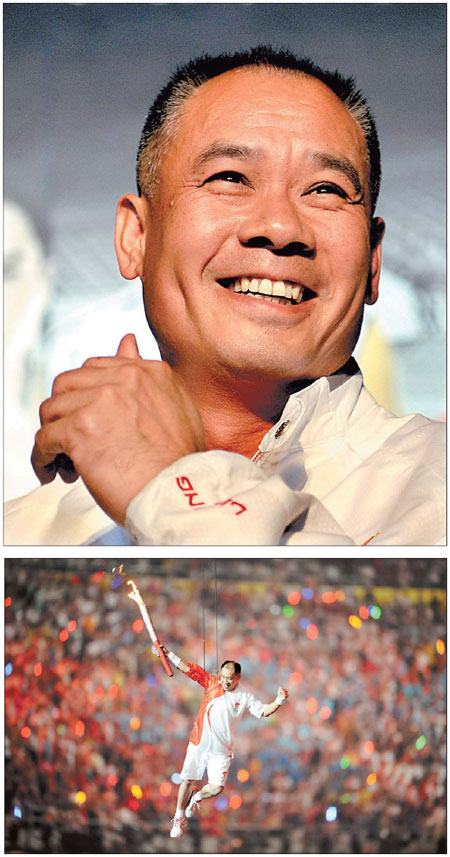 Li Ning's sportswear brand is a Madein-China success story, and his opening stunt at the 2008 Beijing Olympic Games was a fitting victory lap. [Photo/Xinhua]