Huang Shuguo was picking dates when he spotted a small band of tourists on the slab-stone trail that winds through the orchards covering some 200 hectares of Baofeng village.
"Take some," he said as he scooped a handful of ripe green dates and offered them to the group. "These are the freshest and sweetest."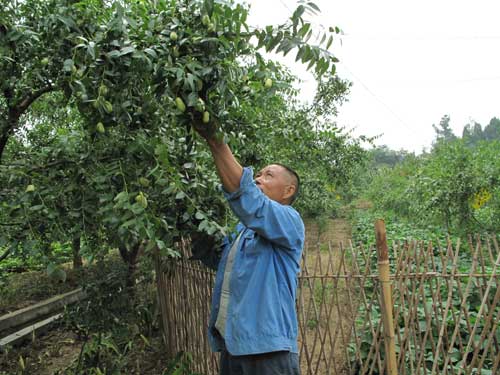 Huang Shuguo picks dates in his orchard in Baofeng. Huang was among the first in his village to grow date trees and insists he does not use pesticides nor chemical fertilizers. [Photo/China Daily] 
Farmers in Sichuan province's Luojiang county proudly tell visitors how they do not use pesticides and chemical fertilizers on the fruit because it "spoils the taste".
Instead, insects are kept at bay with strips of yellow flypaper hanging from tree branches.
The practice shows just how protective residents are of their land and agrarian way of life - something that has made the village a delicate prototype for the "new countryside" project aimed at bridging the gap between urban and rural residents.
Launched as part of the 11th Five-Year Plan (2006-2010), the project has involved a fresh round of reforms and construction in China's vast countryside, with a view to boost economies, incomes, culture, democratic governance and the environment.
The government is likely to continue the project in the 12th Five-Year Plan (2011-2015), as suggested during the Fifth Plenary Session of the 17th Central Committee of the Communist Party of China.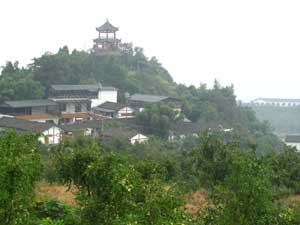 Baofeng village in Luojiang county, Sichuan province, is surrounded by orchards fi lled with date trees
. 
Although various authorities have traveled different paths under the plan, many have focused on rapid urbanization - transforming villages into small or even large urban towns, with land sold to property developers and farmers moved into the newly built apartment blocks.
Yet, this has not happened without side effects, said Chen Xiwen, deputy director of the Central Rural Work Leading Group, who in August warned that villages formed over the centuries are disappearing due to urbanization developments.
People are not only losing land but also their historical roots, he said during a speech in Haikou, capital of Hainan province.
It is something that Luojiang's Party chief, Lu Ye, is all too aware of - and one he is desperate to avoid.
"Driving farmers away from their land and moving them into the multi-story apartment buildings will not solve all the problems (of the rural-urban divide)," he told China Daily.
There are practical, cultural and psychological hurdles to overcome, he said, citing the discontent former farmers now living as urbanites in Luojiang's county seat still show over paying for running water.
Lu's solution has been to focus on rural development and create "happy hometowns" in the county, which sits between two booming third-tier industrial cities, Deyang and Mianyang.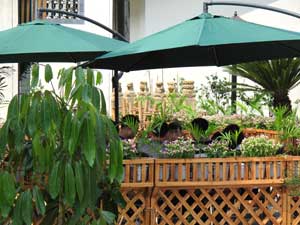 Diners have lunch in Daowan, a theme town based on a classic Chinese novel. 
With his vision, the Party chief aims to transform Luojiang into one that ensures equal public services, social security and welfare to both urban and rural residents; guarantees balanced development and shared prosperity, and achieve harmony among ecological, environmental and economic growth.
"Happy hometowns" must be built on a solid business base, while linking its growth with the booming cities, he said.
One of the best examples is Baofeng, a village slowly expanding thanks to its thriving date industry.
Indigenous to China, dates have been an indispensable ingredient for traditional Chinese medicine for centuries and are believed to provide all types of nutrients. Baofeng dates, in particular, are now popular gifts during the Mid-Autumn Festival, National Day holidays and other special occasions in Sichuan.
Visitors and orders start to stream into the areas every year when the dates begin to ripen in mid-September.
Cultivating economy
Huang's 600 or so trees grow his special "royal concubine" dates - named after the Tang Dynasty (AD 618-907) beauty Yang Yuhuan, who legend has it nurtured date trees while hiding in a Buddhist temple near Baofeng for seven years.
His family of three makes more than 70,000 yuan ($10,500) this year from selling their produce; a modest amount, insisted Huang, compared to the other 300 or so households in Baofeng (the village's average annual per capita income is 5,000 yuan, mainly from dates and eco-tourism).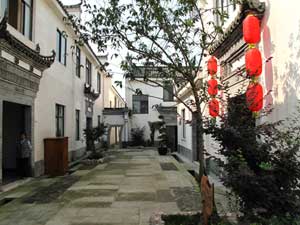 A quiet courtyard in Daowan town. 
Despite the legends, the jujube fruit in Baofeng only began to gain popularity in Sichuan a few years ago.
Mao Rufu, one of Luojiang's top legislators, said he was shocked when he arrived in the Yujia'an community - later integrated into Baofeng - 12 years ago as an official sent from the county government to help develop its tourism.
Nestled in the hills with only dirt trails leading to the outside world, the community was practically cut off from the booming economic development going on around it, he recalled.
Yujia'an had only one small electric transformer, installed during the years of the "cultural revolution" (1966-1976), and as a result did not even have enough power for lights to allow village children to do homework at nighttime.
Huang and other villagers mainly grew corn in this hilly area plagued with shortages in water and flat fertile fields.
Mao decided after making some home calls and surveying the hills that continuing to grow corn would not bring prosperity or attract tourists, and soon set his sights on the old date trees in the hills. Like many others, Huang's family has an 80-year-old date tree and Mao was determined to cash in on the fruits and the legend of Tang beauty Yang Yuhuan.
However, villagers were skeptical at first. After all, dates sold in China mostly come from Shandong, Hebei and Shaanxi provinces.
Mao had to ask his wife, Tian Li, for help. Tian closed down her successful hotel business in Deyang, moved to the village in 1998 and began to plant date trees over the half barren hills, with a few villagers following suit.
Meanwhile, while using his connections in county government agencies to raise funds, he helped residents upgrade the village's electricity supply - even pitching in with carrying electric poles.
He also had a hilltop flattened to make way for a two-lane cement motorway, which reduced the travel time to nearby Deyang to just 40 minutes and led to an influx of weekend and short-break tourists.
"Visitors from outside bring in new ideas and help to transform the old ways of thinking among farmers," said Mao.
Growing market
The following September, the couple harvested its dates, which Mao carried to various official meetings in the county town and in Deyang. He borrowed the legends of Yang and used brand names like "Royal Concubine".
Word soon spread that Yujia'an produces the best dates in the area.
The villagers who were among the first to follow in Mao's steps also made handsome returns, and soon most households in the area turned to cultivating date trees.
Not all areas can copy the example of Baofeng, however.
Lu's county administration has helped several villages find their own niche for growth, such as in Mangjiang, which is known for its pears.
Fengchu village in Baimaguan township has also been turned into a neo-classical theme town named Daowan based on Romance of Three Kingdoms, a novel that tells of legends from the Three Kingdoms period (AD 220-280).
Farming families who swapped their old homes and farmland under the contract with the village were able to move into the town due to huge discounts on the prices of its newly built two-story houses. So far, those who took new residences in Daowan have largely turned away from farming to running other businesses, such as restaurants, teahouses, hostels and even a photography studio.
"I'm glad I no longer have to tend corn or sweet potatoes and get my feet muddy during the rainy seasons," said Yin Baohua, 46, who runs a restaurant in the theme town.
The town has become a new attraction for residents from Deyang and even Mianyang. The visitors spend weekends and holidays there playing cards or mahjong, or immersing themselves in the folk legends while breathing in fresh air and experiencing its idyllic environs.
One day in late September, a couple visited one house after another trying to reserve a table for the weekend and discovered that most were already fully booked.
These new villages can help launch the second campaign of "villages surrounding cities" (the first was led by the late Chairman Mao Zedong in founding New China) to elevate the level of integrated development between cities and rural areas, added Party chief Lu.
Despite the success stories, Mao warned that authorities must be extremely careful about swapping farmland for industrial or even tourist industry developments. As Chen Xiwen warned in August, malpractices would be "disastrous".