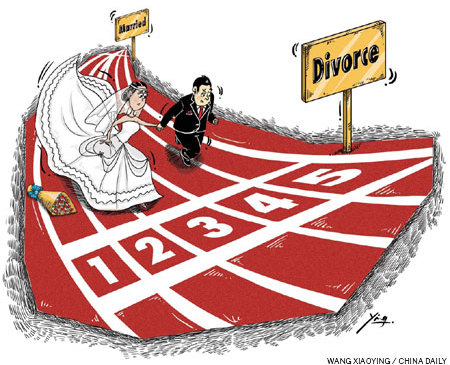 Tina Wang married her first boyfriend in the spring of 2008 because he was pressing her for sex and she did not want to do it outside marriage. By the summer of 2009, they were divorced. "I couldn't tolerate his temper ...we always argued,"Wang, 27, says. "I wanted to find someone who would be a better match for me."
Wang belongs to the "post-1980s generation", single children who are the product of China's 1979 family planning policy and the people who are fueling the country's rising divorce rate, experts say.
According to the Ministry of Civil Affairs, 1.71 million couples filed for divorce last year, up 10.3 percent over 2008. There is no specific data on the number of divorces among the post-80s group, but the Chinese Research Association on Youth and Family says 30 percent of such marriages end up failing.
"The reason the divorce rate is high among post-80s couples is mainly that they value their own interests and rarely care about other people's feelings," says Sun Yunxiao, deputy director of the China Youth and Children Research Center. "They are officially China's first 'Me Generation'."
What the statistics do not reveal, however, is the emotional growth that occurs among these men and women after divorce.
Thirty-one-year-old Serena, who declined to have her surname published, exemplifies the young Chinese divorcee who has emerged from the experience a more mature person.
"Divorce is not one party's failure. It is the failure of both parties," she says over lunch at a downtown Beijing cafe. "I cherish the good parts and have learnt from the bad ones."
Serena's ex-husband was her first boyfriend and they married seven months after their first date.
She says their first two years together were "very happy", but the last year turned into "hell" when her widowed mother-in-law moved in, tried to control her every move - including the time she spent in the shower - and eventually made Serena's husband choose his mother over his wife.
"I had no idea he would become this sort of person," Serena says, "so it's very important to date a person for more than a year."
The native of Liaoning province is also convinced she would have been able to know her ex better had she been able to live with him before getting married, but this is "a very big problem for Chinese girls from traditional families".
In the year-and-a-half since her divorce, Serena has chosen not to go out on dates, instead focusing on being a "happy and healthy" single woman.
"You often find the wrong guy if you just want a replacement," she says, adding that she's lucky her family is not pressing her to remarry or have a child.
Sun Li (not his real name), on the other hand, feels the pressure of social expectations. The Beijinger married for the second time in 2008, four years after his divorce, because he was "nearing 30 and should have a child".
Still, the 29-year-old says he is a better husband this time around: He describes himself as more caring and more agreeable.
Sun got hitched the first time at age 22, three months after dating a woman who was two years younger.
"I was basically impulsive, full of passion, saw my friends were married my parents said I should look for a girlfriend and get married," he says.
"I thought, 'Yeah, I can, so get married'. I didn't really think about it much."
The union lasted only 13 months because the newlyweds preferred to go out and party rather than keep house.
Sun, a tourist guide/driver, is now the father of a 1-year-old girl and sees his second marriage going the distance, if not for anything but the sake of the child.
"If you can avoid divorce, then avoid divorce," he says. "Especially if you have a child, don't get divorced. Think carefully about marriage. Think even more carefully about divorce."
The impulsive decisions of the post-80s generation is just one of the factors behind China's rising divorce rate. The underlying reason, says youth and marriage therapist Ma Fengru, is society's increasingly progressive views about divorce.
"Chinese people's views on various things have become more open, so people have become more accepting of this," says Ma, a doctor at the Beijing National Olympic Psychological Hospital.
The decision to marry and divorce is influenced by the growing emphasis on what is beneficial to the individual - in a society that has traditionally been taught to prioritize the welfare of the collective.
"People are putting more emphasis on what they feel and bring these expectations into marriage," Ma says.
Serena, armed with a newfound pragmatism, believes she is now ready to jump into the dating scene again.
"I have plans to fall in love," she says. "I believe in true love, I'm just not confident in my capability to find it."
Tina Wang, meanwhile, is preparing for her second marriage - with her former husband. Wang says meeting her second boyfriend made her realize that her ex was the right man for her.
They reconciled six months after the divorce and are planning a wedding in their native Changchun next summer.
"We're now more understanding and patient with each other's idiosyncrasies. We're more tolerant of each other," she says.
Wang admits her friends are skeptical about her decision, but says the remarriage is being welcomed by both sets of parents.