BEIJING - Tuesday is a special day for Zhou Bing, the country's leading documentary director.
That is the day his first feature on Shanghai's iconic Bund area premieres in cinemas nationwide.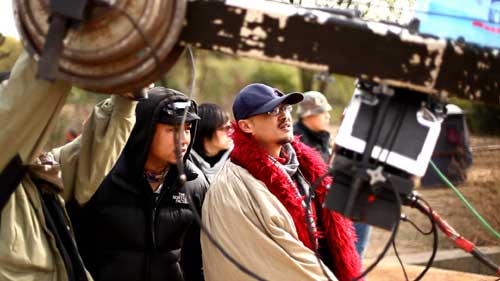 Zhou Bing directs The Bund, a documentary featuring one of Shanghai's most famous landmarks, in this photo taken last winter. [Photo provided to China Daily] 
The 90-minute film showcases the lives of five major characters in Shanghai. It reflects the history and development of The Bund, from its time as a shallow waterfront covered with reeds at the beginning of the 19th century to its status as China's answer to Wall Street.
"I'll be more than satisfied if it is able to fetch 3 million yuan ($450,000) at the box office," Zhou said.
"In that case, we will break even with the investment."
Zhou, 42, is not a businessman and he is not the film's investor.
Still, as a top documentary director, he is concerned about the film's performance at the box office because that would help him answer a nagging question: Is China ready for independent documentary filmmaking?
Zhou was born in Lanzhou and grew up in the capital of Northwest China's Gansu province. He made his name by venturing beyond the status quo of documentary making since he began his career at State broadcaster China Central Television's popular news program Oriental Horizon in 1995.
Zhou also adopted many three-dimensional animation techniques to reflect traditional Chinese cosmology applied in the construction of the Forbidden City. The 10-episode documentary on the centuries-old imperial palace became a national hit in 2003.
In his recently directed documentary Dunhuang, which tells the history of the Dunhuang Grottoes in Gansu over 2,100 years, he came up with a few imaginary figures to perform historical events.
He even hired professional actors to portray historic figures for his upcoming work, The Bund.
"These are in fact techniques that have been frequently used by our Western counterparts for quite a while," Zhou said.
But in a country where documentaries are usually underestimated and often neglected, people's notion of making documentaries can be confined within the rigid sphere of historical archives, Zhou said.
While his works have caused some controversy among domestic critics and viewers, many of the productions have won nationwide popularity and international acclaim.
The Forbidden City, which involved more than 10 million yuan in investment, has fetched more than 30 million yuan in DVD sales, Zhou said.
The documentary has also been edited into a two-hour version for screening on National Geographic, similar to Dunhuang and The Bund.
Zhou said that the ultimate success of his productions boils down to the large research team behind them, including top experts from home and abroad.
"Each time when I finish an interview and research on the topic we are working on, I feel grateful for being lucky enough to see and learn so much about our history, culture and traditions, like those related to the Forbidden City and Dunhuang," the director said.
"I'd be guilty if I kept these only to myself. I feel obliged to share such knowledge or experience with the public."
Zhou still remembers the first time he visited Dunhuang as a sophomore.
"I went only because it was so famous," Zhou recalled. "Despite the rich culture and high artistic value it boasts, I only remembered it as a place with many grottoes on the wall of many dark caves."
China is a country with rich culture, art and tradition, reflected in places like the Forbidden City and Dunhuang, or even in Chinese people's modern life like Taoism and traditional Chinese medicine, Zhou said.
"We could make these known to people from home and abroad through documentaries," Zhou said. "People have the right to know."
However, Zhou admitted that the attempt to take viewers on a journey through history as interestingly as how the director sees and experiences it is both physically and intellectually challenging.
"Finding an interesting way to tell the story is one thing, putting together the whole production is quite another," Zhou said.
Zhou said the most difficult part he has found with making documentaries in China is not just about making one, but about getting the work done professionally and efficiently.
Documentary filmmaking in China, mainly sponsored by a TV station, often comes as a project or done on an ad hoc basis, Zhou said.
"We don't have a professional team or a well-practiced management model to follow," Zhou said.
At its worst, Zhou has to worry about budgets, scripts, directing, personnel and postproduction.
The current practice in the industry also lacks a mechanism with incentives to retain talent.
For example, despite the commercial success of The Forbidden City documentary, Zhou and his team shared none of its royalties.
The director is considering the sustainable development of making documentaries in China through commercial filmmaking.
To that effect, The Bund is his first attempt.
"I hope it will be a commercial success," Zhou said.