BEIJING - Demand for tickets to Faye Wong's comeback shows on the mainland may have sent ticket prices soaring, but fans say that is a small price to pay to see the singer perform live for the first time in more than five years.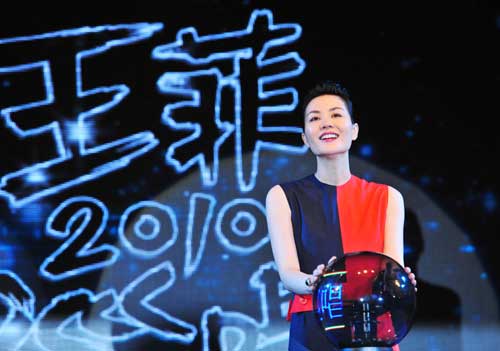 Faye Wong attends a press conference in Beijing, on July 19, to mark her comeback, with a series of concerts. [Photo/China News Service] 
Some scalpers are asking five-figure amounts for the priceless items, and 80 to 90 percent of the tickets had been sold by Friday, according to Yongle Ticketing, which handles the concert tickets. A report on Thursday's Beijing News said some scalpers were anticipating big profits.
Related readings:


 Faye Wong to perform 5 concerts in Beijing this fall


 Faye turns on the charm


 Pop queen Faye Wong to start concert tour in Oct


 China's pop queen Faye Wong plans comeback

"Only a few of the 1,500-yuan ($220) tickets are available," a Yongle spokeswoman said, adding, "Sales have been driven by the fact that Wong has had a hiatus of more than five years, and fans long to see her again."
The tickets through official channels came in six categories, running from 300 yuan to 2,500 yuan. But they are going for 12,000 yuan or more at auction on Taobao.com, China's biggest online shopping site.
"The price is really high, but it's worth it. I love her so much," said one fan surnamed Lu in a discussion on the QQ conversation board, which is MSN-style instant messaging software.
Another fan surnamed Li in a post even maintained that the prices were acceptable: "The rich can buy the expensive VIP tickets and the rest can buy the cheaper ones."
Wong withdrew from the limelight five years ago to spend more time on charity work and her family. She then caused a stir when she announced her return earlier this year.
The first of her 10 mainland concerts - five in Beijing and five in Shanghai - will be held in Beijing on Oct 29.
Sales in the first 10 days amounted to almost 19 million yuan, concert promoters said at a press conference in July.
Wong showed up for that press conference, but left about 15 minutes later without having said much.
The 41-year-old Wong was a Beijing native who made her name in Hong Kong in the 1990s and became known for her syrupy songs and her taciturn public appearances.