When it comes to online games, few have reached the dizzying heights of Happy Farm (Kaixin Nongchang) in recent years.
The game, which has a function that encourages people to steal virtual vegetables from friends' online gardens, was the smash hit of 2009, quickly attracting upwards of 1 million players across several websites.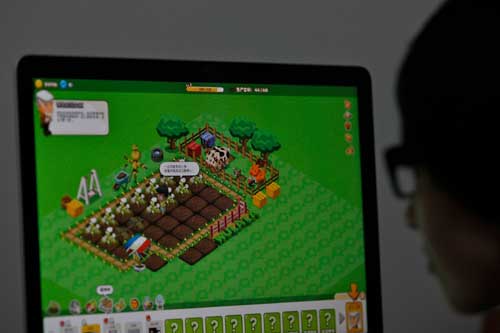 A Beijing resident plays the online game, Happy Farm, in which players can "steal" vegetables, at home over the weekend. [Photo/China daily] 
Today, Happy Farm is hitting the headlines for a very different reason.
Following the detention of Li Xia, an alleged Internet addict apparently caught pinching real produce from a neighbor's vegetable patch in Gansu province, netizens went into overdrive when one report about the alleged incident claimed the Ministry of Culture is ready to block the game.
Happy Farm had "already received complaints from the public due to its bad effect on society", an unidentified "staff member" with the ministry was quoted as saying in the Gansu-based Western Business newspaper on Oct 12.
The source then reportedly added that the game's stealing function will either be "phased out" or undergo improvements.
Forums hosted by the likes of Kaixin001 (which originally developed the game), Mop and Baidu were quickly bombarded with comments; the mood for and against pretty much 50-50.
A statement published on the ministry's website one day later dismissed talk of a block, claiming the views expressed by the staff member were "personal".
However, industry analysts and communication experts told China Daily that the incident presents a much-needed opportunity to explore valid questions about the control of Internet games.
China now has more than 400 million netizens surfing the Web, a fact that has helped make the nation's gaming industry one of the largest in the world, as well as an important part of the economy.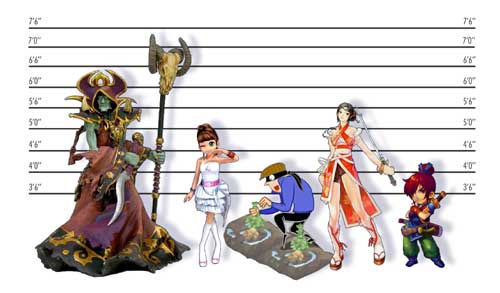 According to figures released by the General Administration of Press and Publication (GAPP), the revenue from online game sales rose to 25 billion yuan ($3.74 billion) last year.
Things look even brighter in 2010, with analysts predicting a revenue growth of 30 percent, while the value of the entire market will top 30 billion yuan.
Yet, behind the boom lie many social shortcomings, warn experts.
The 2009 White Paper on China's Online Game Market, which was released by the Ministry of Culture in January, points out that "vulgar content" and addiction are two major problems facing the development of Internet games.
As the market is relatively unsupervised, games designers today have a great deal of "autonomy", said Zhou Qingshan, deputy director of the information management department at Peking University.
He said the fear among many people is that, in the drive for profits, companies are forgetting their social responsibilities in favor of attracting the highest number of players.
"We need to enhance the supervision of online games," insisted Zhou, who said reports about parents worried about their Net-addicted children are now nationwide.
"The Ministry of Culture, the GAPP and the State Administration of Radio, Film and Television all strengthened their management this year but the effect has not been that obvious," he said.
However, he argued strongly against the government having a heavy involvement in the supervision, adding that the industry should be built on "self-discipline".
One size fits all
Judges in the northwestern city of Tianshui detained 42-year-old Li Xia for five days and fined her 500 yuan ($75) after hearing how she was caught red-handed stealing vegetables, according to media reports.
Although information about her case is sketchy (calls to the Tianshui public security bureau went unanswered at the weekend), Li is believed to have told police she was motivated to commit the crime by her addiction to Happy Farm, which was developed by Five Minutes Network Technology in Shanghai.
Many netizens reacting to the initial report in Western Business complained that "phasing out" a game enjoyed by millions because of one case of theft would be unfair.
"Traffic accidents happen every day, so does that mean we need to ban vehicles off the roads?" asked Zhang Qi, who runs a computer parts shop in Beijing's Zhongguancun electronics district.
"Only a handful of people can't tell games from reality," he said. "I started playing online games when I was in high school and I've played many games more violent (than Happy Farm), such as World of Warcraft."
Two of the most popular online multiplayer games today are World of Warcraft and Counter Strike, both of which contain graphic violence.
In the latter, teams compete by attempting to kill each other in modern warfare settings. When one side succeeds, the screen slowly pans over the dead and bloodied bodies of the losers.
"I've played these games lots of times but I've never copied them and hurt others," added Zhang.
Professor Zhou agreed and said a "one-size-fits-all" policy would only erode the public's trust and hinder the healthy development of the industry.
Liu Shaoben, a professor at Hebei Normal University's school of literature, said any administrative regulations would have to be coupled with education in order to prove effective in controlling the online games industry and protecting the vulnerable.
"People can get addicted to any game, so what we need to do is not halt games but teach people how to play rationally," he added.
Making the grade
As with film and television productions, many countries already supervise online games with strict classifications to prevent young people for accessing unsuitable content.
In the United States, where the government constantly reviews its regulations against pornographic and violent images, the Fair Trade Commission and Entertainment Software Rating Board devised six color-coded, age-based categories - over 3-year-olds, 6, 10, 13, 17 and 18.
All games containing extreme violence, sexual content or nudity receive an "18" certificate, meaning they can only be purchased and played by adults.
The US government also promotes the use of "Net nannies" and other parental controls to prevent children from viewing explicit material online.
"The Chinese government launched its interim measures on online games in August," said Wang Yaqiong, a Gansu-based lawyer who specializes in cases relating to the Internet, "but the regulation is too general from a macro point of view and lacks specific rules."
Item 16 of the interim measures, for example, says online games that target juveniles are not allowed to feature anti-social content that may lead to copycat criminal behavior, nor contain elements that may affect a teenager's physical or mental health, such as horror and cruelty.
"It doesn't tell us how to define games for juveniles or adults at all," complained Wang. "Without the specific definitions, it's hard to criticize a game. We need an online games grading system to be worked out as soon as possible."
Zhou at Peking University said the Ministry of Culture is developing a grading mechanism and, although it is still at the drafting stage, improvements to the current situation need to be encouraged.
According to international practice industry associations carry out most of the grading of online games because authorities, who profit from the tax they collect on the products, have a vested interest.
"Instead of direct management, the government is better off with a role that only includes advocating, reminding, regulating and explaining," said Zhou.
"China doesn't have a nationwide online games association yet, so it's urgent we establish one that allows members of online games groups to discuss, negotiate and work out a unified industry regulation.
"With help from the government, self-discipline enforced by an industry association and a clear grading system, I'm sure China's online games industry will develop further and reports of addiction will greatly reduce," added the professor.