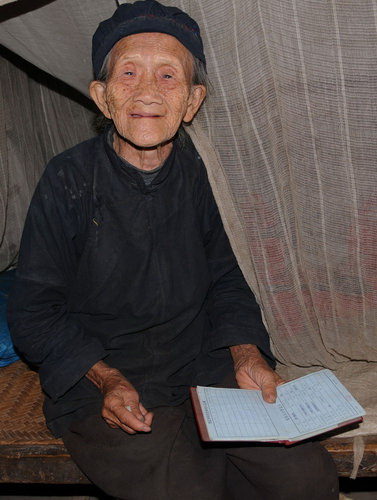 China's oldest woman Luo Meizhen is seen in this file photo taken on Feb 18, 2009. [Photo/CFP] 
Dongxing - China issued its latest list of the 10 longest-living people Saturday, topped by a woman from Southwest China believed to be the oldest on the mainland. She just celebrated her 125th birthday.
The list was released in honor of Chongyang Festival, also known as Seniors' Day.
Related readings:


 Chongyang (Double-Ninth) Temple Fair opens Oct 13


 Shou Tao for Chongyang Festival


 Gigantic cake marking the coming of Chongyang festival


 Age-old problem looms for families
There are now more than 43,000 people in China who are 100 years or older, according to a recent survey.
This moves the nation into second place in the number of centenarians worldwide, with the United States coming in first and Japan now third.
China's oldest woman Luo Meizhen of the Yao ethnic group, was born in 1885 at Bama county of the Guangxi Zhuang autonomous region.
She is illiterate and has led a simple life as a housewife.
"I almost forget how long I've been living and for me, tolerance is the key to longevity," she said in a phone interview.
The 10 oldest have an average age of 117. They include six women, and come from the provinces and autonomous regions like Hainan and Xinjiang, from five different ethnic groups, according to the China Gerontological Society.
The society made the list based on surveys and the population census. It's the second time the society has released such a list.
"The number of centenarians has kept rising in China given the economic development and improved quality of life and healthcare," said Li Bengong, the society's director.
Ten centenarian couples were also honored. China has counted 43,708 people aged 100 or older, up 8 percent over 2009, official statistics showed. Most of them live in Southwest China.
Worldwide, the US holds the largest centenarian population, estimated at 96,548 as of 2009, according to the International Association of Gerontology. Japan now ranks third, with 40,449 as of a September tally.
Starting in 2007, the China Gerontological Society has identified nine "longevity cities," including Yongfu and Dongxing in Guangxi, Pengshan and Dujiangyan of Sichuan, and Sanshui in Guangdong.
In each of these places, there are at least seven centenarians per 100,000 locals, more than twice the national average.
As the average life span of the Chinese has more than doubled from only 35 years in 1949 when the People's Republic of China was founded, the number of centenarians has increased by more than 10 times over the same period of time, statistics showed.
In China's 1953 national census, 3,384 centenarians were identified.
Medical science attributes increasing longevity to a combination of body exercise, genetics and improved diet.
"Active centenarians are role models for the future of aging," said professor Wu Cangping with the Population Development Research Center of Renmin University of China.
He also urged improved care for the aged as China is challenged to cope with a fast-growing population of elderly people.
The Office of the China National Committee on Aging said the number of people aged 60 or above stood at 167 million in 2009, or 12.5 percent of the 1.3 billion population.