BEIJING - The Chinese mainland offered on Wednesday to open talks on military issues with Taiwan "in due course", a move that experts said could cool a potential flashpoint in the Asia-Pacific region and help warm cross-Straits ties.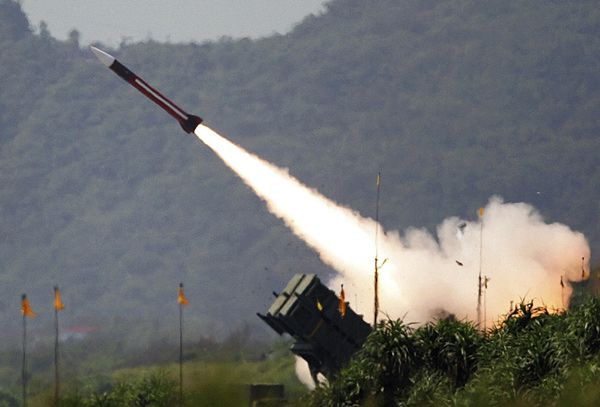 A US-made Patriot surface-to-air missile is launched during a military exercise in Ilan county, in this July 20, 2006 file photo. Taiwan will deploy a new missile defence system by 2015. [Photo/Agencies]
"We advocate conducting contacts and exchanges on military issues, including the cross-Straits military deployment issue, in a proper way at a proper time," Yang Yi, spokesman of the Taiwan Affairs Office of the State Council, told a regular news briefing in Beijing.
Related readings:


 Mainland tourists to Taiwan to exceed 30,000 during holidays


 Taiwan OKs mainland banks' representative offices


 Mainland, Taiwan cultural exchanges promoted


 China Strategic's bid for AIG's Taiwan unit rejected

He told reporters that Beijing wanted to "probe establishing a cross-Straits military security mutual trust mechanism to help stabilize the situation in the Taiwan Straits and ease military security concerns".
Yang made the offer after Taiwan leader Ma Ying-jeou on Sunday called on the mainland to remove its military deployment against the island.
In response to Yang's remarks, Taiwan "premier" Wu Den-yih told the island's legislature that the time is not yet right to discuss disarmament because the two sides need to develop more trust.
"I'm afraid the time is not ripe," Wu said, according to a report from the Taipei-based Central News Agency.
With elections approaching on the island this year and in 2012, Taiwan officials may be reluctant to rush into talks with the mainland and risk raising suspicion among voters nervous about the mainland.
Cross-Straits economic ties have improved markedly since mainland-friendly Ma came into power in 2008, with the establishment of direct transport and postal links between the two sides and opening the island to mainland tourists.
But political ties between the two sides have been stalled, although President Hu Jintao has repeatedly called for the start of political talks to end hostility and urged for the establishment of a military trust mechanism across the Straits.
When it comes to military dialogue, military officials and experts said the discussion should be conducted gradually.
"The discussion on military deployment can be done step by step on the basis of military mutual trust and starting from easy topics," Geng Yansheng, spokesman for the Ministry of National Defense, said at a news briefing in September.
Wang Hailiang, a researcher with the Taiwan Studies Center at the Shanghai Academy of Social Sciences, said easier topics should be addressed before sensitive issues.
"Military talks on the non-governmental level between retired generals and researchers in military research institutions can be held first to test the water and lay a foundation," Wang told China Daily on Wednesday.
Previously, more than 40 retired generals across the Straits have held an annual golf tournament in May in Nanjing, East China's Jiangsu province.
"The communication among retired generals across the Straits should be considered an icebreaking move to help establish a military mutual trust mechanism," former Taiwan senior military officer Chen Hsing-kuo said in an article published in the Taipei-based United Daily News.
On Sept 16, maritime authorities from the mainland and Taiwan launched their first joint maritime rescue drill off the Taiwan island of Kinmen and the mainland port of Xiamen in Fujian province. The historic paramilitary exercise is believed to be a new move to help build up mutual political trust across the Straits.
China Daily - AFP