BEIJING - China will increase the minimum government purchasing price for wheat in 2011, the National Development and Reform Commission (NDRC) said on Tuesday.
The government will pay a minimum of 95 yuan ($14) for every 50 kilograms of white wheat, and 93 yuan for red and mixed wheat. That's an increase of 5 yuan for white wheat and 7 for both the red and mixed varieties.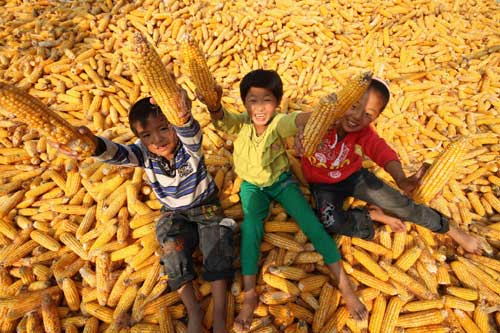 Children play on a pile of corn in Mengcheng, Anhui province. China is likely to see a bumper harvest, government officials said. [Photo/China Daily] 
The move will encourage farmers to plant more wheat in order to stabilize the domestic market in the face of a fluctuating global environment and to ease to inflation expectations, said analysts.
Related readings:


 China expects bumper harvest as autumn reaping begins

 Guizhou sees good corn harvest


 Autumn harvest in NE China's major rice producing province


 Shandong farmers harvest and sell cotton balls

"Recent soaring global wheat prices have fueled the expectation of a price hike in the domestic market," said Cheng Guoqiang, deputy director of the Institute of Market Economy at the Development Research Center of the State Council.
The wheat price will rise along with the increased purchasing price, but it will set a benchmark for the domestic market and will maintain a stable pace, he said.
"Mild and controllable" prices will help ease inflation expectations, Cheng said. Rising grain prices are regarded as a major contributor to inflation.
Global wheat prices surged recently as a drought hit Russia, the world's third largest exporter, and floods damaged crops in Canada.
Earlier this month, the United States Department of Agriculture reduced its forecast for world wheat production, saying that it may decline to 641.44 million tons, from a September forecast of 643.01 million. However, China is likely to see a bumper harvest, said Agricultural Minister Han Changfu during an inspection tour in Hebei province on Monday.
To date, 55 million hectares of farmland have produced yields accounting for 71.3 percent of the country's harvest. The remaining land is also likely to produce good yields, according to Han.
China has maintained relatively high wheat stockpiles, helping to ensure food supplies and ease pressures on grain prices, said analysts.
Although wheat prices have increased rapidly internationally, there will only be a very limited impact on the domestic market because imports, such as rice and wheat, account for less than 1 percent of consumption, said Zhang Xiaoqiang, vice-minister of the NDRC, in a recent interview.
Since 2006, the minimum government purchasing price for agricultural commodities has been raised during the sowing season to encourage farmers to plant more crops.
The year-on-year growth rate for the government's minimum purchasing price has remained at around 8 percent for three consecutive years, said Cheng.