SHANGHAI - Two years ago, she seemed no different from any other retired woman in Shanghai, and she could have continued enjoying life after retirement.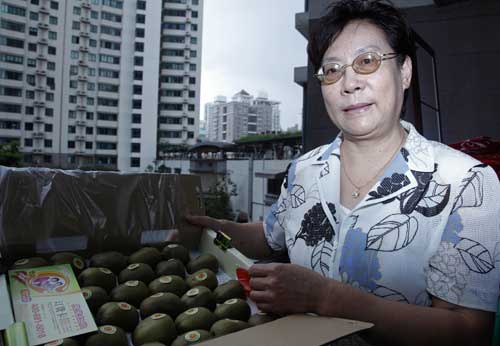 Shen Cuiying, a 63-year-old retired teacher, businesswoman and philanthropist, displays a carton of kiwifruit marketed by her increasingly successful company on Tuesday in Shanghai. [Photo/China Daily] 
But, then, everything changed.
Shen Cuiying, 63, a former teacher, became a household name in Shanghai almost overnight, after the Sichuan earthquake in 2008, when she sold an apartment and donated 4.5 million yuan ($675,000) to Dujiangyan, Sichuan province for building a new school. She became the "Shanghai grandma," and vowed to devote the rest of her life to charity.
Following that, in 2009, Shen took out a mortgage on the apartment she was living in and used the 4 million yuan to establish a company that sold kiwifruit produced in Dujiangyan. The fruit was sent to Shanghai, which paired with Dujiangyan to assist in its reconstruction.
"I believe the kiwifruit from Sichuan are as good as those from New Zealand," Shen said. "What I'm trying to do is to let more people know about our local kiwifruit and help increase farmers' incomes."
The company rented a 100-hectare kiwifruit area from farmers in Dujiangyan and started planting the fruit using modern techniques and professional guidance from agricultural institutes.
Thirty percent of the company's profits goes to a charity fund named for Shen to provide tuition for orphans. The rest is put back into company expansion.
Now that she has the company, Shen works from 8 am to 8 pm, five days a week. Her son, who has his own company, is in charge of the Dujiangyan site and spends most of his time in Sichuan. With her daughter-in-law working in another city, Shen said her family has few chances to have dinner together. She even has to find a tutor to look after her 11-year-old grandson.
"My grandson once said to me, 'Grandma, you work too hard now. I miss the grandma of two years ago,'" she recalled. "I hugged him and both of us cried a bit."
In spite of her good efforts, there are those who question the purpose of establishing the company and who accuse her of filling her own pockets.
"To tell the truth, I don't have any economic pressure because my son's company is quite successful," Shen explained. "How can one be charitable without money?
"One-off donations are not enough to help people who suffered from the earthquake. I'm trying to find a way that can benefit them in the long run."
Shen said the rent from the kiwifruit farm is enough to cover the farmers' basic living costs.
They can earn more if they work at the farm, she said.
"More important, the company, which is in charge of selling the fruit, now bears the risk that was originally on the farmers' shoulders."
In fact, the company did accept that risk in the first year. Despite a total sales volume of 300 tons of kiwifruit, the company suffered a loss of over 2 million yuan.
The special cooling needed for the long distance they are transported and lack of sales vehicles added to the difficulties of running the business, Shen explained.
Undeterred, she added: "I regard the loss as what we paid for experience."
This year, she has expanded the company's sales to include the agricultural product wholesale market, chain supermarkets like Carrefour and Tesco and even online distributors.
Shen confidently set a sales target of 1,000 tons this year. "I know it's not an easy job, but I'm doing my best," she said.