BEIJING - Members of the legal profession have warned that loopholes in China's current system of compulsory mental health treatment are at risk of forcing healthy people into psychiatric hospitals.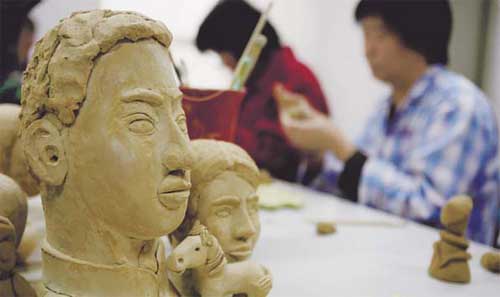 Clay sculpture work is used by a hospital in Huilongguan, Beijing, as a means of therapy for patients suffering from mental problems, on March 29. [Photo/China Daily] 
A report compiled by two civil charities, the Psychosis and Social Observation and the Shenzhen-based Hengping Institute, pointed out the abusive and disorderly use of the system, which has been in practice for more than 100 years.
Related readings:


 Calling attention to mental health as a 'neglected issue'

 Mental illness alone not linked to violence


 Mental patient in search of care for hepatitis C


 More kids with mental health challenges

The report, released on Sunday, World Mental Health Day, was based on a three-year study of more than 100 cases of forced psychiatric treatment, 30 laws and regulations on the subject, as well as 300 news reports.
It was issued following recent media reports about forced treatment for the healthy people in psychiatric hospitals.
"In many cases, it's because the current system of compulsory mental health treatment is abused," said Huang Xuetao, a lawyer and legal aid volunteer based in Shenzhen.
Under the current system, people can be sent to asylums for treatment against their will by blood relatives or spouses, who only need to claim that they are suffering from a serious mental illness.
Once committed, they are only eligible to be discharged from the hospitals by those who had them committed in the first place. Afterward, the person who had them committed automatically becomes their guardian.
"In most cases, they were sent to hospitals at the request of their relatives, with whom they probably had an economic dispute", said Huang.
In the hospital, they were forced to take medicine, receive injections or undergo operations, he said, citing some cases of forced psychiatric treatment.
Li Renbing, a lawyer at the Sino Promise Law Firm in Beijing, said: "These people had no right to appeal while in hospital. Even after they were discharged and appealed against their confinement, the compensations they received were usually very low."
Zhu Jinhong, whose mother had her sent to a psychiatric hospital in East China's Jiangsu province following a property dispute in March, said: "I was wrongly diagnosed as having mental illnesses and was hospitalized even before the doctors met me."
After being kept there for almost 200 days, she was rescued by a group of lawyers and journalists, according to earlier media reports.
"Dozens of nurses surrounded me and gave me medicine against my will," she recalled.
Some psychiatric hospitals admit mentally healthy people for economic reasons, rather than those of health, Huang said.
"I am shocked at the way some doctors think," he said. "In their pursuit of profit, they have no morality."
Some law enforcement agencies like the police have been reported of abusing their power and sending people who they assume to be mentally ill or pose a danger to public security for psychiatric treatment, according to the report.
"Police should be extremely careful when sending people to mental hospitals," said Tian Chenghua, a Beijing-based clinical psychiatrist with extensive experience.
It takes a professional to properly diagnose a mental disorder, so it is difficult for the police, who are not professionally trained in this area, to always make the right decisions, he said.
Huang called for the authorities to end the current system of compulsory psychiatric treatment, in order to protect people from abuses of the system.
"It would also help ease the strain on limited mental health care resources in China," he added.
Currently, China has more than 100 million people suffering mental health problems, including 18 million with serious conditions, according to official statistics.
Cang Wei contributed to this story.