BEIJING - Tens of thousands of lovers across China tied the knot on Sunday, the auspicious "10.10.10" day (October 10, 2010), as Chinese believe three "10"s in a row means absolute perfection.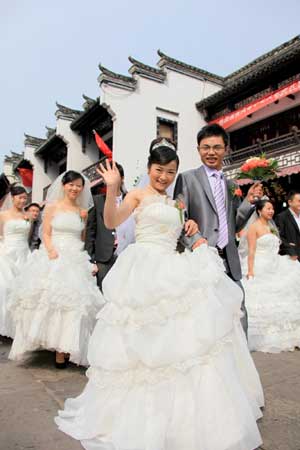 Couples take part in a group wedding in Huangshan, East China's Anhui province on Oct 10, 2010. [Photo/Xinhua] 
Choosing auspicious dates to get married is a time-honored custom in China. At weddings, perfection can be symbolized in images of the moon, the number 10, or a 10-layered wedding cake.
Related readings:


 Wedding boom comes as numbers line up for perfect day


 Perfect 10/10/10: Sunday's unique wedding date sparks rush to marry for romantic couples

 Mass wedding ceremony for 100 couples in C China

 Wedding revolution of China (1949-2009)

In Shanghai, 10,150 couples had registered for marriage at civil affairs offices by 6 pm, or about 33 times the figure on an average day. It also set a new daily record in Shanghai, exceeding the marriage registries on "9.9.9" day (September 9, 2009) and "8.8.8" day (August 8, 2008) - two other auspicious days popular among newly-weds.
Foreseeing the peak, the city's civil affairs authority launched an on-line reservation system for marriage registry on the day and set up temporary "green passes" at each civil affairs office on Sunday to assist in speedy registries, taking only five minutes.
Jin Jia'en and He Huiling are among the luckiest, as they registered at 10 minutes past 10 o' clock on Sunday.
"I have been checking my watch all the time. We are waiting for the moment, but I can't believe we got it. We are the luckiest ones," said Jin .
"I hope the luck can be with us throughout our married life," Jin added.
Chen Ying and Xu Yinggen, another couple, said they postponed their wedding for a whole year since they missed registering on the "9.9.9" day last year.
"We can't miss this one again. It's once in a century," Chen said.
Lines were seen at civil affairs offices across the country and registry officials in many cities had to begin work at 7 am to handle the day's demand.
In Beijing, despite heavy foggy and drizzle, sixty couples, including one from the Netherlands, participated in a grand group wedding at the Olympic Green near the "Bird's Nest" National Stadium on Sunday.
Dressed in black suits and wedding gowns, the couples posed for photos, played games, and dined in the park. The couples also took turns touching three round pots, symbolizing wellness and good luck.
Wang Zhimin, one of the organizers, said the theme of the group wedding is low-carbon, fashion and harmony.
Each couple paid only 5,888 yuan for the wedding, a fraction of the average organized by wedding companies in Beijing, and they were required to ride public transport, rather than rent luxurious sedans, to reach the park - a way to send a message of environmental protection to the public, Wang said.
"I invited more than 30 relatives to the group wedding. This is great. We don't need to hold another ceremony," said a mother of a newly-wed couple.
Elsewhere in China, hotels and restaurants had been long ago fully-booked by wedding couples. A hotel sales person in Shijiazhuang, capital of Hebei Province, said reservations had been made six months in advance and they had turned away about 20 couples who booked late.
"Wedding couples choose this day because they have high expectations for their marriage. But as long as they love each other deeply, any day is good for their wedding registration," said Zhou Jixiang, the head of marriage registration at Shanghai Civil Affairs Bureau.
"For the role of the government, we will provide good service and try to meet the needs of the public," he said.