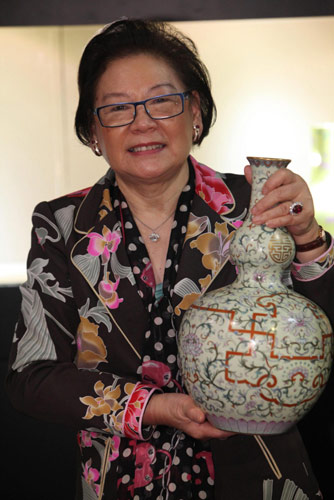 Hong Kong-based connoisseur Alice Cheng holds the Qing Dynasty vase that she bought at a Sotheby's auction in Hong Kong October 7, 2010. [Photo/Agencies]
BEIJING - A 300-year-old vase fetched HK$252.6 million ($32.5 million) in Hong Kong on Thursday, a world record auction price for Chinese porcelain.
The yellow-ground famille-rose double-gourd vase, made during the Qing Dynasty (1644-1911), was among a selection of rare works from four major private collections that went under the hammer at Sotheby's autumn sales.
Related readings:


 'Desirable' $38m pink diamond up for auction


 Hong Kong residential lot triggered for auction


 China retrieves Ming porcelain from seabed


 Chinese fine porcelain exhibition opens in Moscow
Coupled with an audience of free-spending Chinese millionaires, it has been dubbed by many as one of the best sales of Chinese ceramics in recent years.
"Chinese artworks took their place on the world auction stage today," Nicolas Chow, Sotheby's deputy chairman and international head of Chinese ceramics and artworks, said after the auction.
The sale indicates the growing role of Asia's art market, and continued the strong performance of Chinese artworks in the marketplace despite the still complex economic climate.
Great works sourced from notable collections continue to inspire buyers and generate high prices, demonstrating a sustained commitment to art as an investment.
Hong Kong connoisseur Alice Cheng won a 10-minute bidding war with another phone bidder for the Qing vase, which dates back to the rule of Emperor Qianlong.
The item came from the collection of celebrated art dealer J.T. Tai. It exemplifies the beauty and sophistication of the sgraffito technique, in which scrollwork is engraved with a needlepoint to convey an impression of rich brocade.
Cheng spent HK$151 million on an imperial famille-rose bowl from Qianlong's reign at a Christie's sale in Hong Kong in 2006.
The market for Chinese works of art has been on the rise due to a great deal of active participation from private collectors, both from major cities such as Beijing and Shanghai and now second-tier cities.
"The growth in wealth and interest in art in many categories is quite remarkable," William Ruprecht, Sotheby's CEO, was quoted as saying in ARTnews magazine's summer 2010 issue.
"They (Chinese buyers) have become very active all over (the world) - in Hong Kong, New York, Paris and London. They're buying art, houses, diversifying their assets."
The sales also show a restoration of global confidence in the art market in the post-depression era.
"When things deteriorate, our business deteriorates even faster than the global economy," said Ruprecht. "It's faster on the way up and faster on the way down.
"As things get better, people with wealth come back into the art market and it gets better faster than the overall economy."
A previous example was a Picasso painting titled Nude, Green Leaves and Bust, which sold for 70 million pounds ($111 million) at a Christie's sale in May, the highest price ever paid at auction for any work of art.
Art sales have also been seen by many as an investment tool to survive the financial crisis.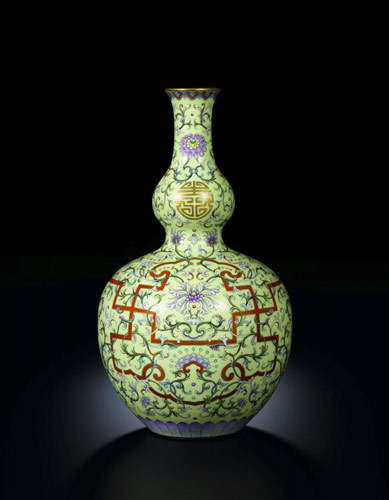 An undated handout photo of a yellow-ground famille-rose double-gourd vase with a seal mark and period of Qianglong. [Photo/Agencies]