Bands strike a chord by reflecting anxieties, reports Quan Xiaoshu of China Features.
Video: The Modern Sky Festival
As another year of jam-packed festivals and concerts draws to a close, music industry moguls say China's rock scene is finally back to its rollicking best.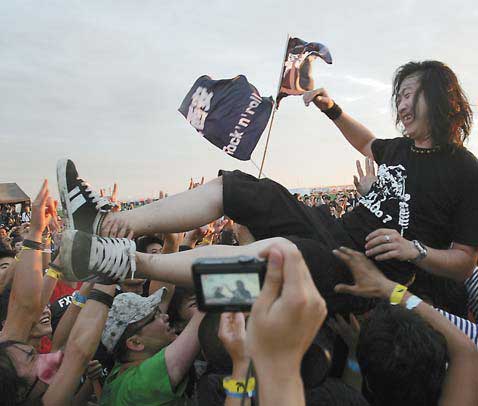 Fans lift up a rock singer at a music festival in Zhangbei, Hebei province, in this file photo taken on July 31. [Photo/China Daily]
Yet, the homegrown talents of today insist they are a far throw from the golden oldies who helped create the country's thriving rock scene in the 1980s - and say this time "it's just for fun".
Talk to any rocker who strutted their stuff three decades ago, and the conversation will usually turn to ideals and spirituality. However, young songwriters now appear more concerned with the practicalities of modern life.
"Our music mostly is about our perplexities," said Xu Yuanzhuo, a 22-year-old student at Beijing's Communication University of China who promotes concerts on campus.
"Young people are under great pressure now, from pursuing postgraduate studies to looking for a job," he said, explaining that compared to older generations people nowadays "play more for fun with little sense of responsibility".
Although arguably more knowledgeable about the genre, experts say up and coming artists tend to have an ambivalent attitude toward their predecessors' sense of commitment and desire to be upwardly mobile.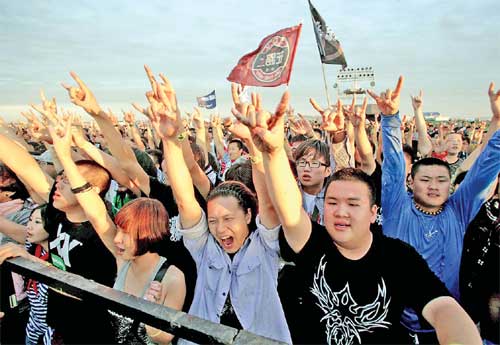 Music fans go wild at a music festival on July 31 in Zhangbei, a city in Hebei province. Today's rock stars are different from the golden oldies, who focused more on spiritual ideas than real-life pressures. [Photo/China Daily] 
"We were totally different from today's young people," said Ma Haixin, a 37-year-old concert promoter in Beijing. "The rock from our time was about the excitement of waking up to spiritual calls. Today it's more about fatigue from coping with realities."
Cui Jian, the "godfather of Chinese rock", first picked up the guitar after listening to a Beatles album in 1985. One year later, he was a household name thanks to Nothing to My Name.
A controversial figure at times, many music fans over the age of 40 largely credit him with helping to launch the nation's rock craze.
"In my hometown in Liaoning province, there was a small store that sold original and copied (cassette) tapes and played loud music by Cui Jian and other rock stars all day long," said Ma, recalling his days as a teenager. "No matter where you went, you could hear the singing."
Many young people were turning to the rock sound at the time, often attracted by the fact songs had "very distinctive elements that belonged only to China, either in their melodies or lyrics", explained Wang Xiaofeng, a music critic for Life Week magazine, who has reported on the industry for 20 years.
"No young bands nowadays are able to combine their music with such deep thinking," he added. "They are indulged too much in their own world."
Min Yan, lead singer of Last Chance of Youth, a popular band in Beijing's underground music scene, disagrees. He argued that modern songwriters do not want to have the responsibility of speaking for an entire generation and instead prefer to concentrate on being entertaining.
The 29-year-old stressed his incompetence in "speaking for all", a feeling sociologists say is common among the so-called post-1980s generation, a term often used to describe Chinese people raised in single-child families in the 1990s.
"I cannot even represent the members in my band. I can only stand for myself," said Min, who added that songs by China's earliest rockers were imbued with too many messages, often political.
"All the contributions to society made by Bob Dylan and the Beatles together could not compare to that of Martin Luther King Jr," said the heavily tattooed singer. "Music is just music, an expression of our lifestyle. I won't impose my ideas on others through my music."
Min, who has released two albums and two EPs, reformed his band last December to include a French drummer and shifted his style from hardcore to metal.
"We listen to a great variety of music, including jazz, blues and pop, and we can find inspiration in each type of music," he added.