Tianjin - Greenpeace China highlighted the acceleration of global warming by placing a 5.5 x 4 meters "iceberg" and a homeless "polar bear" next to the Meijiang Convention Center, where China is hosting a new round of United Nations climate change negotiations in Tianjin.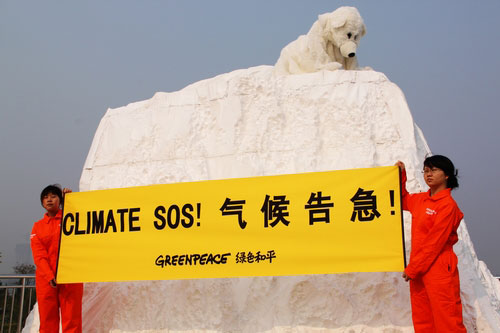 Greenpeace members hold a banner saying "Climate SOS" in front of a sculpture featuring a homeless polar bear stuck on a floating iceberg to warn against the accelerating global warming Oct 7 outside the Meijiang Convention Center, Tianjin, where a United Nations climate change talks is held. [Photo/chinadaily.com.cn]
The story is that a polar bear has found himself stuck on a floating iceberg.
Glaciers around the world are melting at an unprecedented speed. In August, a giant ice sheet measuring 275 square kilometers calved off from the Peterman Glacier - one of the largest ocean-bordering glaciers in Greenland, the latest evidence of global warming.
Greenpeace campaigner Li Yan said this event aims to illustrate the catastrophe global warming threatens to bring on the world. "For the past few years, we have seen continued record-breaking temperatures. Global warming is an indisputable fact," he said.
"The size of the Arctic iceberg that calved off this year is equivalent to almost 3000 times of the area of the Meijiang Convention Center they are using. Negotiators here should know the urgency of the threat, and take concrete action to combat climate change," Li said.