A parade of 100 luxury cars, mostly Audis and some Benzes and BMWs, drew the attention of passers-by while driving through the downtown area of Xianxian county in North China's Hebei province Wednesday.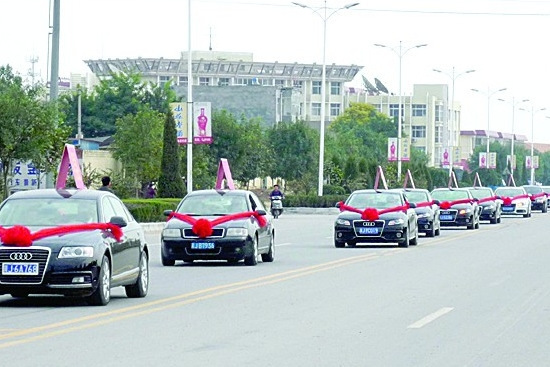 A total of 100 Audis and other luxury cars owned by villagers of Xiaotun village in Xianxian county, North China's Hebei province, drive through the county's downtown area, Sept 29, 2010. [Photo/Yanzhao Metropolis Daily]
They were not wedding cars, as many Chinese people use them to celebrate their weddings, but their owners were using them just to visit their county, according to Yanzhao Metropolis Daily's report Thursday.
The car owners are farmers from the county's Xiaotun village, who are working in other cities.
Related readings:


 Villagers protect crops from wild boars


 Zhouqu villagers worried about future landslides


 Villagers flee as reservoirs overflow in east China
"Looking at their success, I can't muddle along," said one passer-by.
Village officials said the parade was not intended to show off people's wealth but to let other farmers know they can all become rich by going out to work diligently even if they are born to rural families.
The village of 3,200 people has 32 enterprises in construction materials processing and 150 companies in construction materials leasing in more than 20 cities in China.
A similar activity was held several years ago when another 100 sedans were driven through the downtown area by Xiaotun villagers, according to the newspaper.