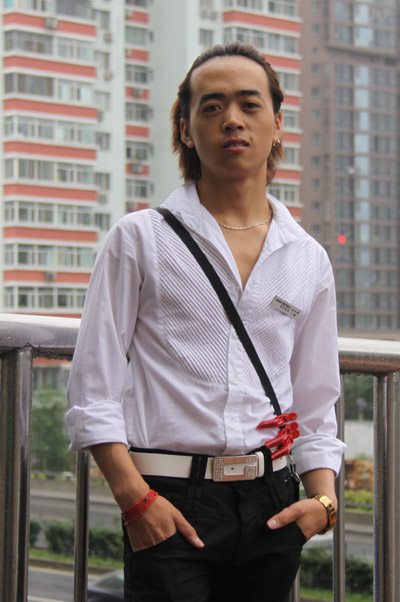 He An [Uking Sun/chinadaily.com.cn] 
"Don't be shy, smile a bit," jeered colleagues of He An, a thin barber at a shopping center when he was asked to pose for a photo.
He, although well on his way to being chief of the salon with tens of employees, seems reserved and avoids direct eye contact with his customers. But he is not shy when it comes to offering customized and fashionable hairstyles.
The barber, from Yulin in Northwest China's Shaanxi province, has four years' experience after working as an assistant for three years.
He said he has no specific dreams now except wanting to improve both cutting hair and his leadership skills. How to evolve from a barber into an effective team leader is a top priority.
"I certainly hope to enhance the skills of communication and management. I also need to consider the salon's decoration, music, employee training, and encourage assistants to communicate with the hair stylists. "
But what he desperately needs is to have more sleep since he usually works from 9 am and goes to bed as late as 2 am, six days a week. Although in Beijing since 2005, he only visited the highly publicized Birds Nest this year despite it being two kilometers away from the salon.
"I feel a kind of emptiness in my heart if one day I don't work a long time because I am so used to being busy and the high pressure. This is abnormal," he said. He enjoys the reputation of "never wearing a long face to customers no matter how tired he is."
He declined to answer if he is satisfied with the salary. Instead, he said, "I am still young and think of myself as a new beginner. I need more experience."