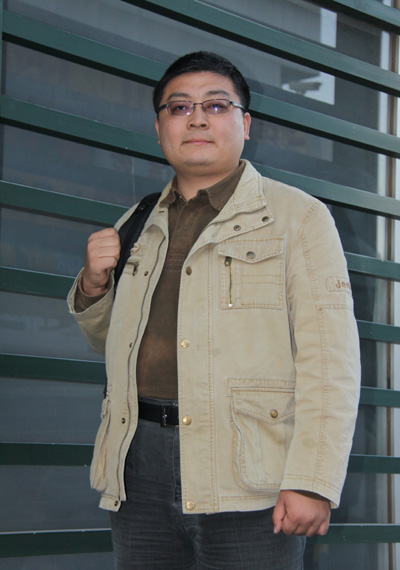 Xu Jiatao [Uking Sun/chinadaily.com.cn] 
Born in 1982, Xu Jiatao states his life maxim as "No exclusion, no hypercriticism, no giving up, no abandonment" on MSN messenger, which also guides his dream of establishing an Internet platform for philanthropy.
Xu is known among his friends as a person with passion and dedicated to helping the disadvantaged. He once organized a charity dinner, although not as successful as he planed, to raise funds for the non-governmental organization (NGO) China Dolls, which provides assistance and improves public awareness of people suffering from osteogenesis imperfecta, or Brittle Bone Disease.
But in his view, he is more interested in exploring a business model that both creates enough profits to cover the operation and creatively contributes to the charity initiatives. Xu has recently registered his own company, rather than an NGO, and built up a website to turn his dreams into reality.
"It's difficult for individuals to register a NGO under current legal system in China," he said.
He explains his business model in this way. "Suppose producers or sellers want to promote cars like Smart or MINI Cooper, I will persuade them to provide me some opportunities of trying the cars. Then I will organize volunteers, through my website, to use these opportunities if they can donate a certain amount of money designated to the charity programs. "
He said this kind of promotion method adds no cost to the companies, but they are easily engaged in the charity programs.
As for the use of fund, Xu plans to assist NGOs, rather than directly sponsoring the individuals who need help. "I consider my website an agency serving the NGOs and a social enterprise that is not shy of making profits."
"The Internet has a great power, low-cost and transparent. It also ensures the accountability of our activities, including the use of funds. We also plan to invite a third-party to be responsible for the financial statements."
In the long run, Xu sees his company to be specialized in creative service and online marketing, with an increasing percentage of profits donated for the public good.
Xu came to work in Beijing in 2003 and has working experience in Tianya.com, one of the largest and most popular Chinese forums, and blogging service provider Blogcn.com. However, he believes his biggest advantage is not the expertise of Internet marketing or communication skills, but the awareness that he knows clearly what he is doing right now.
"I will try my best." He emphasized.