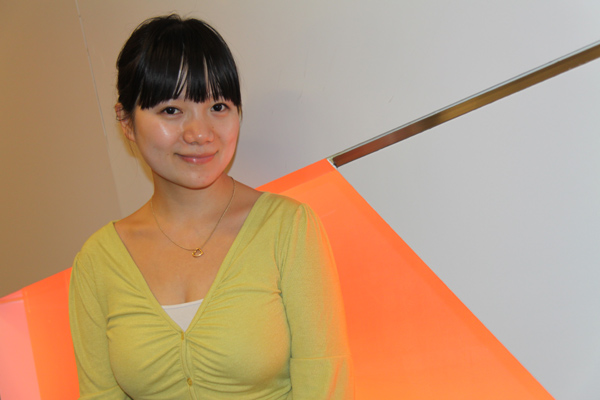 Lan Lan [Uking Sun/chinadaily.com.cn] 
"To enjoy life fully, try different food and new things," said Lan Lan, without a second thought, when asked about her dream.
Lan Lan came to work in Beijing in June 2007 after obtaining her Master's degree overseas and has accumulated extensive experience in charity organizations at both national and international levels. Then in March 2010, she joined in a multinational company as a CSR Consultant, which she says has been great fun and brought a sense of fulfillment to her life.
"I like travelling, have visited Spain, Hong Kong and some other domestic cities this year and want to go to the United States and other countries in East Asia. I also hope see giraffes in Kenya or some other African countries. I don't know the reason, but that is my dream," Lan Lan added.
The woman, in her late 20s, also considers learning to ice-skating. She has also recently become fascinated with low-cost activities such as swimming and archery, through Groupon-like sites.
But in the long run, Lan Lan still hopes to commit herself to charity programs, preferably establishing her own non-profit organization.
"It's better for the government to provide more support to nongovernmental organization development in China. But my dream is not to found and run a traditional nongovernmental organization that relies on donations, but one that is self-sustaining. This is not an urgent plan, but a long term. I want to live a decent life and at the same time I hope contribute to society."
As a CSR consultant, her current job is related well to her the long-term dream. She helps organizing employees to work as teachers in undeveloped regions, such as in Guizhou and Shaanxi provinces. And she also assists some CSR related environmental programs.
She also says that her current job has sharpened her skills in organization and communication, and exposed her weakness of not being detail-orientated. But generally, she says she enjoys it.
Three years' time has not steeled Lan Lan to fit into the bustle of life in Beijing.
"There are so many people in Beijing, and the housing price is so high, but other than that I have nothing to complain about, " the easy-going Lan Lan said with a smile.