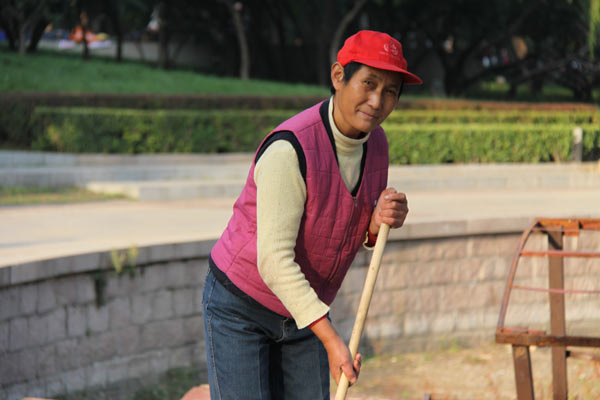 Wu works in a park as a cleaner in Beijing.[Uking Sun/chinadaily.com.cn] 
Wu is reluctant to give her full name because she thinks her life is so miserable and her heart so broken. When asked about her dream, she said, "I don't have any dream. I will work here until I am too old to move."
With the assistance of her older sister, who works as a baby-sitter in Beijing, the 51-year-old woman joined the army of migrant workers -- usually much younger -- and came to Beijing in May from her hometown in Suizhou, Central China's Hubei province.
Working as a cleaner in a park, her four months in Beijing have basically been the same every day: wake at 5:00 am, breakfast at 5:30, at least one-hour's bus ride to the park, start cleaning at 7:00, lunch break from 11 am to 1 pm, and work again until 6 pm. Wu can save about 400 yuan of her monthly salary of 750 yuan because the employer provides food and accommodation. She hopes to buy a house in her hometown after she is too old to work.
Although she doesn't have many complaints about her job, a relatively easier one than ploughing the paddy fields in her hometown, she said she still can't hold back her tears, even on the bus or while collecting rubbish in the park, whenever she thinks about her past life.
Wu got divorced three years ago because her husband, 55, had an affair with a woman 24 years his junior.
"I am old and not good at winning men's favor. He never loved me, never took care of the family. He even wanted to let the woman into our house. I would've gone crazy if I stayed with him any longer," Wu said.
Wu has a son and a daughter. The son is locked up in her house because he has been sick since he was 2 and suffers from leg cramps. Her daughter is married, but Wu refused to live with her because she didn't want to become a burden.
Wu started believing in Buddhism after the divorce and hoped to find peace of mind, but even her parents didn't support that idea. Then a dispute at the temple she once worked in forced her to leave her hometown.
"I miss my master a lot. I miss my son. I didn't have a good fate in my previous life, and that's why I suffer so much in this life." Wu lowered her head and kept blaming herself.