Unqualified climbers are putting China's mountain rescue system to the test, experts tell Peng Yining in Beijing.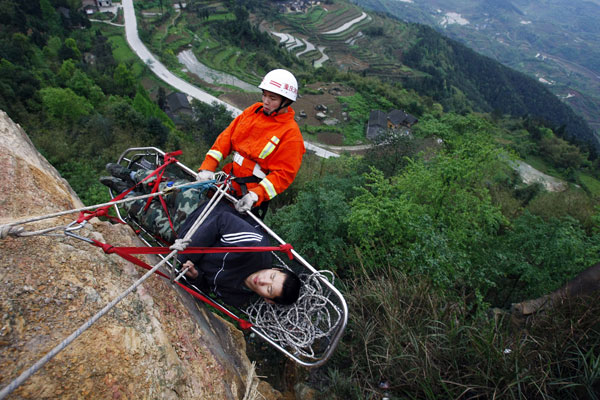 Firefighters help rescue a 'survivor' from a cliff during an exercise in suburban Chongqing this year. [Provided to China Daily]
When amateur adventurer Ren Shengjie headed out to conquer Cangshan Mountain on July 13, he was barely prepared for a picnic, let alone a hazardous trek on one of China's most precipitous peaks.
The 25-year-old Chinese, who was traveling in Southwest China's Yunnan province at the time, left carrying only an umbrella and a laptop bag containing snacks and a bottle of water. He never made it back.
Ren is among a growing number of inexperienced and ill-prepared outdoor sports fans who have perished in China in recent years.
According to the Chinese Mountaineering Association, the annual death toll has risen tenfold in the last decade, spiking at 44 last year.
Just a month after Ren was killed, another young man died after falling from a cliff in the same mountain range, and rescuers were also called in to save a lost tourist there on Sept 8.

"More Chinese people are taking up outdoor sports but very few of them know how to stay safe," said Shi Xin, who heads Shenzhen Mountain Rescue Team, the team that found Ren.
"On top of that, the government still has not set up an effective rescue system," which would prevent many such tragedies, he added.
Ren had been a keen hiker but investigations into his death showed that the Shanghai teaching assistant quickly became lost on Cangshan Mountain, which peaks at 4,122 meters above sea level. As he attempted to make his way back down, he slipped and broke his left leg.
Using his cell phone, he sent texts to his friends to send help. However, without a map or Global Positioning System (GPS), he was unable to give police an accurate location. His final text simply read: "I'm under a single pine tree and need helicopter rescue."
Authorities sent a search party of more than 3,000 police officers, firefighters, rescue volunteers and villagers. Ren's body was found on July 25 on a ledge 3,550 meters up. Experts estimated he had been dead for up to four days.
Dodging danger
The popularity of adventure sports has been booming across China since 2000, particularly in Shenzhen, one of China's most industrialized cities in Guangdong province, where a survey in 2007 showed 8 percent of the population - 640,000 people - frequently participates in outdoor activities.
"People are attracted by outdoor sports and are now able to afford it," said Shi, "but they just don't appreciate the dangers."
The 40-year-old veteran climber and businessman explained Ren launched his expedition without knowing about the risks involved and lacked even basic survival skills.
"He was dressed and equipped like he was going out for an amble in the suburbs rather than climbing a craggy mountain," added Shi.
Temperatures in mountains higher than 3,000 meters can reach close to zero at night, yet when Ren's body was found he was wearing only a T-shirt, short trousers and sneakers, which likely contributed to him falling on the slippery rocks.
Apart from wearing the correct footwear, mountaineers are usually trained to take extra clothes and food supplies, as well as a spare cell phone battery, in case they become trapped. A climber's standard kit should also ideally include a flashlight, compass, folding knife, kindling, whistle and a GPS handset.
"It looks like Ren didn't prepare at all and had no idea how to survive after being trapped in the wild," said Shi.
By using the folding umbrella and laptop bag to create a temporary shelter, the stranded teaching assistant would have been better protected from the rainstorm that hit the area on the third day.
"But he didn't," said Shi, and as there is no full-time rescue team at Cangshan Mountain, there was no one to advise him on survival techniques when he called authorities for help.
Evidence showed Ren had attempted to drag himself to safety - but went in the wrong direction. Instead of heading for open ground where he could be spotted, rescuers found him in a wooded area about 100 meters from where he slipped.
"He was a healthy young man and there was a streamlet right beside him," said Shi, "so with the right set of survival skills he could have lived longer.
"I read all the text messages he sent. At first he was optimistic but slowly slid into despair. I can't imagine how hopeless he must have felt when his cell phone ran out of battery."
Regulations introduced by the General Administration of Sport in 2003 stipulate that mountain climbers must register with local authorities before they attempt peaks higher than 5,000 meters in the Tibet autonomous region and 3,500 meters in other parts of China.
Officials are required to evaluate every applicant's qualifications, equipment and climbing plan, which breaks down the schedule and route they intend to take.
"Those who want to climb alone and lack experience, like Ren did, should not be allowed to climb a 4,000-meter-high mountain," said Tselor, a Tibetan mountaineer who coaches the Chinese National Mountaineering Team. "Some people still don't know they should register, though."
Registration costs less than 1,000 yuan ($140) and takes about a week. However, many climbers are unwilling to wait and instead sneak onto mountains.
"Some unqualified climbers are impatient but a professional will register and wait," said 36-year-old Tselor, who has conquered the highest peaks on seven continents and been part of successful expeditions to both the north and south poles.
"No mountain is safe, so being assertive (and not preparing) is usually a fatal mistake," he warned.